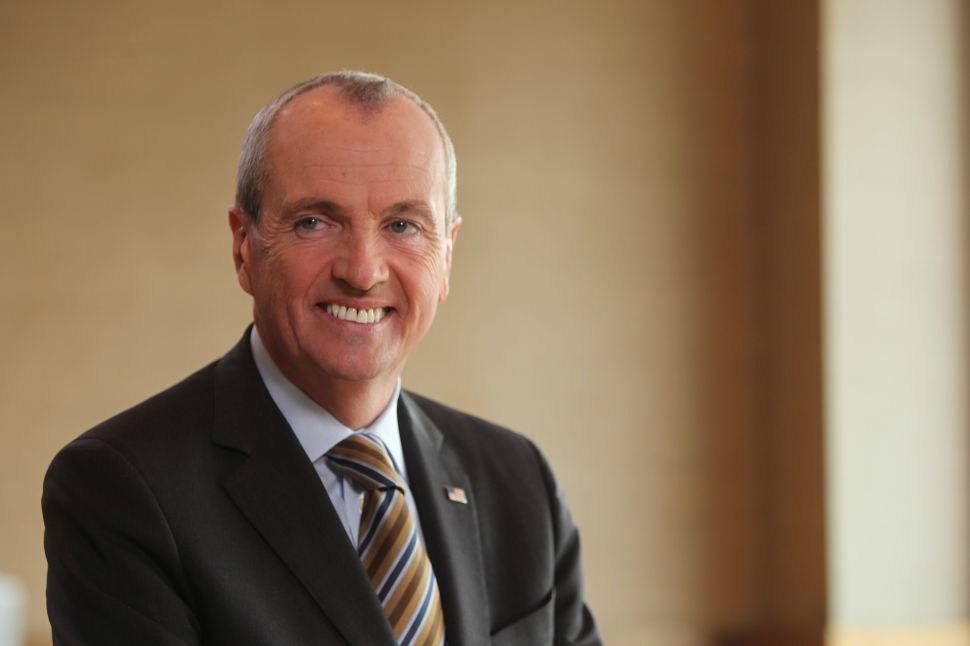 Gov. Phil Murphy has long touted his progressive agenda by saying he wants New Jersey to be an East Coast version of California.
But the problem is, some say, that New Jersey's finances are nothing like those in the Golden State.
Without a strong economy like California, the state can't afford Murphy's agenda without asking residents to pay more, experts say in a story in the Record.
An analysis by the USA Network finds that Murphy's plan to finance his dream projects, as well as correct the state's long-standing financial problems, by fostering economic growth in the struggling state will not work. State funding will fall "at least $300 million short—and potentially much more—of what he needs next year to cover pledged funding for schools, public employee pensions and other priorities," the story in the Record notes.
That leaves Murphy facing a choice—either scale back his plans or raise taxes, the report said. This comes as legislative leaders in his own party have said the state needs to look at reducing, not increasing, state spending and have vowed to resist further tax increases.
Murphy has shown no inclination to bring his plans into line with the financial realities of a state that already bears one of the highest tax burdens in the nation. He's already signaled his desire to undo a small cut in the state sales tax passed when the legislature approved a massive 23-cent per gallon 2016 increase in the state gas tax.
The governor claims residents really won't notice or mind seeing the sales tax increase back to seven percent from 6.25 percent. Murphy, last month, also approved raising the gas tax an additional 4.3 cents, bringing New Jersey's gas tax among the highest in the nation. The governor said the hike "is what it is" and was necessary under a state law he said was ignored by his predecessor, Republican Gov. Chris Christie, who resisted further raising the gas tax.
As the Record report notes, while Murphy claims the state can achieve $2 to $3 billion in revenue from economic growth, the state has never managed to add $2 billion in revenue at any point in the past decade.
Based on historical evidence, the best Murphy can expect is growth of little over $1 billion, the report said. Even with new taxes from sports betting and legalizing marijuana, the state will have no choice but to raise taxes, scale back Murphy's plans, or look for other cost savings, such as those proposed by a panel convened by Senate President Steve Sweeney to recommend a way out of the state's fiscal problems. Those fixes include revising the pension and benefit systems for the state's unionized employees. Murphy, however, is a strong supporter of the unions and unlikely to go along with efforts to bring those benefits into line with those of private-sector employees.
Murphy, who campaigned on a pledge to help the state's struggling middle class, has contended residents won't mind paying additional taxes if they feel they are getting their money's worth. Sweeney, however, has said the governor, needs to understand that New Jersey's middle class comprises more than the 20 percent of state residents who belong to public workers' unions.
Quote of the Day: "Phil Murphy wants to spend like he's got a California economy… you can't spend like California unless you earn like California." — Seton Hall political science professor Matthew Hale, on the fiscal realities confronting Gov. Phil Murphy's ambitious progressive agenda.
Analysis: NJ economic growth won't sustain Murphy's agenda, adding pressure to raise taxes
Fresh off striking a budget deal that included $1.6 billion in new taxes, Gov. Phil Murphy said he was banking on strong economic growth going forward to raise the money he needs to fulfill a long list of progressive promises.
The Record Read more
N.J. Dems appeal to 'New Yorker' Trump to stop opposing 'no-brainer' Gateway project
Some of New Jersey's top elected officials — all Democrats — gathered Tuesday near an aging bridge to send a message to President Donald Trump:
NJ.com Read more
BPU Gets Down to Deciding Which Nuclear Plants Will be Subsidized
The state is launching a proceeding to determine whether some of the region's nuclear power plants need subsidies from New Jersey customers to remain open.
NJSpotlight Read more
Murphy vetoes outpacing last 5 governors combined
Gov. Phil Murphy has vetoed more bills in his first eight months in office than the last five elected governors combined, rejecting legislation over both substantial issues and minor concerns, according to a POLITICO analysis of nearly three decades of gubernatorial actions.
Politico Read more
Cory Booker asks, 'What is the rush?' on confirmation of Brett Kavanaugh to Supreme Court
Sen. Cory Booker told Supreme Court nominee Brett Kavanaugh on Tuesday the veteran appeals court judge's rulings show he would jeopardize abortion rights, voting rights and marriage and racial equality.
The Record Read more
5 big heat-seeking missiles fired at Supreme Court nominee Brett Kavanaugh by Cory Booker
U.S. Sen. Cory Booker got his say Tuesday as the Senate Judiciary Committee began several days of high-stakes hearings on President Donald Trump's nominee for the U.S. Supreme Court.
NJ.com Read more
Toms River actress Piper Perabo forcibly removed from Kavanaugh Supreme Court hearing
Toms River actress Piper Perabo, best known for her starring in "Coyote Ugly" and TV's "Covert Affairs," was arrested Tuesday, Sept. 4 at the Brett Kavanaugh confirmation hearing for a seat on the U.S. Supreme Court.
Asbury Park Press Read more
Sweeney: SIC nominees could be confirmed in time for September meeting
Phil Murphy's nominees to the State Investment Council have been in limbo since the governor announced the eight would-be members in April, but while the lack of a full compliment forced the Council to cancel its July meeting, Senate President Steve Sweeney indicated that they could be confirmed in time for the meeting at the end of this month.
New Jersey Globe Read more
Red, blue waves march in Mendham Labor Day parade
Morris County's biggest Labor Day event served as a clear transition point between the end of the traditional summer season and what politicians often refer to as "the silly season."
The Record Read more
'There is no money left.' Homeless vet in $400K GoFundMe dispute 'devastated'
The $400,000 raised for a homeless veteran by a New Jersey couple through a highly-publicized GoFundMe campaign last year is gone, the man's attorney said Tuesday.
NJ.com Read more
Killing isn't only way to control black bears
The Department of Environmental Protection will increase nonlethal efforts to control human/black bear interaction, in the wake of closing state lands to the 2018 bear hunt.
The Press of Atlantic City Read more
NJ bear hunters plan around Gov. Phil Murphy's state land ban
The New Jersey Division of Wildlife is expected to issue up to 11,000 bear hunting permits for 2018 starting Sept. 10.
Daily Record Read more
America's best state park? It's in N.J., according to a new ranking
Looking for America's best state park? Then you need to head to Ocean County.
NJ.com Read more
NY/NJ Baykeeper opens new HQ in New Jersey
NY/NJ Baykeeper held a gala ribbon-cutting and open house to celebrate the opening of its new headquarters in Matawan, it announced recently.
ROI-NJ Read more
N.J. is first state to regulate toxic PFNAs in drinking water
New Jersey has become the first state to regulate its drinking water for a man-made, toxic chemical compound once used in making nonstick cookware and now linked to a variety of health problems.
Inquirer Read more
Murphy taps ex-municipal judge as acting prosecutor in one of N.J.'s most violent areas
Gov. Phil Murphy has picked Essex County's surrogate — a former municipal judge — to take over as the county's acting prosecutor.
NJ.com Read more
Candidates Turn Up Heat in NJ's Hottest Campaigns
Labor Day is traditionally the start of the fall election season — but not this year. The state's hottest campaigns are alreday in full swing, having barely stopped for breath after the primary. Some of the contests — particularly the Senate seat at the top of the ticket — have already gotten quite nasty.
NJSpotlight Read more
Express Toll Lanes Could Give NJ Motorists a Chance to Steer Clear of Congestion
The idea of adding express toll lanes to busy highways like I-78 and I-80 has been discussed before, but policymakers are starting to get more serious about giving motorists the chance to pay a premium to breeze through chokepoints.
NJSpotlight Read more
Cost of incarceration: South Jersey jails by the numbers
In South Jersey, two counties are deciding to build new jails while another is choosing to maintain its current facility.
Press of Atlantic City Read more
Palisades Park skipped background checks on school armed guards, records show
Borough officials collected no resumes, conducted no background checks and performed no psychological evaluations on the members of a team of armed guards hired this spring to safeguard the district's three schools, recently released records show.
The Record Read more
NJ State Police: Tillman Not Kaepernick Was Real Hero
The union representing New Jersey State Police and Nike have very different ideas about what makes a hero.
NJ101.5 Read more
Will the Route 495 Bridge Construction Get Worse? Union City Prepares
A couple of weeks ago, officials were expecting huge delays at the Lincoln Tunnel as a $90 million reconstruction project on the road that leads into the Tunnel left two lanes closed, one in each direction.
NJ101.5 Read more
Morris County public discussions to address repairs to Depression-era bridges
Structural deficiencies of two Morris County Depression-era bridges and motorist safety will be the focus of discussion at next week's open house events.
Morristown Daily Record Read more
Paterson's Dominican parade is a go, but post-event festival canceled
For the first time in more than two decades, the organizers of Paterson's annual Dominican Parade of New Jersey – an event that draws tens of thousands of visitors – will not hold a festival afterward.
The Record Read more