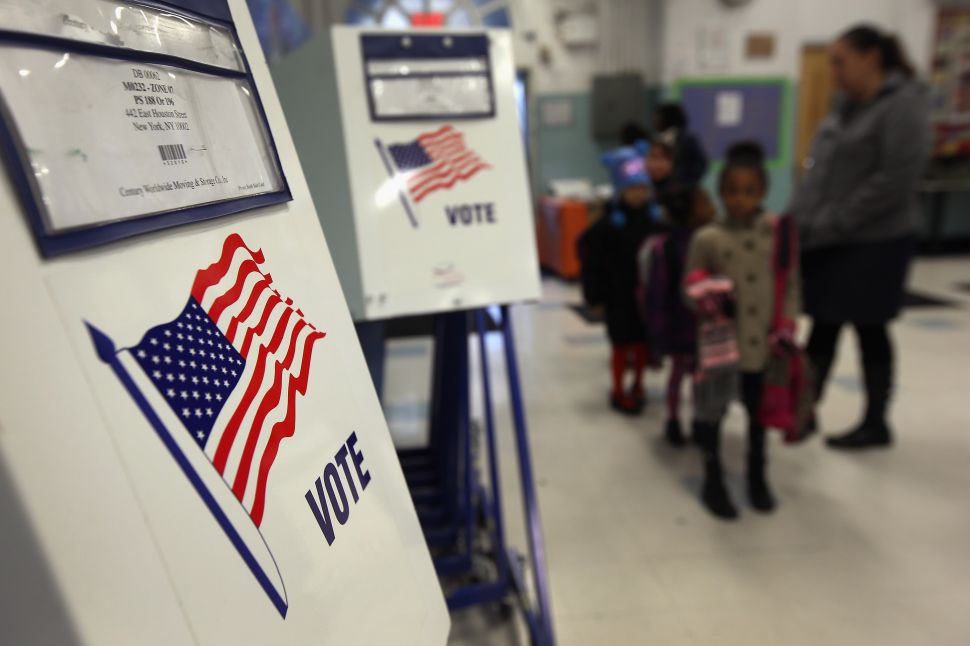 Former Gov. Brendan Byrne once joked that he would have liked to be buried in Hudson County, so he could remain active in politics.
It seems, however, dead people all across the state sometimes get that opportunity, according to a report by NJ101.5.
The radio station is reporting on the families of deceased voters who are getting notices addressed to their dead loved ones informing them a vote-by-mail ballot will be showing up soon.
Part of the problem, according to the report, is that new voter regulations signed by Gov. Phil Murphy. The new regulations require that people who voted by mail in the 2016 election automatically receive mail-in ballots unless the opt out. The law was adopted in August, leaving county voting officials scrambling to notify voters, according to NJ101.5.
In the rush, some dead voters received the notifications, election officials told the radio station. Officials said if families notify election officials a person is dead, they will not receive a ballot.
But some worry that the new law will just contribute to the opportunities to commit election fraud. President Donald Trump has frequently raised questions about widespread election fraud, even though there is little evidence to support his claims, the report notes.
Quote of the Day: "Mail-in ballots have always been easy-pickings for people who commit voter fraud, and the recent changes to election law have only made it worse." — State Sen. Sam Thompson.
In NJ, Dead People Are Getting Vote-by-Mail Notices
Jean Chesney died in April 2014. She was laid to rest at the Hollywood Cemetery in Union Township.
NJ101.5 Read more
Kavanaugh allegations bring new scrutiny to Booker account of 'stealing second' as a teen
Sen. Cory Booker's 1992 column for The Stanford Daily about "groping" a girl as they kissed at a 1984 New Year's Eve party differs in key ways from the allegation of attempted sexual assault roiling Supreme Court nominee Brett Kavanaugh's confirmation.
The Record Read more
Newark Mayor: Focus on Trump Gives Bad Democrats a Pass
The mayor of New Jersey's largest city brought a packed Democratic state convention to its feet on Friday with a rousing speech that ripped fellow Democrats for not being more progressive.
NJ101.5 Read more
Triumphant Democrats gather in Atlantic City, even as tensions linger
Democrats gathered on Thursday night to show off a resurgent, dominant party in control of the state's legislative and executive branches — and to rally the troops in their effort to take back congressional seats held by Republicans for decades.
Politico Read more
Sarlo Announces Money-Saving Reforms of Public Employee Medical Claims
New Jersey would hire a private company to monitor the two insurance companies that handle medical claims for the public workforce, under a plan Senate Democrats believe could potentially save taxpayers hundreds of millions of dollars over time by ensuring these firms don't overpay providers or overcharge the state for their work.
NJSpotlight Read more
Stile: Yes, Bob Menendez is on the ballot. But Cory Booker is getting the love from NJ Democrats
Sen. Bob Menendez is the top Democrat on the ballot in what many are casting as the most pivotal midterm election in a generation.
The Record Read more
What N.J. Democrats REALLY think about Menendez's chances in this Trump-fueled election
Want a picture with Cory Booker? New Jersey's junior Democratic U.S. senator grabs your cell phone, holds it aloft, and smiles with you for the camera.
NJ.com Read more
Menendez, supporters rip Hugin as anti-woman, anti-LGBTQ
Sen. Bob Menendez and a group of his supporters denounced Republican opponent Bob Hugin during a heated lunchtime rally on Friday, describing the GOP challenger as an anti-woman, anti-LGBTQ candidate who stands firmly with President Donald Trump.
Politico Read more
Bergen County Sheriff Michael Saudino resigns over racist, homophobic comments
Bergen County Sheriff Michael Saudino resigned on Friday, his 46-year career in law enforcement swept away in a whirlwind of public outrage a day after secretly-recorded racist and homophobic comments that he made following Gov. Phil Murphy's inauguration in January were made public.
The Record Read more
Swastikas painted on Josh Gottheimer campaign sign in Sussex County
A Sussex County couple woke Saturday morning to swastikas and other vulgar language and depictions spray painted on their garage and a lawn sign supporting Rep. Josh Gottheimer.
The Record Read more
Hate Crime Vandalism at Monmouth Jewish Center
Anti-Semitic graffiti spray-painted near the Marlboro Jewish Center prompted a hate crime investigation by police.
NJ101.5 Read more
Mahwah silent on eruv, parks ordinance settlement with state
Mahwah residents, for the most part, don't want to talk about the past year. They are looking to move forward and shake off the reputation that they are an intolerant community.
The Record Read more
Dogs are dying after groomings at PetSmart and families are left wondering why
A nationwide investigation by NJ.com documented 47 cases across 14 states since 2008 in which families claim they took their dog to PetSmart, the nation's leading pet retailer, for a grooming only to have it die during or shortly after the visit.
NJ.com Read more
Mums to marijuana: Pequannock family farm applies for license to grow medical pot
Fifty years ago the VanderVrede family delivered tomatoes from the farm in Pequannock to customers in Paterson. If the state allows, the family may soon replace the tomatoes with medical marijuana.
The Record Read more
Editorial: On PARCC, Murphy is failing the neediest kids
Gov. Phil Murphy tossed the PARCC test into his campaign like a political frisbee, reviving the anger of a muted opt-out movement when he vowed to eliminate it entirely.
NJ.com Read more
Editorial: Give unauthorized immigrants a driver's license
It is uncertain how many thousands of unauthorized immigrants are driving in New Jersey without a license today, but it's clear to everyone that this practice must end.
NJ.com Read more