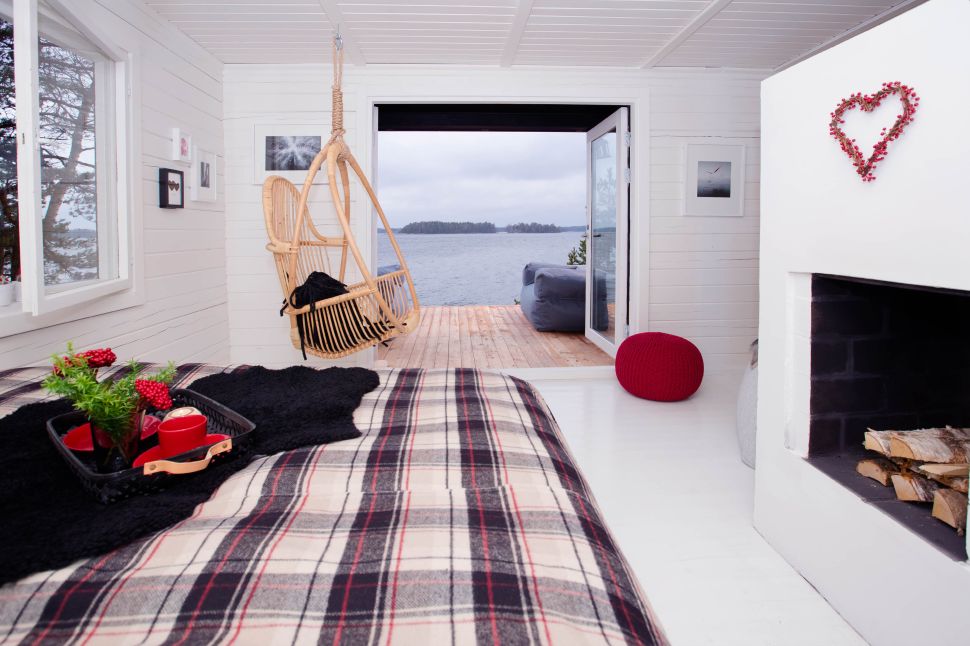 I'm slumped on a couch in a cabin with the windows blacked-out by sheets, somewhere in the middle of the Baltic Sea. For three days, I've consumed nothing but vegetables, flowers and fish. That's a lie. I smuggled in chocolate, which I've been eating when no one's looking. I have not shared my candy with the other women huddled around the darkened room, pupils wide to the glow of a PowerPoint presentation.
On the screen, a lion chases a zebra.
"Leaving the herd can mean instant death in the jaws of a predator," says the disembodied voice of a presenter over Skype.
The herd of shiny women surrounding me, who include a retired mechanical engineer, a forensic fingerprint scientist and a globe-trotting Viking millennial, nod in unison. They're here on this tiny island off the coast of Finland to "recalibrate without distractions"—meaning men—at a rate of $4,675 per week. The ladies-only retreat of SuperShe Island promises an 8.4-acre Nordic paradise free from predators and temptation (sugar and alcohol are also banned), where women who meet a strict set of membership criteria can reinvent themselves amidst wild blueberries and jagged ocean cliffs. In addition to Michelin-starred chefs and experimental networking, the exhaustive seven-day itinerary features paleo breakfasts, farm-to-table lunches, "ancient practices of Ayurveda," Finnish sauna, vinyasa yoga, yin yoga, power yoga, kayaking, meditation, massages, facials, shinrin-yoku forest bathing and "conversations with experts."  
The expert this evening is Loretta Breuning, Ph.D., the founder of something called the Inner Mammal Institute and author of books like I, Mammal: How to Make Peace With the Animal Urge for Social Power. She's webcammed in from the States to explain how bodily chemicals flow like water in a storm and that what happens to us before the age of 8 determines how we respond to the world. "Happiness comes from brain chemicals we've inherited from earlier mammals," Breuning says, clicking to the next slide of a monkey grasping for berries. "Dopamine creates a feeling of excitement when you expect a reward."
Listening intently from the center of the room is Kristina Roth, a crystal-eyed former computer scientist who bought the island last year, back when it was still known as Fjardskar. "This also is the reason our friends in New York take cocaine," Roth interrupts. I don't know why she watches me while she says this. Maybe she knows about the chocolate.
Roth sold her $45 million tech consulting firm in 2016 and launched a blog to help women discover the best version of themselves—or become, as she brands it, SuperShes. The Instagram-ready mix of inspiring profiles, travel guides and recipes for chia seed breakfast pudding proved hugely popular among the Goop-set of wellness-obsessed women with money to spend. Soon, Roth's blog evolved from photos of healthy-looking food and even healthier-looking women to real-life meet-ups and retreats. SuperShe Island, which officially opened in July, is the physical manifestation of Roth's vision, a carefully programmed oasis of female empowerment.
For nine months, a barge of male construction workers chugged back and forth to SuperShe through the mostly private archipelago, to lay lines for power and water and gut-renovate the island's existing log cabins, which had been crumbling since the 70s. That was the last time men were allowed on SuperShe.  
So far, more than 8,500 women have applied for SuperShe membership, and just under 2,000 have been accepted. They've all answered yes to the question, "Have you ever wanted to run away to a deserted island, breathe fresh air, swim naked in the sea, and sleep under the stars?" I am among the lucky 120 to have actually made it here (though in fairness I did not pay $4,675 to do so—I was invited by the SuperShe publicist).
On arrival, SuperShes are greeted by a network of stone paths that lead from a dock into a canopy of pines with roots that knuckle the shore. With the exception of a free-standing Finnish sauna and some reiki yurts, the island's main structures consist of four immaculately decorated guest cabins—Fire, Earth, Water and Air—with walls that glide open into wrap-around decks dotted by pod chairs. The bathrooms are wombs of white subway tiles divided by white glitter grout, and the beds are the best that money can buy—Hästens, which are Swedish, and cost, somehow, up to $150,000. Next to baskets of soap that smell like bright citrus are $2,000 toilets that incinerate poop. Graffitied walls exclaim, "Yaaaaaas!" or "No Bra? No Problem!" and there are fake silk flowers in real silver vases and actual fur blankets and rugs. On the doorknobs hang sleep masks to block the 19 hours of sunlight, and the pillows are tufted by palm-sized tubs of SuperShe balms that—unlike the cabins, which were made for women by men—are "MADE FOR SUPERSHES BY SUPERSHES."  
By the window there's a SuperShe notebook filled with words about sexuality and spirituality and paleovedic diets. Also in the notebook are quotes from Madonna ("I know exactly what I want. If that makes me a bitch, okay") and Maya Angelou ("My mission in life is not merely to survive, but to thrive") between pages that ask, "How Could I Have Made Today Even Better?"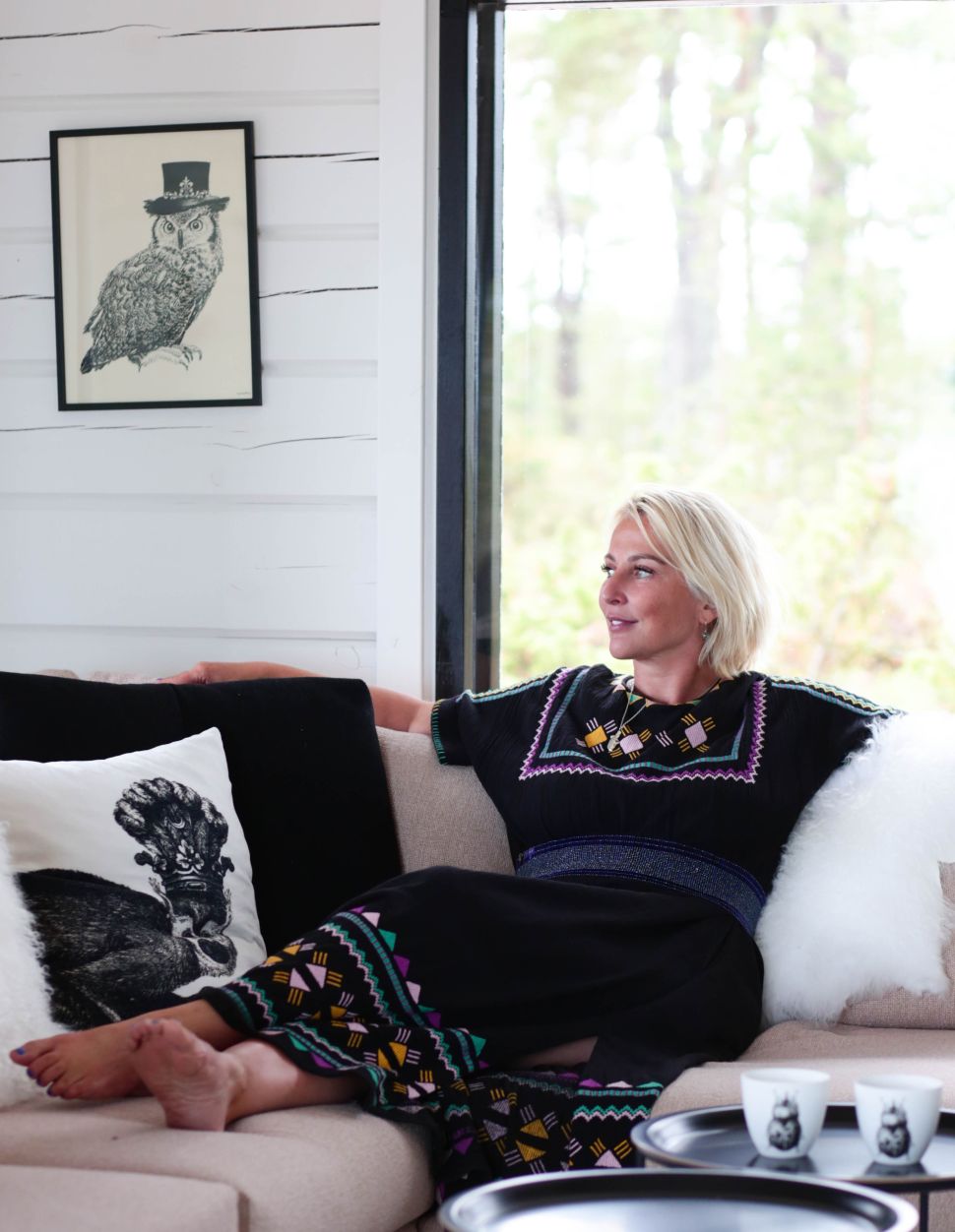 ***
8 a.m. at SuperShe is yoga. Our instructor Katie isn't a morning person, and her promise that it won't be painful seems plausible right up until the moment we're in down-dog listening to Drake. She hops between the mats and talks about movement and the importance of doing stuff for yourself—like yoga. After an hour, she sits and smiles and says "Namaste," and everyone is quiet until the pretty Viking asks if Katie actually knows what "Namaste" means. Katie says yes and the pretty Viking shakes her head and says "No, no you don't," because her friend who learned yoga in India told her that no words in English actually explain what "Namaste" means.
Roth says that tomorrow at 8:00 a.m., she wants EDM yoga.
When I meet Roth at Earth House for breakfast, she doesn't so much arrive as float in on a cloud, like some goddess CEO who respects your time but doesn't ever rush to meet anyone. Her wrists are small and her nails are neat and polished in mint green glitter. She is platinum-punkish and unnervingly feminine, and says things in ways that make you want to please her. Roth says other things, too, in a German-American accent, like that her island is "a cake with hundreds of layers," despite that fact that no cake is ever served here. She describes the inspiration behind SuperShe as "a Vitamix" of luxury hotels, private islands and hippie retreats that she loves, like The Ranch in Malibu ($4,100 for 96 hours of all-day hikes and just almonds for lunch) where she has stayed 10 times, and The Ashram in L.A., a "boot camp for the stars" where the décor unfortunately isn't quite up to snuff. "Literally," Roth says, "it was making me almost not feel comfortable because it was a little, like, seventies in Calabasas, you know?"  
Breakfast is prepared in a blender with probiotics and a superfood called baobab powder, which has antioxidants and fiber and supports seven kinds of bodily health. I stare into my paleo coconut yogurt topped with flowers, non-grain granola and seeds as Roth sips bone broth and reflects on the mammal brain afflicting all of us.  
"The end goal when you're living in New York, if you come in your twenties, is somehow to exit with a rich husband and have a house in Connecticut, and maybe a loft downtown," she says. "You think, 'Oh wow, everyone is doing it!' So, of course, you're trying to fit in. The mammal brain is in a constant 'Do I wanna just go with the herd?' mode. And that means, in the animal kingdom, that I'm safe, because if a lion comes the chance of you being eaten are lower when you are in a herd."
According to Roth, SuperShe offers the safety of an all-female herd without peer pressure to conform. "It's getting out of that comfort zone of hanging out with the same old girlfriends and feeling like, 'Wow, I have a global network of amazing women who I can tap into for different things.'"
It's not new to have a tribe and to call your friends instead of a shrink, Roth says. Even this goes back to paleo times and cavewomen. "But, taking that into 2018—not just in the cave, not just crying your guts out—SuperShe asks 'how can we take that to the next level?'"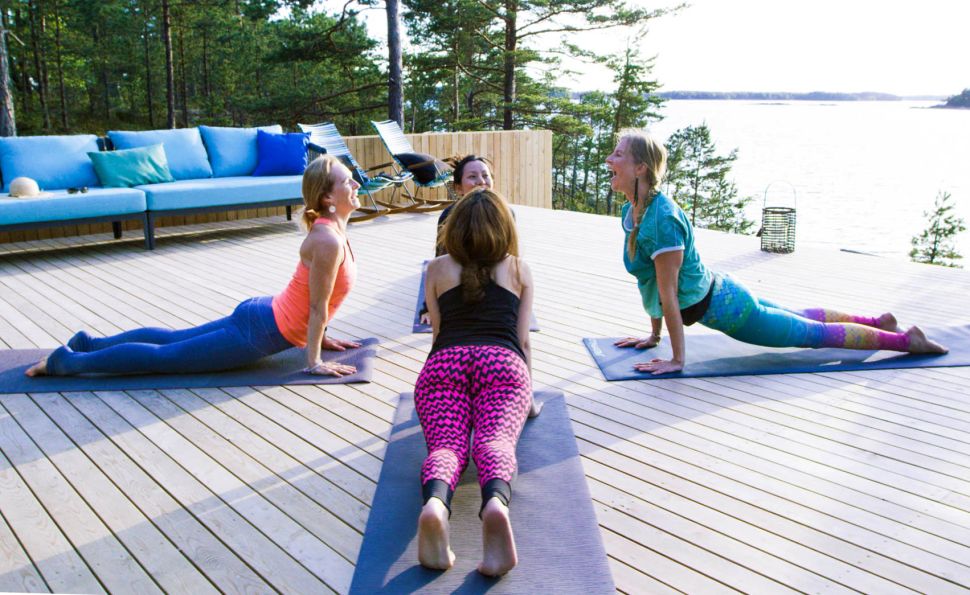 Roth's own SuperShe seed was planted in Germany, where she was raised by her mother, a doctor and the family's  breadwinner, who told Roth never to rely on a husband. Roth's father felt he "needed to act a certain way to be a man," like demanding total control of his wife's finances. Without a fight, Roth's mother complied. She handed over every paycheck and, "ironically, made herself dependent on him."
At 18, Roth left home to study computer science and economics. In the nine years between graduating and launching her own firm, she made stops at SAP, PricewaterhouseCoopers and IBM in New York City. At one point, she tells me, she had a Wall Street banker boyfriend who hated that she traveled so often for work. When he asked her to slow down and move with him to Connecticut, Roth worked harder and moved to Seattle, where, in 2006, she founded the company that eventually paid for SuperShe. In 2015, a year before Roth sold Matisia Consultants, it ranked eighth on Forbes' List of the 50 Fastest-Growing Women-Owned Businesses.
Roth tells me that when she was six years old, she asked her mother to divorce her father, a hard man with whom Roth "clashed on pretty much everything." Despite her urgings, they never split up, and her father died last year. It wasn't until he was on his deathbed, Roth says, that he finally softened. "Do I wish he would have been that way his whole life?" she asks. "Yes, and he'd probably wish the same. I never Namaste acknowledged the light in him, and he never acknowledged the light in me. But that last year, we found Namaste."
Those pre-Namaste years made Roth stronger and, if nothing else, still drive her to this day. "Obviously, I am the product of daddy issues," she says, lifting her chin. "You're searching for love in a man if you didn't get it in your childhood."
For her birthday last week, Roth hosted a shaman-led cacao ceremony in a yurt guarded by Buddhas in the center of the island. In this heart-opening experience, she tells me, the "Spirit of Cacao" connects your inner child to emotions that bubble beneath the surface. Cacao is not the same as chocolate. It is pure, unprocessed, almost sour, increases blood flow, and releases endorphins. Roth's boyfriend Benny choppered in a Dutch DJ, and once everyone found what hid deep within their hearts, they danced to EDM and—in a rare exception—drank cases of champagne. "The neighbors really didn't like that," Roth laughs. Her teeth are perfect.
Benny is a local spiritual healer with his own travel business who summers on his family's island five minutes from SuperShe by boat. "His parents are the ones who told me this island was for sale," Roth says, explaining that when Fjardskar became available, it wasn't even listed. (In Finland, she says, islands aren't typically bought, they are passed down, so you kind of have to know someone.) Sometimes the SuperShes will wave at him from the beach when Benny is on the water with his parents. Mostly, Roth heads to Benny's island for the night, returning before the SuperShes awake.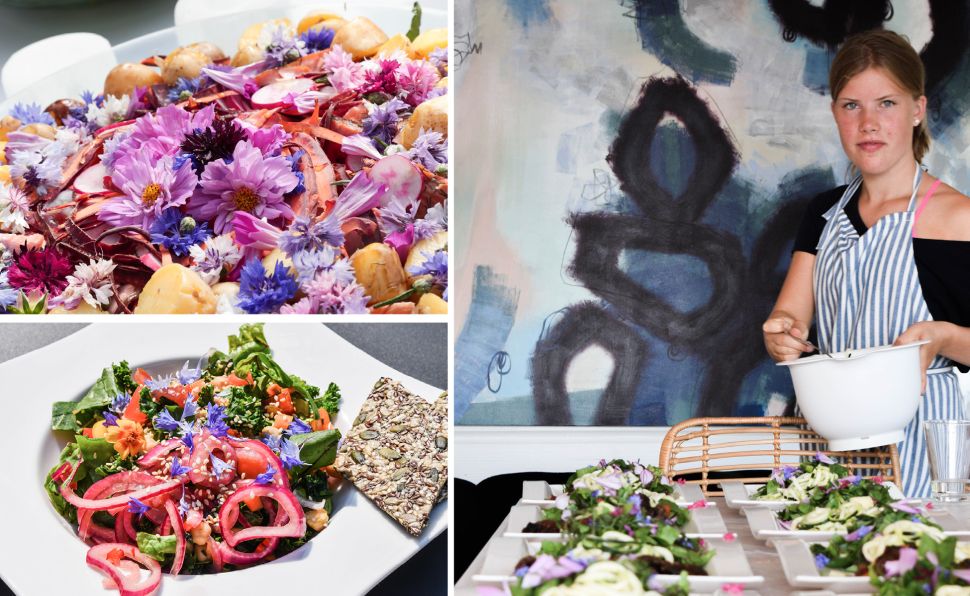 If you're wondering if Benny ever gets to visit, Roth explains that except for that one special time on her birthday, he respects the rules and stays away. But she doesn't love the question. "Why do women always want to talk about men!" she bursts.
Back in April, on his birthday, Roth proposed marriage to Benny and took him to Tiffany to pick out a ring. Roth tells me that when she's lost enough weight and thinks her hands are thin enough, she'll buy her own ring from H.Stern. She's never been afraid to go after what she wants, particularly when that means flipping the gender script.
"Hopefully we're going to get to the point where you're not automatically called a bitch on wheels if you just show signs of assertiveness and you know, of leading," says Roth, pulling a knee to her chest. "It's always the first natural reaction, 'Oh yeah, she's such a bitch.' Which translates to: she's not acting how I expect her to act, and it's gender-specific."
***
On the other side of the island, Yoga Katie and the fingerprint scientist guest are curled on an inflatable couch by the sea, wearing bikinis and nibbling on peas. Katie is from Oregon and the guest is from Minnesota and they are both remarkably friendly for people whose abs still look like abs while sitting and eating in bikinis. They look up and smile and we all decide to sauna, and so I follow their abs into the cedar-planked shed.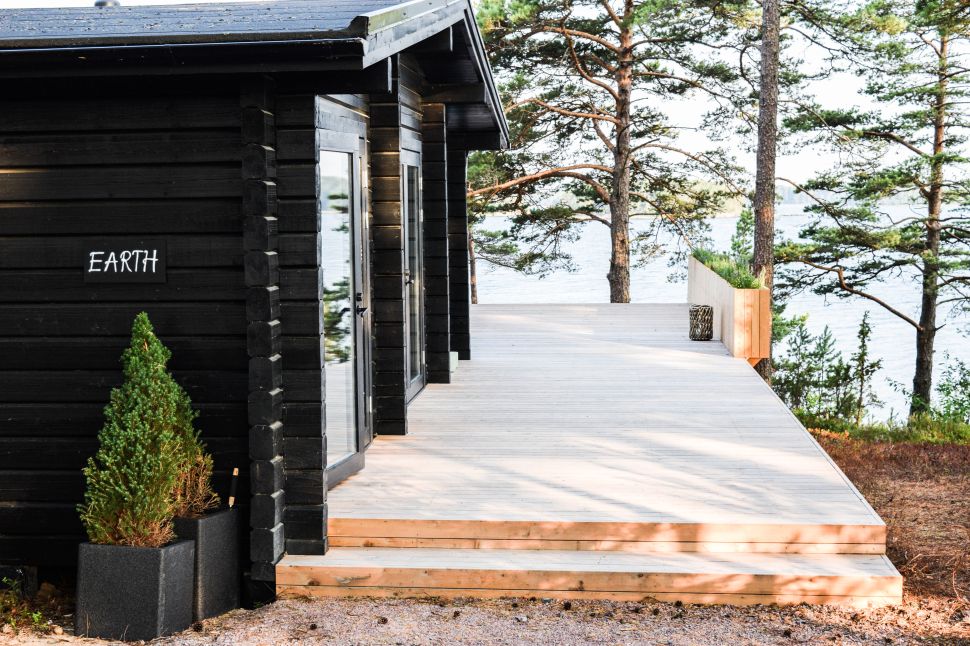 Katie says something about being nervous to come here, and I'm not sure if she means the sauna or the island. My lungs burn with eucalyptus. She pours me a glass of water and says something else, about building up a tolerance. I take a sip but now my lips burn, too.
"I just really wasn't sure whether it would be just a lot of rich women and if they would be nice or not," she clarifies. Katie is a yoga teacher and also a holistic health coach. Last year, ClassPass called her the best trainer in Portland, and when Roth was looking for someone to lead the often thrice-daily workouts, a mutual connection put them in touch. Tomorrow we will go kayaking and Katie will sit behind me and we will talk about a lot of things, but mostly about relationships. SuperShe, by design, is a place to process heartbreak. She will confide that she's needed time and space, and has found a lot of both of those on the island. She loves it here, and when the summer is over she wants to go to Iran to visit a guest who turned into a friend.
When it is finally time for dinner, Katie leads the way down a path webbed with blueberries and up onto a patio that cliffs high above the water. Swans nestle into the shallows below as expensive-looking sailboats circle the island like sharks. The former mechanical engineer sits on an electric blue couch beside the pretty Viking and the American from Minnesota. They are varying degrees of successful, blonde and thin, and all of them came to SuperShe alone—including a fourth guest, who won't be at dinner tonight because she has had a blackout migraine for days. The pretty Viking thinks this may be due to the sauna. When the fourth guest resurfaces later this week, she will insist that her misery "needed to happen." For now, a plate is delivered to her room.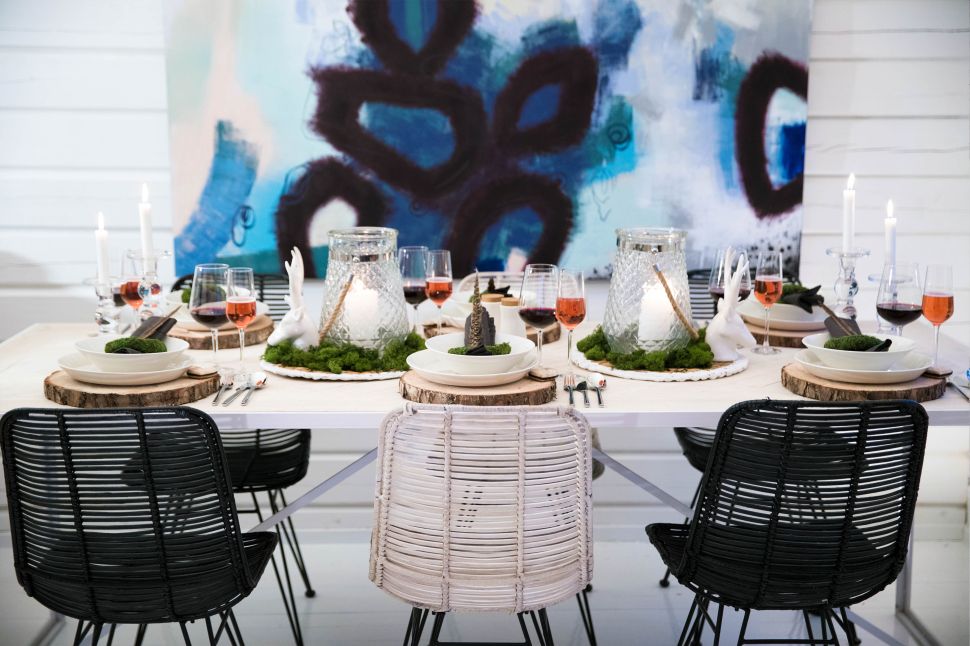 The meal is served by Camilla, a pretty blonde Finnish chef with deep expertise in raw vegan desserts and "high frequency" food. Everything except the avocados and coconuts is sourced from within 100 miles of the island. We have salmon prepared with ginger and herbs, kale with red peppers, and eyeball-sized potatoes that glisten in a clarified butter called ghee. There are edible orange flowers in the salad and edible purple flowers in the water. There are many colors of edible flowers on the table and they taste good, like spicy cucumbers, and are the only things Roth eats because she is on a cleanse.
Camilla hands a gallon of green juice to Roth, who's expounding on the importance of not lying to yourself about contentment. "I absolutely love the US—but it's almost like this blueprint that once I have the house, and I've paid off the house, and once I have my three picture-perfect children, and the husband who loves me and got me the biggest diamond, and we have a couple of cars in the garage, that that's the time when I will be happy," Roth says. "And if you're lucky enough that that moment comes, you will realize that you were chasing something that really, that's not really…" Roth pauses to take a gulp. "What really makes you happy is to be able to do what you want to do."
It's the mammal-brain instinct to chase beauty in the pursuit of happiness that leads the herd to slaughter. "If you want to make a drastic change, get fillers and get Botox, or pull the whole thing up, you know, cut it and pull it up," Roth says, "But don't kid yourself. There is no miracle cream. The wrinkles, they don't frickin' disappear."
"If you would have put all the money you've spent on, like, half-open bottles of cosmetics, and invested it in something sensible, you would be financially independent, right? Instead, you have a bunch of half-bottles, a bunch of Louboutins or Jimmy Choos, and nothing to show for it. And that really makes me angry. They market to women, and the women just buy everything."
"I went through the whole same cycle," Roth admits. "I lived in New York, and I spent all my money on looking good and on my apartment, and I learned by doing—that's the reason I'm seeing these things. I did it the hard way."
***
SuperShe is just one of dozens of female-only social and co-working spaces to have cropped up around the world in recent years, including the Allbright in London, which focuses on networking, Sweden's Her Global Network, which has now expanded to 14 cities, and The Wing, the ladies-only safespace whose mission "is the advancement of women through community." After launching in New York City's Flatiron District in 2016, The Wing raised major capital and has rapidly expanded across the country, with outposts in London, Toronto and Paris on the way. Of course, women's clubs are nothing new, and the judgements that follow them aren't, either. Like The Wing, SuperShe has been accused of discrimination against men.
"You're always going to have haters," Roth recently shot back. "But if you don't have any haters and people commenting, then you don't really have anything. SuperShe is like a white canvas—you can project onto it whatever you want… your fears."
For centuries, men have had their cigar clubs and golf resorts, where they can talk amongst themselves, Roth says. And in just the same way, there are topics women prefer to discuss only in the company of women. As the SuperShe website puts it, "Being on vacation with men can cause women to become sidetracked, whether it's to put on a swipe of lipstick or grab for a cover-up."
While The Wing is considerably less expensive than SuperShe (between $2,350 to $2,700 per year) both have been on the receiving end of criticism over fees some label elitist. Wing co-founder and It-Girl With a Lip Tattoo Audrey Gelman has fairly disputed such claims, arguing their dues are market rate (WeWork, where men and women mingle, starts at $350 per month). And this spring, Gelman launched a scholarship program, opening The Wing up to "self-identifying women and non-binary individuals who wouldn't otherwise be able to afford the membership fees." On Roth's end, in August she invited 42 Finnish locals to the island for "A Taste of SuperShe," where they could get an abridged Super-experience from lunch until dust. The cost was only 180 euro ($210).
From the start, the Finnish media has been less than kind to Roth's experiment. "Thousands Want to SuperShe—But Only a Few May Come," read one headline covering the Taste Of event. Which was little improvement over earlier stories like, "Few in Finland Warm to Exclusive Women-Only Island" and "Roth Finds Finland a Difficult Place for Business." One of the only positive articles to come out of her SuperShe-for-a-day invitation, which praised Roth as a "purposeful superwoman," eventually ended with a scolding. "Building a worldwide network for women requires more than just beautiful pictures and inspirational quotes."
"Finland is not easy on change, and I'm doing something that hasn't been done before," Roth tells me. "This is their archipelago, untouched, with no foreign investors. It's their sanctuary, no tourists—and then an American comes and buys land? I think it triggers something that is more historic than anything else. 'Someone is taking something away from us, what is ours.'"
***
After a morning of stupid-intensity squats, and nearly a week of acknowledging the light within me, my Namaste feels strong. Or maybe it's just low blood sugar. The pretty Viking and I are eating pea soup with flowers for dinner on the patio at the Earth House, and Roth is drinking green juice again, offering an earful of hard-earned wisdom she's admittedly cribbed from Mark Manson's book title.
"If I had one piece of advice, it would be to really master the art of not giving a fuck about things that are not important to you. We all give a fuck about something. But we should not give a fuck about a lot of things," she says. For example, Roth recounts, "When I was building my first company, people were like 'Oh she just got lucky, she's smart and pretty and she got lucky,' and that's exactly the message I'm most worried about going out to women on Instagram. Like, if you're pretty, everything's easy, just get the likes and the husband."
I finish my pea soup with flowers and the pretty Viking finishes her pea soup with flowers and then also finishes someone else's pea soup with flowers. She's so hungry here, she says, it reminds her of volunteering in an orphanage in South America.
"I feel like it must be very confusing for a young woman," Roth says, "about whether or not to work hard and find something or go this easy route that everyone else is going on."
A 16-year-old Finnish intern clears the dishes.
"I mean, how watched was the wedding of Prince Harry? How is the dream of 'She found a prince!' still sold as the love story in 2018?" Roth scoffs. "Why do so many women around the world still watch that crap? I mean, question mark!! You know?"
Roth tells us about the time when, a couple weeks back, in this exact spot, a drone popped up and started taking pictures of the SuperShes. The women threw the drone some middle fingers and f-bombs, doing little to dispel the misconception that women who have self-selected to go to an island full of women are angry. So Roth ran like a bat out of hell and into her boat, powering through the water after who she thought were jerk Finnish journalists. She found two well-dressed newlyweds. The drone, which she remains convinced was piloted by Finnish press, flew away to an entirely different island.
"At least the Fins, they're unhappy and they show it," Roth laughs. "I'm not saying that's a good thing, but to live in a society like America, where everyone thinks you need to be relaxed, chill and happy all the time? Let's not kid ourselves. I think you can live a more fulfilled life by saying, 'Yes, I'm sad and angry, I feel fucked up, nothing is perfect, but you know, it's fucking okay.'"
At that, Roth finishes her green juice, hops in a boat, and disappears by herself into the horizon.