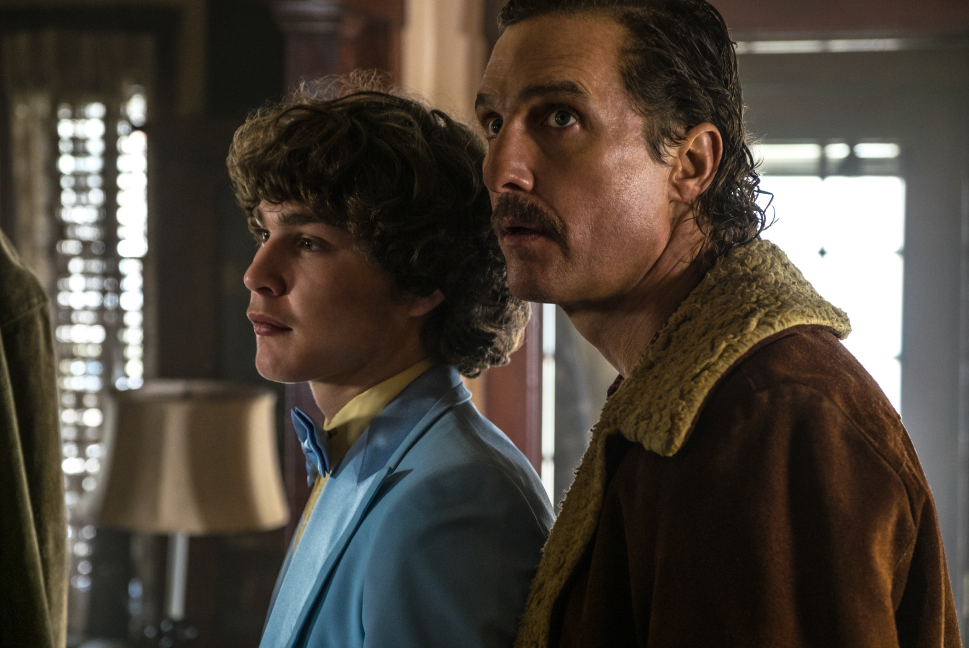 Bad movies we love to hate are a dime a dozen, but it is truly a rare horror to encounter one without a single redeeming quality whatsoever. Hateful and nauseous, a dreary, depressing disaster called White Boy Rick is one of them. It leaves you feeling desperately in need of a hot bath to wash off the dirt that rubs off just from watching it. This mess is so bad that even the title is disgusting.
Set at the height of the 1980s crack-cocaine epidemic, in a crime-riddled Detroit that looks like a bombed out landscape of inner-city filth and decay in the final stages of collapse, it tells the lurid story of Rick Wershe, Jr., a naive, stupid loser who was a street hustler, thief, black-gang mascot and drug kingpin at the age of 15, recruited as an undercover agent for the FBI, then betrayed and arrested by both the feds (Jennifer Jason Leigh and Rory Cochrane) and the corrupt Detroit police force, and eventually sentenced to life in prison. Nicknamed "White Boy Rick" by the black criminal gang members he hung out with in the slums of Motor City (the movie was filmed in Cleveland), his father Richard Sr. (a battered Matthew McConaughey, who has seen healthier days and better movies) was a good-for-nothing gun runner who sold illegal weapons from the trunk of his car. His sister Dawn (Bel Powley) was a brain-drained junkie.
---

WHITE BOY RICK 
(0/4 stars)
Directed by: Yann Demange
Written by: Andy Weiss, Logan Miller, Noah Miller
Starring: Matthew McConaughey, Jennifer Jason Leigh, Rory Cochrane, Bel Powley, Richie Merritt, Bruce Dern, Piper Laurie
Running time: 110 mins.

---
Look closely and doing as much damage to their reputations as possible, you'll spot a barely recognizable Bruce Dern and Piper Laurie as the white trash grandparents in this pack of rats. Unbelievably, the challenge of carrying the title role has been handed to a nonprofessional with no previous acting experience named Richie Merritt, who not only gives the word "amateur" new meaning but who emerges, replete with vivid closeups of blackheads and ripe acne, as the single most unattractive face on the screen in as many decades as I can count. I can think of no reason any bright, witty or halfway sophisticated movie lover—or otherwise normal person—would want to spend 10 minutes with any of the criminal degenerates in this worthless load of crap.
French director Yann Demange, who displays no knowledge of anything resembling character development or plot trajectory, fills the gaps between beatings and gunshot wounds with subplots that add up to nothing more than narrative clutter. Understandably, the actors are on their own. Mumbling incoherently and looking creepier than usual, Matthew McConaughey appears to be no stranger to cryogenics, thawed out in a microwave at room temperature. Providing his family of sleazy reprobates with no parental guidance and so little joy that the big thrill in Rick's day is shooting rats in dumps of discarded tires, Dad greets Rick with terms of affection such as "You smell like a whorehouse on New Year's morning." By the time Rick, Jr. goes to prison for life without parole, you can only wonder what took them so long? I guess the reason somebody figured this was a story worth telling is the fact that White Boy Rick was recently paroled after 30 years in jail.
Allegedly, White Boy Rick is a true story, but who cares?