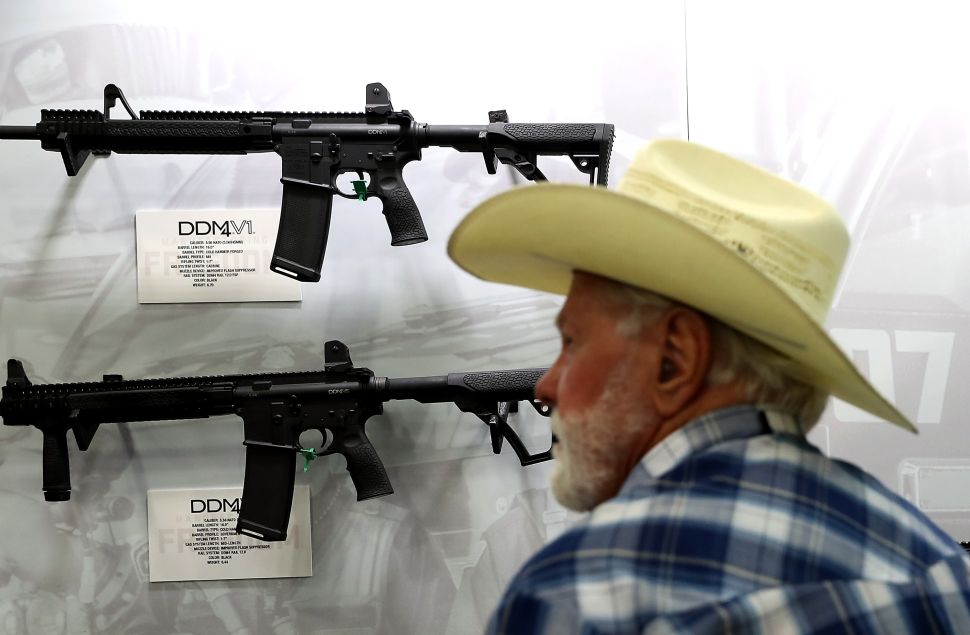 The National Rifle Association may be striking out with voters.
A new report from the progressive think tank Navigator Research shows the NRA has suffered "lasting damage" since the Parkland shooting.
Over 1,100 people took part in the survey, which was conducted last month. Respondents were verified as active voters, and the demographic compositions of the poll matched those of national registered voters (including party affiliation).
Many respondents said stronger gun laws would be an important issue in their midterm election votes. Forty-four percent of voters trust Democrats to tackle these issues, while Republicans only had a 28 percent trust rate among respondents.
Public opinion of the NRA has usually suffered after mass shootings like Columbine and Newtown, when media coverage tuned people into gun control issues. These news reports "contributed to and sustained the NRA's declining popularity," the Navigator study said.
But support for the group usually rebounds thanks to intense lobbying. Now, however, that may not be the case.
Over half of Navigator's respondents reported an unfavorable opinion of the NRA and its leaders, Wayne LaPierre and Oliver North. But the issue goes deeper than that.
In a survey of comparable sample size and demographic breakdown to Navigator's, the Center for American Progress (CAP) found that 53 percent of Americans consider the NRA "a political organization that fights to weaken gun laws." By contrast, the NRA website markets it as "the premier firearms education organization in the world."
This difference between the NRA's stated goals and actions is also hurting companies that associate with it. Fifty-seven percent of respondents in the CAP study say it is not appropriate for American corporations to "support or provide benefits to the NRA."
"It's changed from a popular organization that politicians feared to an unpopular organization that politicians try to distance themselves from," Margie Omero, a partner at public opinion firm GBA Strategies and one of Navigator's pollsters, told Observer. "The emphasis and the energy on this issue is coming from the left, so it's not surprising the NRA can't rebound."
In fact, Navigator writes "the group is now underwater, and shows no signs of bouncing back."
Firearms regulation has also become an important campaign issue. According to USA Today the 2018 midterm elections are the first time pro-gun control ads have outpaced those opposed to it. Roughly 59 percent of campaign ads between January and August advocated gun control, up from 31 percent in 2016 and 11 percent in 2014.
"The NRA has made a deliberate choice to take a very extreme, hardline approach when it comes to the issue of gun violence and has become increasingly more extreme in its messaging," Chelsea Parsons, CAP's vice president of gun violence prevention policy, told Observer. "That hyper-extreme messaging is really not resonating with a majority of Americans, who are sick and tired of the gun violence problem in this country. They're looking for solutions and prevention, and that's not what you get from the NRA."
These issues are often split along party lines. While a Pew study found only 19 percent of gun owners actually belong to the NRA, the analysis found similar partisan cracks among the general gun-owning population. Only 44 percent of gun owners want to ban high-capacity magazines, while 77 percent of non-gun owners do. And while 60 percent of Democratic gun owners believe the NRA has too much influence, 67 percent of Republican gun owners disagree.
A recent Gallup poll also found that 88 percent of Republicans have a positive view of the NRA. Only 24 percent of Democrats do.
The NRA did not respond to Observer requests for comment.
In some ways, the American people have neglected gun issues in recent months. Google trend data since Parkland shows this pattern.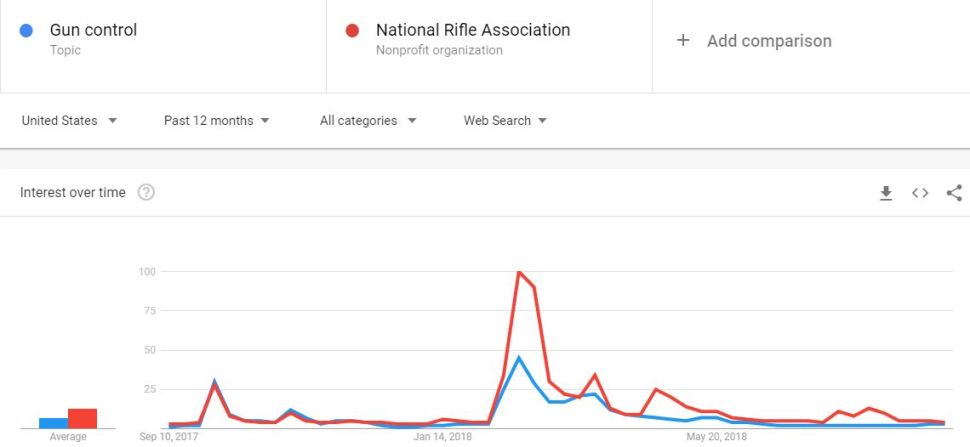 In spite of this, these polls show the public is still engaged in activism related to gun control.
"Parkland, and guns more broadly, have receded from daily news coverage, yet the NRA remains unpopular," the Navigator study read. 
"Even though there's less daily coverage, for a lot of Americans, it's reached a tipping point," Omero added. "This group is standing in the way of popular action."
The NRA has mostly stayed in the public eye thanks to the survivors of the Parkland shooting. The students moved the conversation from media to social media, and their refusal to shut up about gun control has kept the online dialogue going. In fact, Parkland survivor Emma González now boasts more Twitter followers than both the NRA and its spokesperson Dana Loesch.
"They are much quicker than traditional advocates to call the NRA out for its absurdity," Parsons said.
"People are engaging with the movement because of them," Omero added.