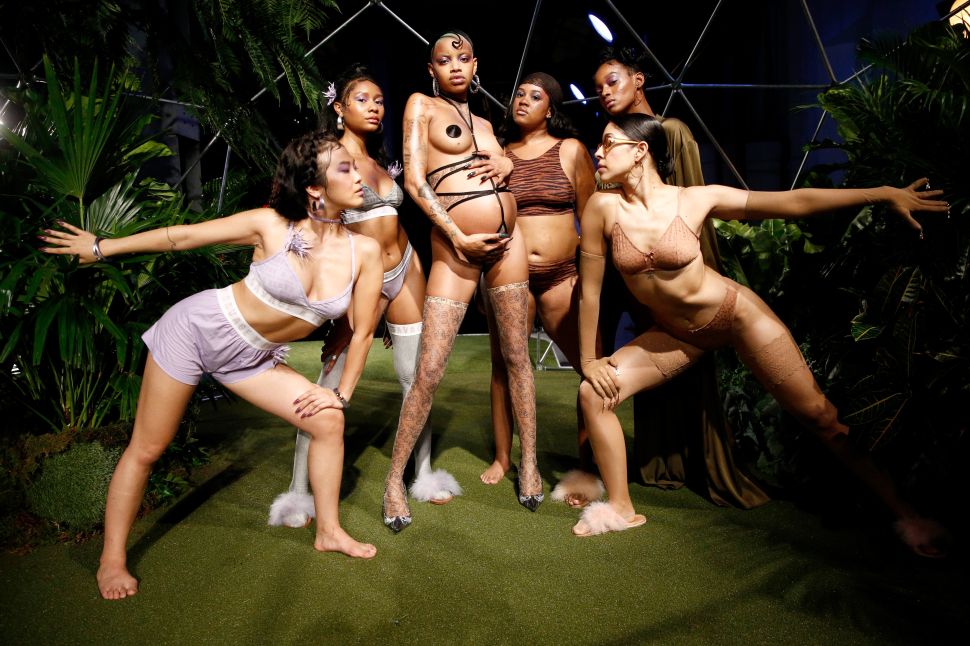 After a square-off with Marc Jacobs, the show that ultimately concluded New York Fall Fashion Week this year was Rihanna's Savage x Fenty presentation, a lush extravaganza of ultra-wearable lingerie featuring artificial ponds, gigantic plants and choreography by in-demand dancer Parris Goebel.
Subscribe to Observer's Arts Newsletter
According to The Fashion Spot, which just released its annual Runway Diversity Report, the Savage x Fenty show was also responsible for one of the most varied casts of models of the entire season. And this New York Fashion week, in turn, was one of the most diverse ever in terms of race, size, gender and age.
Rihanna cast 12 plus-size models for the event, more than any other designer besides Chromat. Project Runway winner Christian Siriano, who's known for the diversity of his shows, also cast many plus-size talents and models of color.
Almost half (44.8 percent) of this fall's runway model castings were models of color, a big step up from Fall 2018's 37.3 percent. Trans women and non-binary models made 53 appearances on the runway for Spring 2019, an improvement from Fall 2018's 33.
Additionally, Spring 2019 was "the most age-diverse New York Fashion Week on record," according to the report, even though only 12 models over the age of 50 were cast in the Spring 2019 season. While these increasing numbers are encouraging, it's important to consider how trends and shifting priorities in the fashion world have driven this change, and make sure it's not a trend in itself.
In 2016, just over 25 percent of the models cast in NYFW were models of color, and even within this year alone the number of models over 50 jumped dramatically between the Fall 2018 and Spring 2019 shows. Progress is evident, but the trick will be to keep an eye on the couture universe as the years pass, and not take any leaps forward for granted.
There were no shows made up entirely of white models this year, even though two brands, Zang Toi and Tadashi Shoji, came close, casting one model of color out of 14 and two models of color out of 18 respectively. It'll be interesting to check back next season and see whether diversity is still an objective designers are willing to commit themselves to.