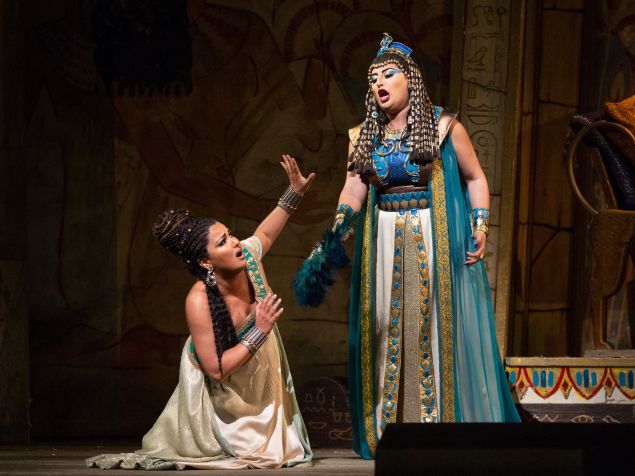 "Ritorna vincitor!" cries the Egyptian throng in the first scene of Aida as they send their hero off to war: "Return in triumph!"
And that's what the Met's undisputed prima donna Anna Netrebko did last night in her first local performance of the protean title role of this opera: she came, she sang and she conquered.
Netrebko's tour de force in this long and demanding part—an enslaved Ethiopian noblewoman who falls helplessly in love with the general of her captors' army—is particularly gratifying after her relatively skimpy Met season last year. At that time she offered only a handful of performances of Puccini's Tosca that found her in handsome voice but a little timid and muted in personality.
Subscribe to Observer's Arts Newsletter
No such restraint hobbled her Aida, an explosion of conflict between erotic desire and patriotic duty from her first entrance. Physically she lurched and shuddered, and her voice if anything surpassed her panicky demeanor with dark, gasping tones and agitated phrasing swooping from fortissimo cries to pianissimo whispers.
And yet she excelled in the big purely vocal moments, rocketing to a blazing high C in her defiance of the jealous Egyptian princess Amneris. Later, in the mournful Nile aria, when Aida bids farewell to her native land, she gently soared to that same note in one of the most technically demanding phrases Verdi ever wrote. But this time the C shimmered like the moon emerging from a cloud-swept sky.
So glamorous and complete an artist could easily coast through her role, but here Netrebko was on her mettle, squared off with mezzo-soprano Anita Rachvelishvili as the scheming Amneris. Her tornado of a performance recalled the legends of the superhuman past interpreters of this part like Giulietta Simionato and Fiorenza Cossotto, a volatile brew of gigantic voice and overwhelming personality.
There was something savage, almost animalistic, Rachvelishvili at full cry: her perfectly tuned high C-flats were screams of blind rage and her chest tones sounded like the clanging open of the gates of Hell. And yet despite all that (not to mention her inch-thick makeup), she found a sympathetic note in the character: this Amneris was not evil but rather tragically headstrong, finally broken by regret and shame.
What's more, the men in the cast—most of them anyway—were comparably superb. Quinn Kelsey's complex, many-colored baritone elevated the relatively brief role of Aida's father Amonasro to supervillian status. In his two scenes he seemed a puppetmaster manipulating  the destinies of two kingdoms. And Ryan Speedo Green's great golden bass made the King's few lines for once sound like the utterances of a true monarch, not only authoritative but downright magnetic.
It's best to forget Aleksandrs Antonenko's catastrophic Radames, with his ear-splitting singing and nonstop futzing with his Tommy Wiseau wig, and instead concentrate on the richly shaded and sophisticated conducting of Nicola Luisotti. He found unexpected depths even in the more blatant moments of the Triumphal Scene, injecting a sudden change of tempo that made the final moments seem to leap off the stage.
Even the visual styling of the performers dazzled, in particular Netrebko's svelte, body-conscious gowns that seemed to transform her into late 1950s Elizabeth Taylor. That said, she and her colleagues deserve a better production than the Met's 30 year old staging with its mock "Temple of Dendur" backdrops and dated, insensitive blackface makeup. Fortunately, a new Aida production is promised a few seasons from now.
And speaking of the future, I can hardly wait for that time, a few decades hence, when I will totter forward from my rocking chair and wheeze to some snide young opera queen, "But, after all, my dear…you never heard Netrebko!"