Pippa Middleton is an aunt for the second time in less than six months, as her reality-star in-laws just welcomed a son into the world.
Her husband James Matthew's brother, Spencer Matthews, and his wife, Vogue Williams, aren't exactly regal like Pippa's sister Kate Middleton and Prince William, who became parents for the third time when Prince Louis was born in April. But Matthews and Williams are known from reality television, as Matthews appeared on Made in Chelsea and starred in the U.K. version of The Bachelor.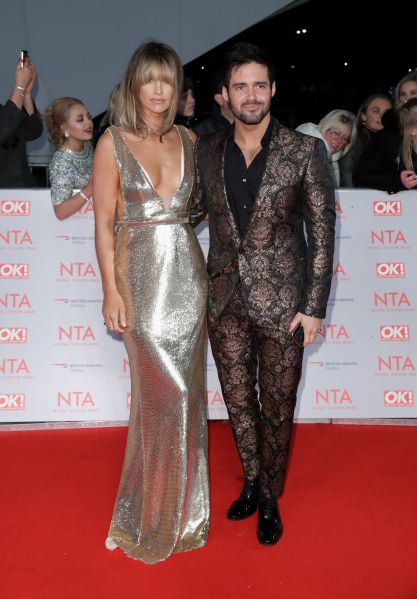 Though he did not find lasting love on that show, he did meet his now-wife on another U.K. reality show, The Jump, in 2017. Apparently, it's about "famous" people giving winter sports a try (which, if you ask us, hardly bears the luster of a Tostitos commercial).
Williams—a television presenter whose résumé includes the trifecta of acting, modeling and DJing—married Matthews in June at the 10,000-acre Matthews family estate in the Scottish Highlands. It's known as Glen Affric, and Pippa could eventually be given the title Lady of Glen Affric. It doesn't roll off the tongue quite like the Duchess of Cambridge, but still!
In true reality star fashion, Matthews and Williams announced they were expecting their first child with a spread in Hello! back in March. In a sense, Pippa took a similar route, as she disclosed her pregnancy in her fitness column for Waitrose Weekly, a free magazine available at the fancy grocery store Waitrose.
Matthews and Williams informed the rest of the world that they'd become parents to a baby boy through coordinating posts on Instagram, where they've also both engaged in some good old-fashioned #spon.
The couple haven't announced their new son's name yet, but they'll likely deliver another social media snippet soon (not everyone has Kensington Palace to handle their personal news).
Middleton, on the other hand, doesn't maintain social media accounts, at least not that we're aware of—it seems she follows in the royal family's footsteps, though Princess Eugenie has a personal Instagram handle now. When it comes to her new baby, Pippa is taking a cue from her older sister, as she's reportedly decided not to find out its sex before the birth—she hasn't publicly announced her due date either, but it's believed to be in October. No doubt Matthews and Williams will post a celebratory 'gram.