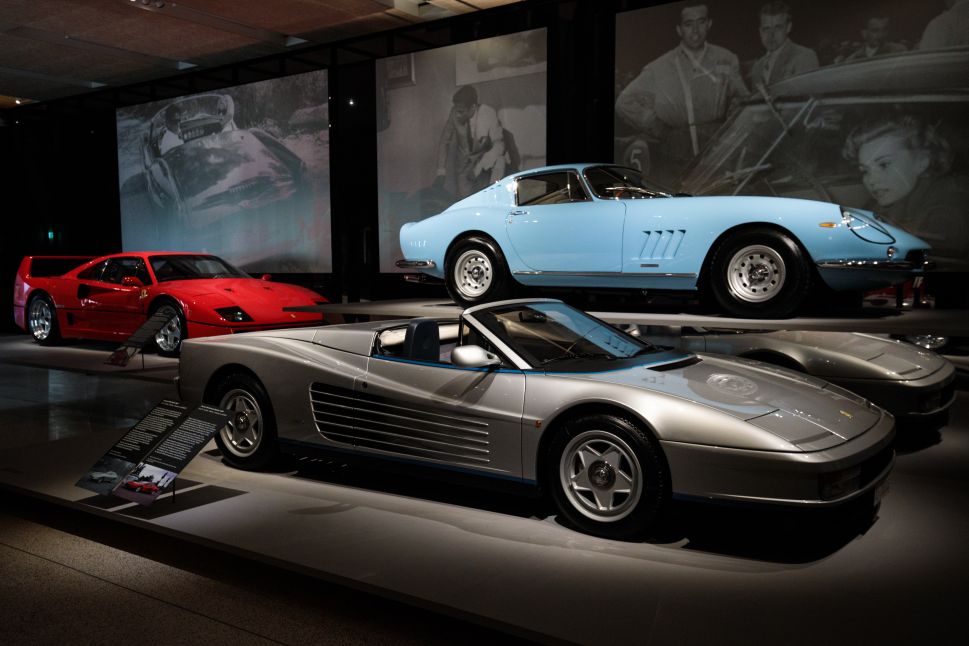 There was a car—a 1994 Porsche Turbo 3.6S flat-nose. Christopher Bruno wanted that car more than anything. But Porsche only made 100 of them, and Bruno was just a 14-year-old auto obsessive from a family of Brooklyn mechanics. He had as much of a chance at that Porsche as he did of going on a date with Winona Ryder. But he kept his eye on the car anyway.
Fourteen years later, one of those Porsches arrived in Manhattan. Bruno had been following it to the bottom of its depreciation curve. It was now going for $100,000. "I was figuring out every possible way to get a hold of it," he explained. "But it was basically all my money at that time. I didn't feel comfortable laying it down into a car." Not even that car, his dream car.
Instead, he piled the money into a house, which today is "worth about what I paid for it," he said. "Maybe less if you take interest into account." The Porsche, on the other hand, now has an estimated worth of about $1.4 million. Bruno vowed not to miss out on another investment like that again.
The world of vintage cars tends to be an exclusive one. Vehicles exchange owners with secret handshakes and pre-determined auction deals. "My whole life, I always felt like I was outside of the velvet rope," Bruno told Observer. "There was no way to get in. The process, the lack of transparency, it all felt unfair."
To correct that, Bruno, a co-founder of the health information video platform HealthGuru, has launched an app called Rally Road, which allows investors to buy a stake in vintage cars and trade those stakes like securities. They may never get to keep a vintage roadster in their garage—if they even have a garage—but they can own a piece of one, and make a profit. Cars on the app currently include a 1985 Ferrari Testarossa, a 1990 Ford Mustang "7UP Edition," a 1989 Porsche 911 Speedster previously owned by Jerry Seinfeld, and a 1995 BMW Lightweight. In some cases, Rally Road owns the cars outright, and in others, they'll do an equity share with the original owner, keeping 10 percent for the founders, 10 percent for the owners and the rest for investors, who never have to worry about those details.
For investors, the app is free. Bruno and his co-founder Rob Petrozzo take no commission. There's no management fee and no auction fee. The only requirement is that the investor needs to buy one share.
"I don't think it's that novel of an idea," Bruno said. "People have been asking why they can't trade cars like stocks forever. We just put putting pieces together in a way that made it work."
All of Rally Road's cars must meet a certain standard: They need to have the original factory engine and transmission. If restoration has occurred, the numbers need to match. They need to be painted in their original colors, and the paperwork needs to be in order. Investors to know who owned it and when, with no gaps, and what work was performed.
The proof of concept, when the app launched last year, was a 1977 Lotus Esprit, the "Roger Moore James Bond car," which the founders bought out of pocket for $77,000 from a dealer on Long Island.
"We wanted to do something Italian, American muscle or German," Bruno said. "But we didn't have a load of money to start a company with. We had to be creative, but we couldn't compromise." They put it up for $38.85 a share. Today, it's trading through the app for $41. "In terms of a value play," Bruno continued, "it was definitely a low-risk high reward."
Rally Road looks to give its investors shares in cool cars, but they're also looking for market opportunities. Bruno thinks their current offering, a 1993 Jaguar XJ 220 that he coaxed away from a dealership in Miami, is undervalued compared with its competitive set. That era's MacLaren F1, for instance, retails for a cool $20 million. The XJ, on the other hand, is valued at $550,000. It's a steal, Bruno thinks, at $99 a share.
The app bases its success so far on a group of younger investors who've become accustomed to putting their money into cryptocurrency or other eccentric choices outside the stock market. "There are a whole bunch of younger people now," Bruno said, "who are taking responsibility for their financial future. Trusting their phones to alternative assets based on the rise and fall of crypto. They don't need some massive amount of capital to get it off the ground."
Billy Blase, a 31-year-old financial planner in Los Angeles, has been steering the occasional client toward Rally Road and invested a bit himself after seeing an interview with Bruno on Fox Business. Blase plunked down $2,000 (at $57.50 a share) on a 1969 Boss Mustang and has since bought shares in the '93 Jaguar, the Testarossa, the BMW and a 1955 Porsche Speedster.
"I'm not necessarily a car guy," he said, "but that's the beauty of the platform. Each vehicle is broken down into a number of shares. There's some kind of kitschy good feel about it, where you have a small piece of something special."
William Moy, a 30-year-old health care analyst from Queens, says he bought some shares in the Testarossa on the recommendation of some car-nut friends and doesn't regret the investment at all. "The last car shares that I bought were in the '89 Porsche," he said. "I believe Jerry Seinfeld owned it for a while. That one went off the market quick. That was a cool experience. I feel like I'm owning part of history."
Blase says he's put somewhere in the neighborhood of $11,000 into Rally Road's cars and has made about a four-percent profit in a short period of time. "This is a legitimate investment," he explained. "If I'm looking at my holistic portfolio, I think it's such a unique and different asset class. It's not something to get rich off of, it's just a way to diversify from public equities."
While individual investors may be seeing a steady but modest return from Rally Road's cars, the app itself has grander plans. This week, Bruno announced a $10MM Series A fundraising round. They plan to open a showroom in Soho later this year, to be followed by retail outlets in Los Angeles, Miami and Houston. There are also intentions to expand into other alternative investment opportunities, like sports memorabilia and art. Rare-asset investing has suddenly become a little less rare.
But none of that means Bruno is any closer to owning his dream 1994 Porsche.
"Having that particular 911 on the platform is something I'd love to do," he said, "but I think we missed the curve on that one. For the '90s Porsches that were really exciting, I think we could find better value in more places. I'm trying not to make it personal. Even though I'd really like to."