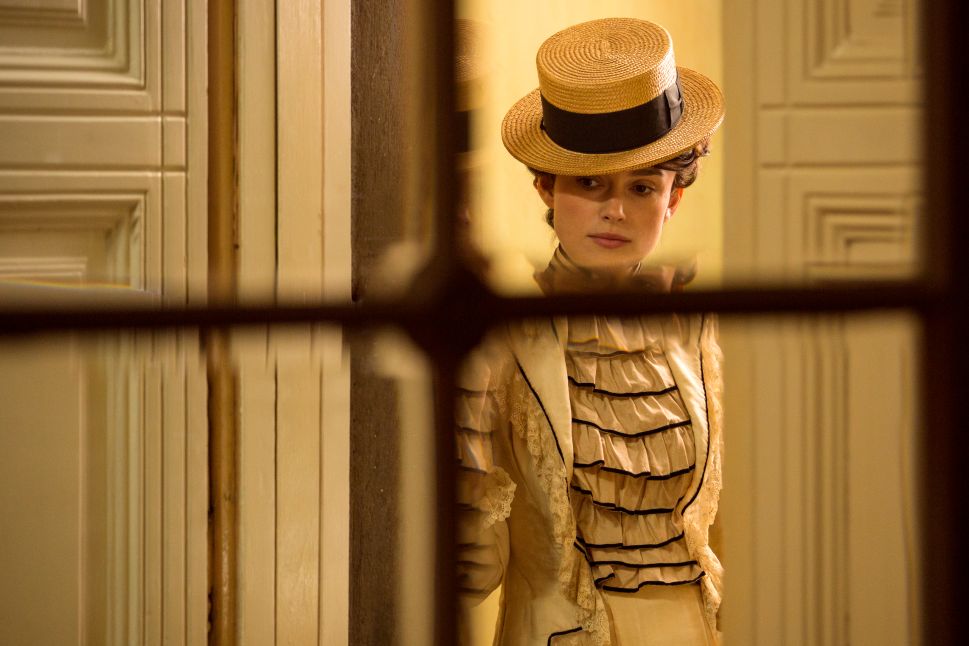 Colette is the most important woman writer in the history of French literature, and the private, personal story of who she really was and how she got there is as mesmerizing and all-consuming as any book she ever published. Although it happened more than 100 years ago, the story of how she became a gay icon of artistic achievement in the world of letters as well as a symbol of freedom and power in a male-dominated world has a relevance for today's feminist movement that is astonishing. In addition, as merely a biopic of her life, British director Wash Westmoreland's Colette, with Keira Knightley in the title role, is the best and most lavishly appointed, gorgeously photographed period movie in years.
---

COLETTE ★★★★
(4/4 stars)
Directed by: Wash Westmoreland
Written by: Richard Glatzer, Rebecca Lenkiewicz
Starring: Keira Knightley, Dominic West
Running time: 112 mins.

---
Sidonie-Gabrielle Colette, a poor country girl from Burgundy in the late 1890s with no dowry and an ambitious craving to be somebody, married a much older writer named Willy (dashing Dominic West) and accompanied him to a new life of  excitement and adventure in Paris. Willy was sexy, pompous and unfaithful, but Gabrielle was enchanted. She soon discovered her husband was also a literary fraud whose only talent was for convincing other people to ghostwrite his stories. With no interest in playing the role of "the little wife who stays home," the beautiful Gabrielle embarked on a career of publicly captivating Parisian society while privately joining her husband's little coterie of writers, earning for him the money and success to pay his gambling debts and finance his luxurious lifestyle.
The books she wrote, known as the "Claudine" stories, became overnight sensations under the pseudonym "Willy." Naturally he claimed all of the credit for himself while demanding that she provide him with more books, locking her in without a key for hours at a time to keep her working. The movie, with its lush décor, opulent gardens, sumptuous costumes and fanciful recreations of turn-of-the-century Paris in the Belle Époque, is about how Gabrielle broke sexual taboos by engaging in lesbian affairs with glamorous women and established her own independence under the name "Colette."
Willy's destruction and Colette's emergence as a literary sensation resulted in a scandal that electrified Paris and constructed a reverberating reputation throughout Europe. The "Claudine" character became a cottage industry that Colette even  adapted for the stage, where she became a rock star of her day as an actress, endorsing everything from soap to perfume.  She went on to write 30 novels and scores of short stories. Gigi, her most famous work, is still being produced today on stages everywhere, and in 1959 a combination of two of her most popular books made it to Broadway as Cheri, starring the titanic Kim Stanley.
As Colette and Willy, Keira Knightley and Dominic West have a ripe chemistry that can only be described as hypnotic, while the liberated woman born of that torturous union and the controversial freedom that evolved from it—including graphically depicted sexual affairs with other women and even a ménage à trois with Willy and a rich American from Louisiana—is intelligently captured by writers Richard Glatzer, Rebecca Lenkiewicz and the film's director, Wash Westmoreland, who chronicles the period details with an exquisite grace.
Defying gender roles until she died in 1954, Colette was a driving force on the road to Women's Liberation, and Colette captures every detour with elegance and passion. Don't just absorb it. Let it absorb you, like absinthe.