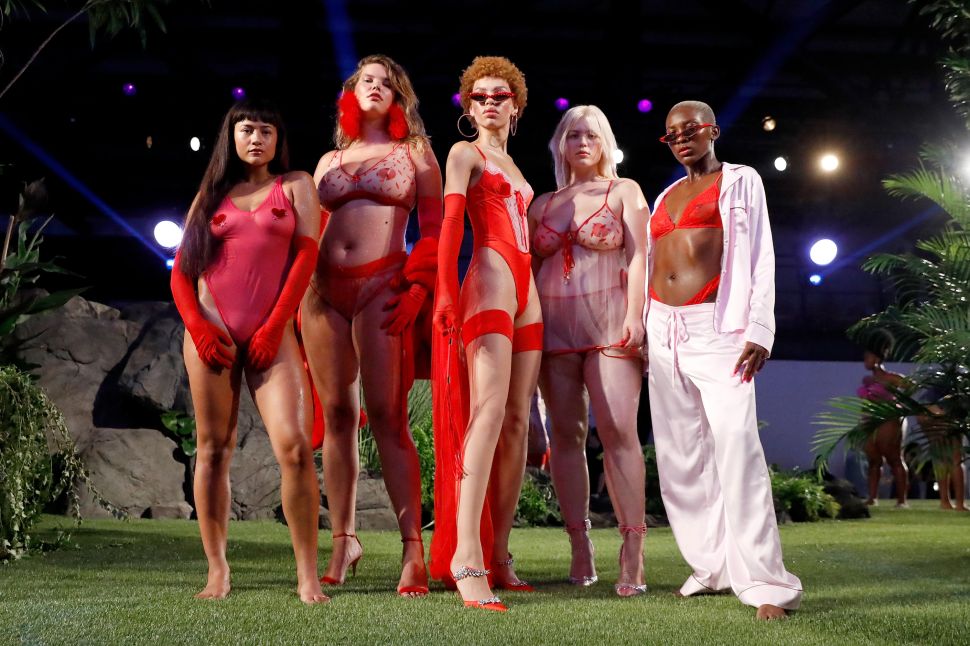 "Is Fashion Week always like this? Standing out in the rain?" Patrick Ta asks, which temporarily throws me. As the go-to makeup artist for cover girls like Kendall Jenner and many illustrious others, I'd just assumed he knew this scene like the back of his blending brush.
But attending an event like this is work in itself, as evidenced by the grumbling line of sulking, umbrella-wielding cool kids Ta and I were standing in. In fact, there are two lines: our group's invitations came with a scannable barcode for seamless entry, but attendees in the less fortunate queue needed their names approved by the alert-looking event director blocking the entrance to Brooklyn Navy Yard's Building 28.
Celebrity brands don't often butt up against Marc Jacobs for ownership of New York Fashion Week's coveted "finale" title, and intimate apparel usually isn't presented with as much ceremony as ready-to-wear or couture collections, but tradition has no place in the Rihanna lexicon. She is, of course, who we're all waiting for.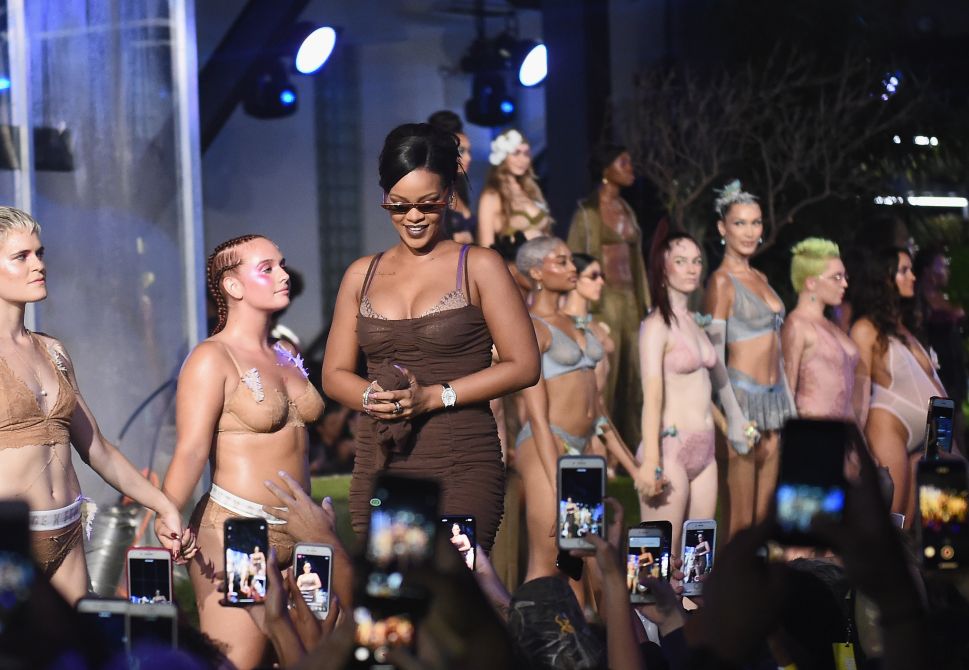 Wednesday evening's Savage x Fenty lingerie presentation took place on a curved runway coated in fake green grass. Transparent enclosures and geodesic domes formed a perimeter around an artificial grotto, and miniature plant nurseries stood huddled under protective glass.
Petra Collins, resplendent in a Canadian tuxedo and lime green bralette, fidgeted as the warehouse lights dimmed and New-Age melodies swelled in the cavernous gloom. Christian Combs, son of Diddy, leaned eagerly against the metal banister of an elevated platform. He was wearing what looked like a fluorescent pink safety vest, and curious glances darted back periodically in his direction as the show began. 
What followed was something like the cross-section of a repertory performance at Jacob's Pillow, black box experimental theater and a stadium headliner's pop set.
Models (including Gigi Hadid, Bella Hadid and Joan Smalls), wearing lace separates and ruffled bustiers, danced and convulsed and leered into the audience. Seven minutes in, the riotous music paused, and they all roared with laughter like a coven plotting revenge.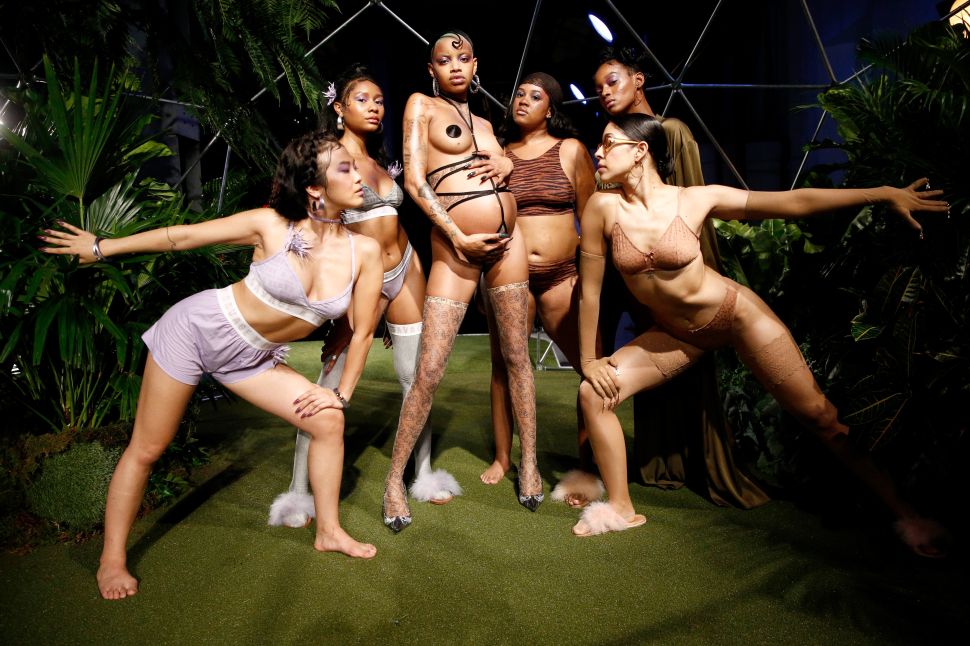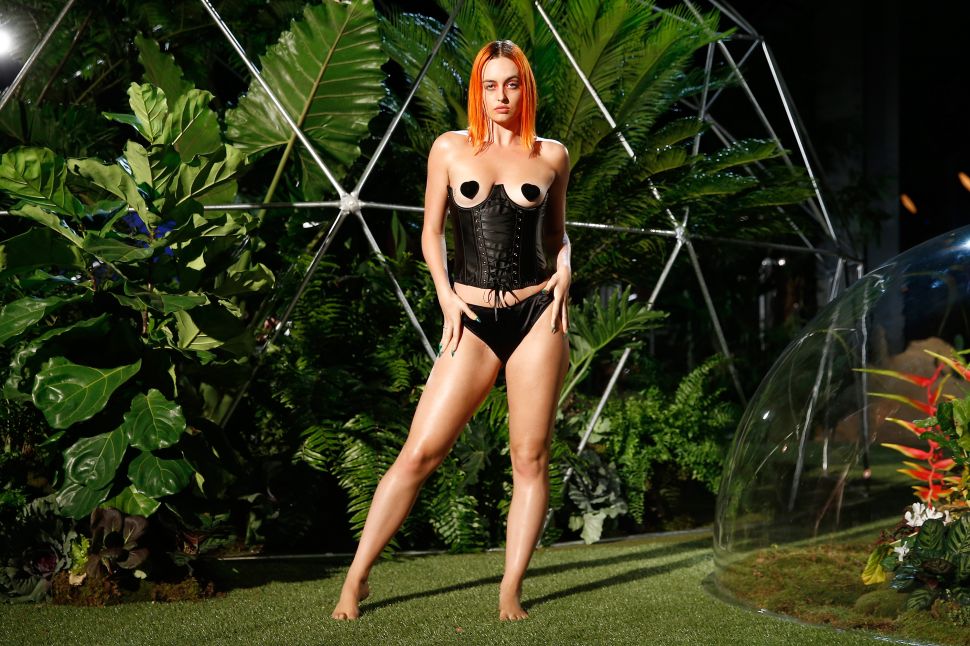 The clothing itself is pretty enough, although the ostentatious ribbons and fetishistic corsets seem more appropriate for a Renaissance Faire than the closet of an Instagram influencer.
It hardly matters: Rihanna's fame guarantees the merchandise will sell, and regardless, everybody was having way too much fun to scrutinize the quality of the seam stitching. This is what Fashion Week is now: a race to determine who can manufacture the biggest spectacle. Playing by these rules, RiRi's bound to win every time.