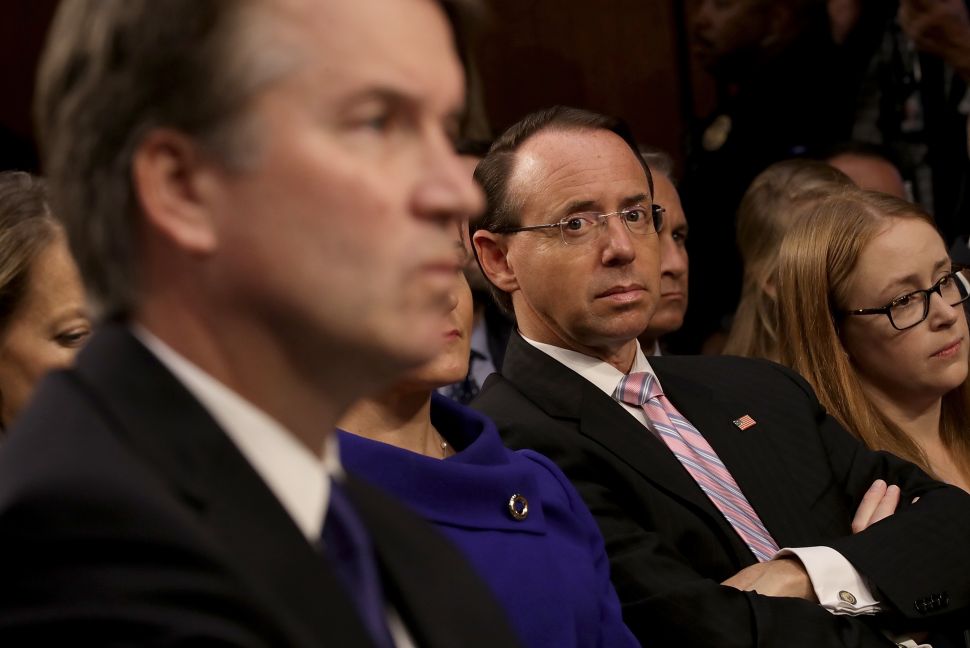 Reports of Rod Rosenstein's resignation blasted across the media landscape on Monday—sending the shapers of America's mass opinion into disarray.
Axios was the first publication to report that the deputy attorney general verbally resigned to White House chief of staff John Kelly. Although the outlet's social media handles promoted the story as if Rosenstein's resignation was definitive, White House press secretary Sarah Huckabee Sanders disputed the reporting.
"At the request of Deputy Attorney General Rod Rosenstein, he and President Trump had an extended conversation to discuss the recent news stories," tweeted Sanders, referencing last week's New York Times story claiming the attorney general sought to secretly record the president. "Because the President is at the United Nations General Assembly and has a full schedule with leaders from around the world, they will meet on Thursday when the President returns to Washington, D.C."
Axios quickly backtracked and clarified in its story that "it's unclear whether the resignation offer has been accepted."
Mere hours after the Rosenstein-hysteria kicked off, Vanity Fair published its version of events: That President Trump fired the attorney general as a means of misdirecting the American people from the Kavanaugh controversy in a game of 7-D chess. The article relies solely on an anonymous source cited as someone "briefed on Trump's thinking," and does not list the source as a White House official.
"According to a source briefed on Trump's thinking," wrote VF reporter Gabriel Sherman. "Trump decided that firing Rosenstein would knock Kavanaugh out of the news, potentially saving his nomination and Republicans' chances for keeping the Senate."
An embattled Jonathan Swan—whose story on Axios had already stirred quite a bit of confusion—called the article "disgraceful bullshit" and speculated the source cited was ousted White House strategist Steve Bannon.
"@gabrielsherman should be ashamed of himself and should stop doing stenography for Steve Bannon," wrote Swan on Twitter. "Rosenstein offered his resignation to Kelly. We wrote 'verbally resigned.' Justice Dept isn't denying he offered his resignation."
Although the anonymous VF source was wrong about Trump firing Rosenstein, it did get one thing right: Just the slight suggestion of Rod Rosenstein's resignation sent the news cycle spinning.