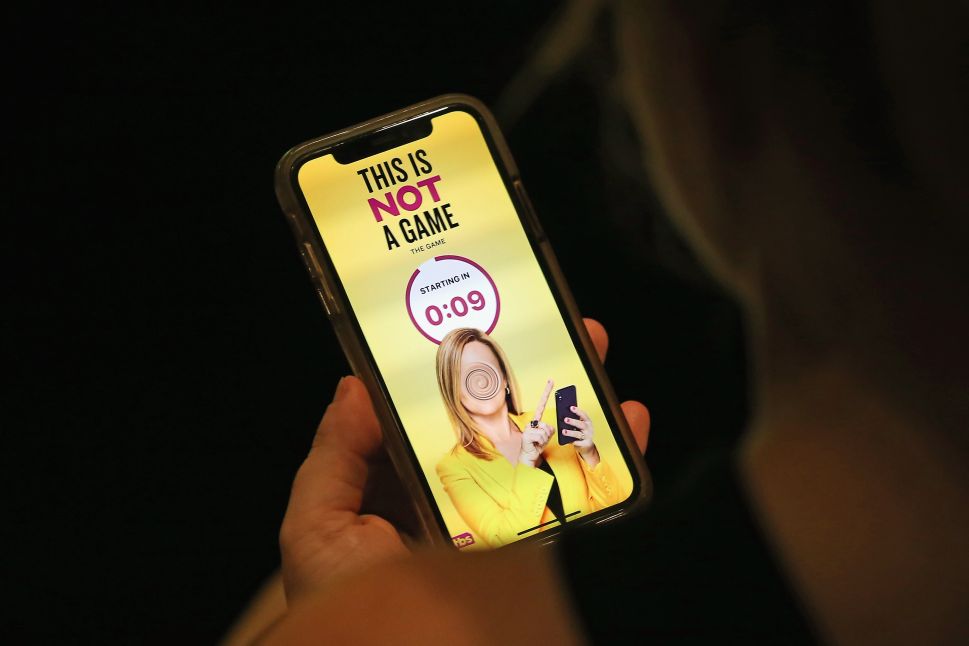 Samantha Bee, host of TBS' Full Frontal With Samantha Bee, has officially launched the live mobile game app she teased back in March. This is Not a Game: The Game consists of 10 politically themed multiple choice questions and functions similarly to HQ Trivia, with Bee as the exuberant host instead of "quiz daddy" Scott Rogowsky.
"What is Supreme Court Justice Ruth Bader Ginsberg's zodiac sign?" the game asked attendees during a trial run at a launch party Wednesday night in Manhattan. (For the record, she's a Pisces.)
In addition to granting daily cash prizes to winners as an incentive, Bee's primary goal for the game is to stimulate voter turnout and raise awareness about voter registration in the lead-up to the midterms, which are two months away. The app's first live game will take place on September 12, and subsequent rollouts will feature more explicit instructions around voting procedures. 
"Our idea of success is prompting people to find out where their polling place is and drive civic engagement," Bee said during a brief panel discussion at the Helen Mills event space and theater.
She added that although a free app that functions at the intersection of comedy, gaming and politics seems like an unusual fusion, she's hopeful that hers will both entertain players and inspire them to participate in the next election. "Only 52 percent of people who watch the Sam Bee show are registered to vote," Bee said. "The game felt like an opportunity to innovate, or just try something."
Full Frontal could be categorized as a left-leaning show. Bee, late-night television's only female host, has interviewed Trump-promoting Russian trolls, gone to war with the NRA and sparked ire for calling Ivanka Trump a "feckless cunt"; she was hit with still more derision when she apologized for the remark in May. 
In a response to a question from Observer about whether the game would endorse any candidates in particular, Bee was adamant that the app would remain bipartisan—its neutrality is by design.
Jo Miller, Full Frontal's former executive producer, told Vanity Fair in 2017 that labeling the show as liberal is inaccurate. "We are passionate about feminism, and civil rights, and justice, and black lives, and women's lives—but we're radical centrists. And we're not party-affiliated," he said.
Ultimately, This is Not a Game: The Game is well designed and enjoyable to play, and it's easy to see how the gaming format could serve as an apt spoonful of sugar to accompany direct civic participation, though whether the app catches on and becomes popular remains to be seen. (Perhaps if Hillary Clinton had launched a free "Pokemon Go to the Polls" app during her 2016 presidential campaign, the world would be a much different place.)
"It's a brief experience, but it should be fun," said Bee. "Even when [the current political landscape is] horrifying, it's a much better process when we're learning as we go."