Observer Content Studio is a unit of Observer's branded content department. Observer's editorial staff is not involved in the creation of this content. 

---
Coral Chung and Wendy Wen don't believe modern women should be forced to compromise. At least not when it comes to their handbags. Hailing from impressive backgrounds in finance, tech and consulting, they noticed an all-too-real sartorial struggle: Why was it so hard to find a well-made handbag that could handle workday-to-workday heavy lifting and also pull together an outfit?
Surprisingly, the industry turned out not to have put much thought into an answer. Women had two choices within the handbag market—luxurious or functional—and the prevailing belief seemed to be that they could enjoy only one of those qualities at time. So Chung and Wen took the matter into their own hands with Senreve, a direct-to-consumer line of Italian-crafted handbags they launched in November of 2016. Befitting a brand that combines the French words for "sense" and "dream," Senreve's guiding principle is that women who do it all should have it all—starting with where they stash their lipsticks and their laptops.
Of course, understanding the value of data-backed decisions (in addition to MBAs from Stanford, both women have experience in investment banking and strategy for luxury brands, like Prada and Chanel), Chung and Wen smartly knew that audience leads everything—including what would become Senreve's first designs. Prior to launching, Chung and Wen spent months surveying hundreds of women to find out which handbag features mattered most to them, and where the line between form and function should be drawn. They found that women cared almost exactly equally about functionality—predominantly in the form of comfortable straps, versatility, laptop compartments and security—and the aesthetics that make luxury handbags such objects of obsession.
To perfectly straddle the line between life-ready and fantasy life, Senreve partnered with a family-owned factory in Tuscany that has generations of experience manufacturing luxury handbags (the factory works with other high-end brands under the same roof). The venerable operation employs an inside-out manufacturing technique that is as highly skilled as it is hard to find. Having successfully married new knowledge with proud tradition, With water-resistant Italian leather exteriors and stain-resistant suede interiors, the Maestra (a sleek, convertible carry-all with an interior laptop compartment that can be worn as a satchel, tote, crossbody or backpack, starting at $895) and the Doctor (a relaxed, over-the-shoulder style that goes from the gym to work to cocktails, with a removable crossbody strap for $895) set the brand's bar for impeccable construction and sharp style.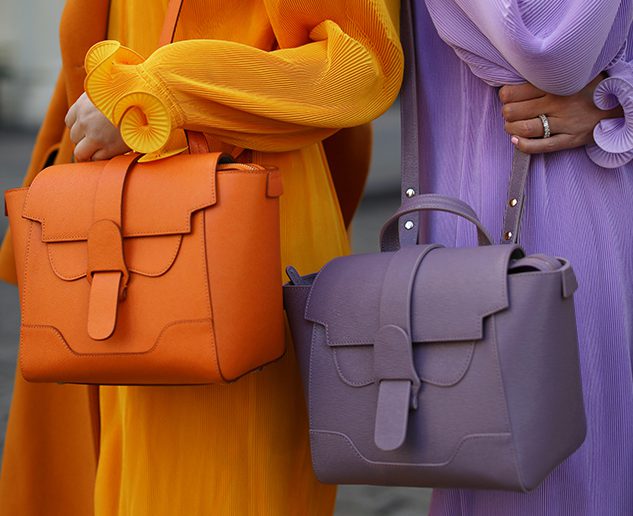 The debut designs flew out the door, to fashion editor, celebrity, social media and consumer acclaim. They've since sold out multiple releases and guided the brand's newer wallet, clutch, caddy, and belt bag additions, available in a range of sizes and styles, and priced—at $125 to $995—for every rung on the executive ladder. What they all share in common is smart, practical designs that can take women wherever they need to go, without having to choose between work or playtime essentials each morning.
The originals also continue to evolve, with customer feedback playing an even bigger role than at their inception. That evolution is smart and varied: the Maestra is now available in 16 colors, three finishes, and three sizes.
As they sought to redefine notions of how women actually lead their lives, Chung and Wen also did their part to dispel the fashion industry's notions about the need for industry experience, a large product line, and most of all, the expectations of luxury handbag consumers. Seasonal calendars or ingrained beliefs about the dividing lines between consumers were not, and have never been, their guiding principles.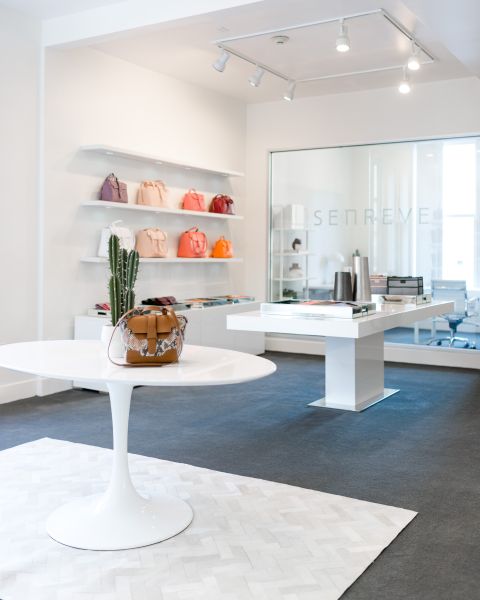 Their commitment to a comprehensively fresh approach has allowed Chung and Wen to expand at their own pace. Online, they continue to sell on their own site as well as with retailers including ShopBop, Nordstrom and Farfetch; they also opened Senreve's first and only showroom in February of this year—with a targeted whisper, not a shout. Located in a converted hackathon space on San Francisco's Post Street, it's an elegantly sparse overview of a small but mighty collection. Handbags line, but don't crowd, the shelves in a living room-like setting, and are taken down only by appointment, when they're accompanied by sips of champagne, styling advice, and personalized services like monochroming.
Chung and Wen envisioned the location, near Union Square, as an intimate space for women to interact with the brand. It's the perfect distillation of their desire to cut out the middle (wo)man. As they tell it, their bags are dreamed in San Francisco, designed in New York, and handcrafted in Italy. After that, the only additional step is consumers finally finding everything they want.
Observer Content Studio is a one-stop, full-service, in-house creative agency connecting brands to a national, affluent audience. Our team of dedicated Content Studio editors flex proven expertise in tailored, multimedia storytelling, developing sponsored articles, videos, interactive ad units, social media campaigns, events and more. The end result? Deeply compelling custom content that resonates with readers who matter. For more information, contact sales@observer.com