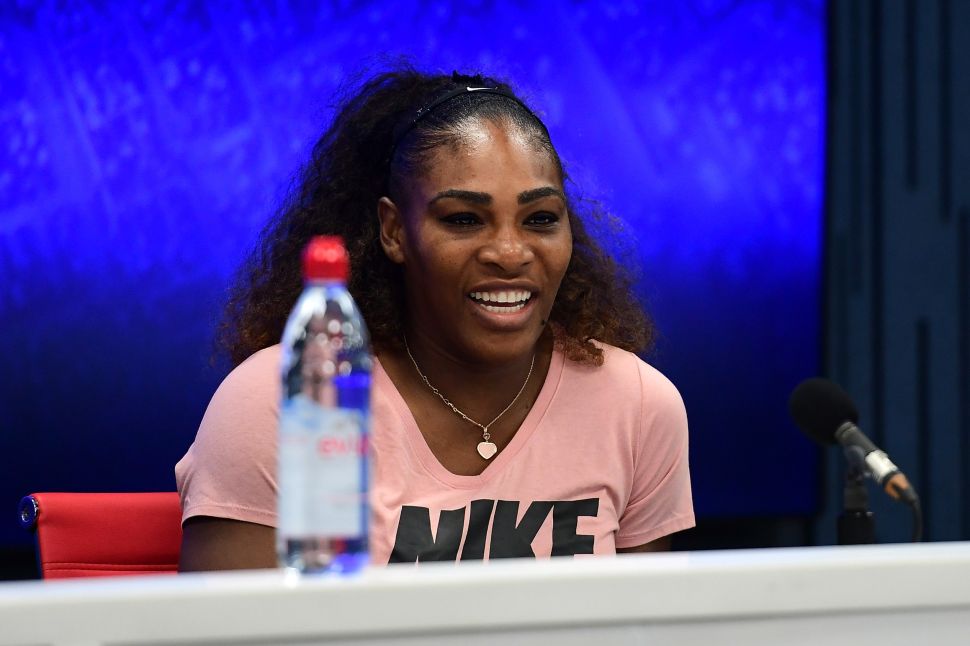 Serena Williams captured the world's attention over the weekend, but now a cartoonist who attempted to mock her is taking the heat.
During her U.S. Open loss to Naomi Osaka on Saturday, Williams racked up three violations from umpire Carlos Ramos over an improper coaching maneuver, a smashed racket and "verbal abuse." She called Ramos a "thief" and said he owed her an apology, protesting that "I don't cheat to win."
While Osaka won the match fair and square, Williams pointed out that male players like John McEnroe had much bigger tantrums with little penalty. She said the umpire still treated her differently because she was a black woman.
A cartoon in the Australian Herald Sun newspaper today is reinforcing that point. Mark Knight drew the offending image.
Criticism rolled in immediately, from both everyday Twitter users and bigger names like Jemele Hill and J.K. Rowling.
It's not hard to see why, since Knight depicts Williams as a large black baby smashing a tennis racket. While Osaka had dyed blonde hair during the match, her light skin tone in the cartoon doesn't reflect her Japanese-Haitian ancestry. And Portuguese referee Ramos (who certainly didn't "let" anyone win) isn't white, though he's drawn that way.
Knight did not respond to an Observer request for comment, though in a follow-up tweet he told his critics not to "bring gender into it when it's all about behavior."
To prove his point, he shared a cartoon of male tennis player Nick Kyrgios getting berated by a match official.
That doesn't really help his case, however: the image of a domineering woman grabbing Kyrgios by the ear is just as sexist as the Williams drawing, in its own way.
The National Association of Black Journalists noted this distinction in a statement today. The group said the "repugnant" cartoon made Williams "sambo-like" ("sambo" is a derogatory term for a black person).
"This cartoon grossly inaccurately depicts two women of color at the US Open, one of the grandest stages of professional sports," the NABJ said.
Now people in Knight's own field are criticizing him as well. Editorial cartoonist Clay Jones told Observer the depiction of Williams went beyond artistic license into stereotyping.
"We always draw people in a way to ridicule and demean, but this seems to dehumanize her," Jones said. "If the ref was a sexist, this cartoonist took it even further."
Knight is hardly the first political artist to be criticized for his work. The New Yorker's Barry Blitt also delights in creating unflattering cartoons, at least according to his critics. Matt Drudge even claimed that Blitt wanted the president dead.
In an even more extreme case, cartoonist Rob Rogers was fired from the Pitsburgh Post-Gazette earlier this year because his drawings were too critical of President Donald Trump.
Rogers is obviously no stranger to criticism, but even he thinks Knight went too far in this case.
"He is using stereotypes from the Jim Crow era that most cartoonists try to steer away from today," Rogers told Observer. "Editorial cartoons are meant to push boundaries and be provocative, but that usually refers to the politics and the message. When the reader can't get past the offensive caricature, the message has been lost and the cartoonist has failed."
Indeed, while Blitt and Rogers' images are certainly controversial and somewhat unflattering, they don't have the racial overtones of Knight's latest creation.
Sadly Williams has faced this treatment for her entire career. She's been called "frightening," "a man," "an animal" and a "monster truck." One sportscaster even said Williams should pose for National Geographic instead of Playboy.
And yet she's perennially considered one of the greatest athletes of all time. It seems 23 Grand Slam titles can overcome any criticism.