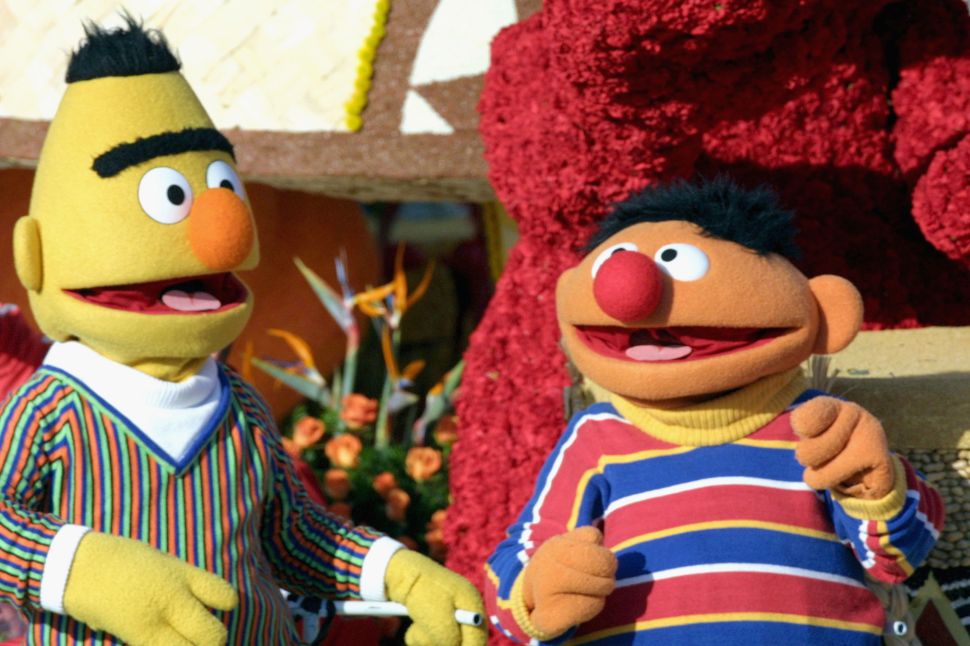 The internet went wild yesterday after former Sesame Street writer Mark Saltzman told Queerty that he had always imagined Bert and Ernie as a gay couple, like him and his late partner. Sesame Workshop clarified the duo were simply "best friends," and other puppeteers agreed that Bert and Ernie lacked a sexual orientation.
While the two puppets may or may not have been conceived as gay, many people on social media noted that Bert and Ernie were their first glimpse at what a same-sex couple looked like (this thread by transgender activist Charlotte Clymer is worth reading in particular).
But all the media hand wringing about the Bert and Ernie question masks that it was one small part of a lengthy interview in which Saltzman gave insight into how the Muppets covered a myriad of LGBTQ issues. Here are some of his other notable comments.
There Were Other Out Writers and Performers on Sesame Street 
They included Richard Hunt, the puppeteer behind Scooter and Beaker (who eventually died of AIDS) and writer Judy Freudberg (who died of a brain tumor in 2012).
Hunt actually flirted with Saltzman, with little success.
"I put the blame on myself," Saltzman said. "I don't think I knew how to respond to gay flirting in the workplace. And I mean healthy flirting, not #MeToo ass grabbing."
When Hunt died, Saltzman found out they were almost the same age and born in the same neighborhood.
"We should have been closer," he said.
But the AIDS Epidemic Changed Things
"All our friends were dying," Saltzman said. "It didn't seem like anything we could touch on the air… I mean, what can you tell a preschooler about AIDS? Practice safe sex?"
Saltzman actually pitched LGBTQ segments to Sesame's education department, but he said they "stonewalled" him and made him think it was a "lost cause."
Other media outlets ended up inserting Sesame Street into the conversation: The New Yorker put Bert and Ernie on the cover of an issue about same-sex marriage.
Snuffy Was Also Created With Homosexual Undertones
Mr. Snuffleupagus, Big Bird's giant imaginary friend, had a dour personality that appealed to gay audiences.
"This depressed person nobody can see, it's sort of Kafka," Saltzman said. "It's sort of gay closeted too."
In 1985, Big Bird introduced Snuffy to the entire neighborhood. Saltzman compared this to coming out of the closet.
One Character Really Pushed the Envelope
Saltzman created The Sublime Miss M as a takeoff on Bette Midler. She performed a campy musical number called "You Gotta Have M," about the importance of that letter.
"What could be gayer?" Saltzman asked. "That's the gayest Sesame Street ever got."