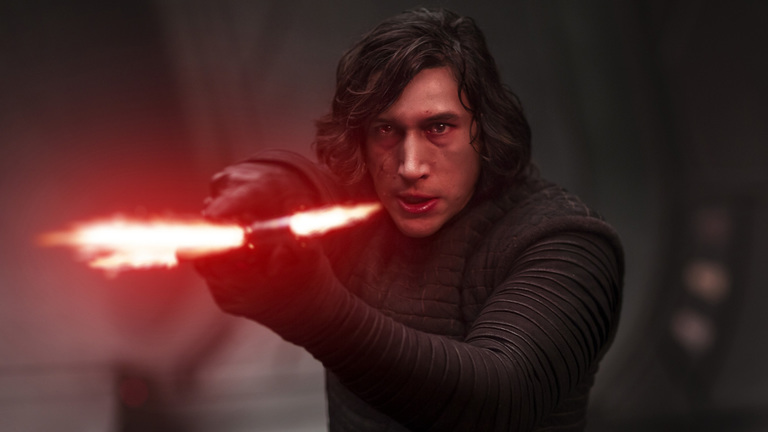 We've already thoroughly explored the increasingly toxic rottenness of Star Wars fandom. From bullying cast members of color such as John Boyega (Finn) and Kelly Marie Tran (Rose), to decrying the presence of female characters in a galaxy far, far away (not to mention spewing hate speech at the media who cover these films), some Star Wars fans have seemingly turned to the dark side.
// SUBSCRIBE TO THE OBSERVER ENTERTAINMENT NEWSLETTER //
Fortunately, these Sith-like followers only represent a minority of audiences that love Star Wars.
In a new Washington Post story, Bethany Lacina has investigated the trend on Twitter, where "offensive language and hate speech have a modest but clear presence," in order to ascertain just how common and prevalent this behavior is among Star Wars devotees. By running through thousands of tweets from fans and using computer algorithms and other tools developed at Cornell University, Lacina was able to examine tweets for positive or negative attitudes, offensive language (i.e., profanity and belligerence) and hate speech, which she noted includes ethnic, misogynistic and homophobic slurs in addition to threats of violence.
Her research found only about 6 percent of tweets employed offensive language and that hate speech was even rarer, appearing in roughly one tweet out of 100. Though she notes this might be an underestimate due to the deletion of tweets violating community standards, it still speaks to the relative sparsity of these attitudes. Most important, the online community has not embraced these offensive and hateful expressions. The study found that tweets that fell into these categories came from accounts with fewer than average followers and received considerably fewer endorsements (i.e., likes, retweets and replies).
Unfortunately, these scruffy-looking nerf herders still make their presence felt in targeted harassment. When comparing general Star Wars–related tweets to tweets about Tran—who was harassed so badly she deleted her Instagram account—or her Last Jedi character, the study found a stark difference in attitudes. "The proportion of tweets with offensive language doubled from 6 to 12 percent—and hate speech jumped 60 percent, rising from 1.1 percent to 1.8 percent of all tweets," Lacina wrote. Lacina also discovered that female fans are harassed far more online than male fans.
If there's a silver lining to this, it's that the toxic "fans" still represent a small minority of Star Wars supporters. Hopefully, by the time Episode IX arrives in December 2019, they'll be far less vocal as the Star Wars community continues to band together against them.
As Rose says during the climax of The Last Jedi, "We're going to win this war not by fighting what we hate, but saving what we love."