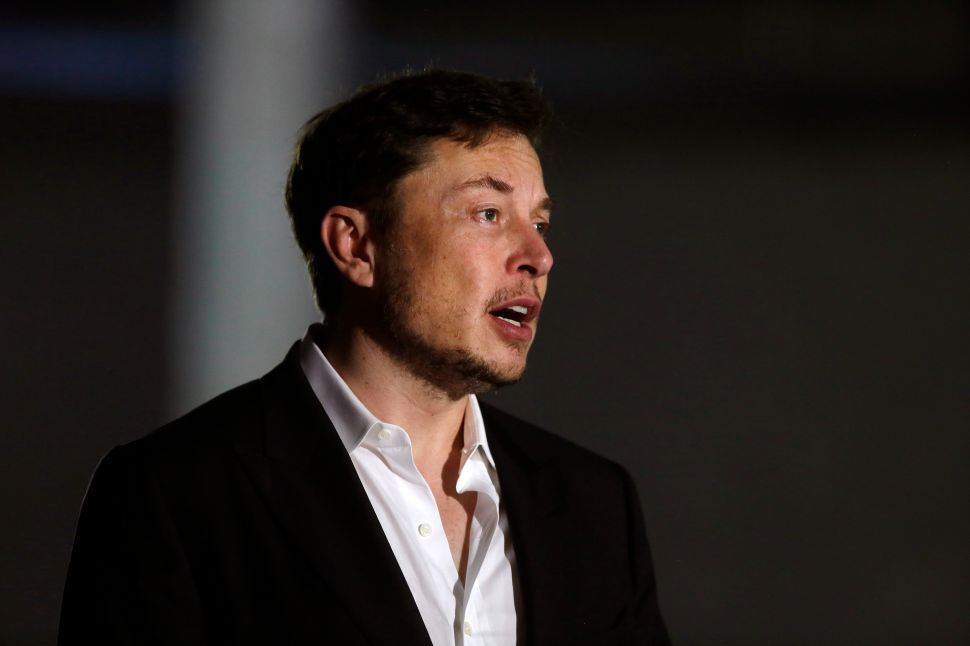 Tesla founder and CEO Elon Musk got into trouble (again) on Thursday when the Securities and Exchange Commission (SEC) officially charged him with fraud for a series of tweets last month about a potential deal to take Tesla private, which Musk claimed he had "funding secured" for but failed to carry out.
Subscribe to Observer's Business Newsletter
The news, which broke late Thursday afternoon, sent Tesla shares tumbling, falling 13 percent immediately in the after-market trading. However, according to a CNBC report published Friday morning, Musk could have avoided the lawsuit and stock swings if he had agreed to a settlement with the SEC. But he chose to pull back at the last minute in order to "be truthful to himself," sources familiar with the matter told CNBC.
Under the original agreement, Musk and Tesla would have only needed to pay a small fine without having to admit any guilt. But Musk would have also had to step down from Tesla's chairman role for two years and allow the company to appoint two new independent directors.
Right now, removing Musk as Tesla's chairman is also a burning quest among many Tesla shareholders, given Musk's erratic behaviors lately, including publicly shaming a Wall Street analyst, smoking marijuana on camera during an interview and, of course, casually announcing Tesla's buyout plan to his 22 million Twitter followers when he did not have the board's approval or any confirmed investor interest.
Earlier this year, several major Tesla shareholders drafted a proposal to displace Musk as company chairman. The proposal received support from funds managed by BlackRock, which is among the 10 largest shareholders of Tesla. But the proposal was eventually voted down at Tesla's shareholder meeting in June.
Musk is one of the few tech company CEOs in the U.S. who also oversees their companies' boards of directors. (Another example is Facebook's Mark Zuckerberg.)
"A chairman and CEO of a public company has important responsibilities to shareholders," Stephanie Avakian, co-director of the SEC's division of enforcement, said at the press conference on Thursday. "Those responsibilities include the need to be scrupulous and careful about the truth and accuracy of statements made to the investing public, whether those statements are made in traditional forms, such as a press release or an earnings call, or through less formal methods, such as Twitter or other social media."
In response, Musk called the SEC's allegations "unjustified" and said in a statement that he was "deeply saddened and disappointed."
"I have always taken action in the best interests of truth, transparency and investors," Musk continued. "Integrity is the most important value in my life and the facts will show I never compromised this in any way."