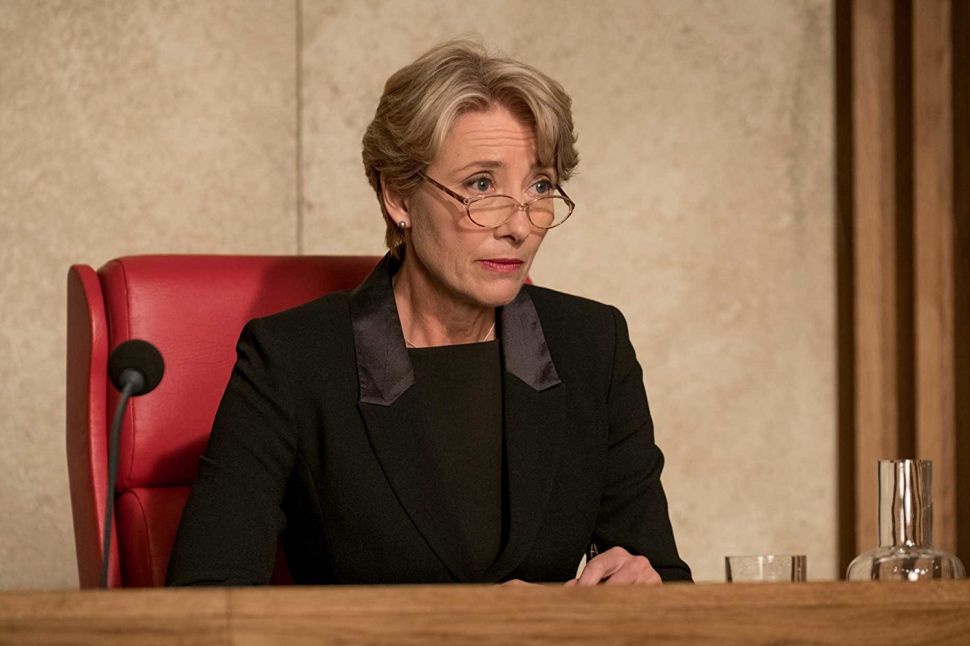 The prodigious talents of Emma Thompson are once again on full display in the British film The Children Act, another of those slow, languorous literary tomes by Ian McEwan that fail to move forward on film the way they do on the printed page. Unfortunately, McEwan unwisely insists on writing his own screenplays, a big mistake that he keeps repeating despite mediocre reviews and no commercial payoff at the box office. Fortunes are not likely to be reversed with The Children Act, which adds to the author's literary style the burden of a theatrical stoicism by stage director Richard Eyre that is irritatingly resistant to film.
Equally comfortable on both stage and screen, Emma Thompson brings an added value to the mix that literally saves the film and keeps the viewer awake.
---

THE CHILDREN ACT  ★★★
(3/4 stars)
Directed by: Richard Eyre
Written by: Ian McEwan
Starring: Emma Thompson, Stanley Tucci, Fionn Whitehead
Running time: 105 mins.

---
She is mesmerizing as Fiona Maye, a stiff, conscientious judge in London's High Court known for her wise, compassionate decisions in family disputes who is so consumed in solving the problems of others that she fails to address the problems of her own failing marriage. Her loving American husband Jack (Stanley Tucci) rarely sees her, they are together only on social occasions, the physical side of their relationship has gone dry. So, guaranteeing no scandal, no deception, no lies and no divorce, Jack announces that he's tired of a sexless marriage and plans to have an extramarital affair.
Fiona is devastated, but she's too busy at work to be distracted from her latest case, a courtroom showdown between hospital doctors who insist on administering a blood transfusion that can save the life of a 17-year-old boy with leukemia named Adam (excellent newcomer Fionn Whitehead from Dunkirk), and his parents, devout Jehovah's Witnesses who refuse to give their permission on religious grounds—a case so controversial it makes headlines in the London papers.
Instead of focusing her intelligence and sense of fair play on her lonely, disillusioned husband at home, Fiona dedicates herself to making the right decision in court. But first, she insists on meeting the boy herself. His lawyers argue that a person's freedom of choice in medical treatment is a fundamental human right. The doctors who want to save the teen argue that it is their human duty to provide the gift of life when God has failed. It's a case of faith vs. science. British law states a person has no legal control over the right to refuse life before the age of 18. "The Children Act" is prefaced with the words "The child's welfare shall be the court's paramount consideration," and Fiona reserves her decision until she can pay a visit to the boy's hospital room and evaluate his mental processes in person. The meeting develops into an unexpected friendship between a tough judge, calloused by life, and a young man with a fierce set of his own values. The judge inspires Adam to live, and the boy brings out a sense of humanity in Fiona that has been absent from her life. The effect her decision on the boy is so profound that nothing will ever be the same.
A single idea stretched out for nearly two hours, it's an odd but strangely compelling film, but so ponderously paced that it doesn't always convince. The acting is first-rate, and Emma Thompson is reason enough to see it, but why so many shots of her stoically walking away from the camera—from Jack, from Adam, from the courtroom, from emotional involvements of any kind? She is the pulse of the film and I needed to see more of her walking toward the camera, not in the opposite direction. Like On Chesil Beach, Ian McEwan's other book-into-screenplay that was released earlier this year, The Children Act is so devoid of any physical action or cinematic excitement that it might as well be a radio show.