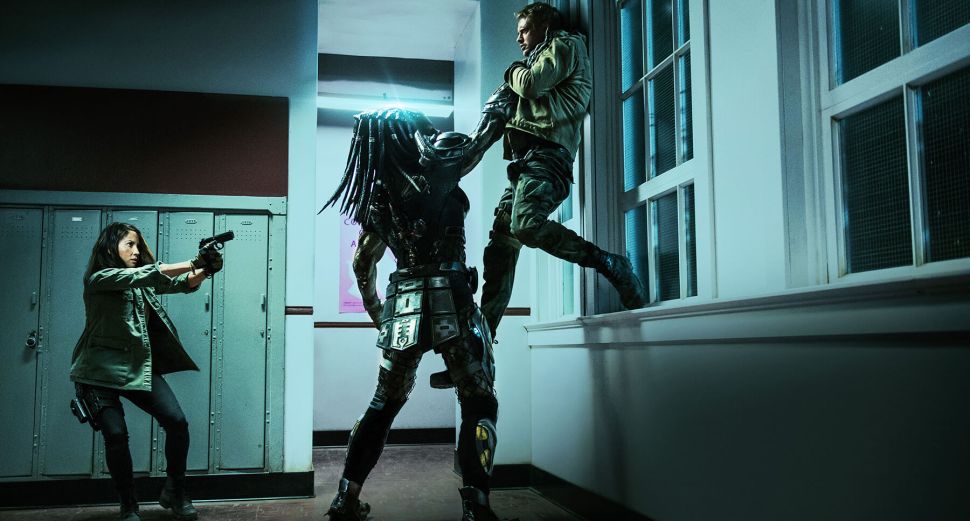 If this were a test, and The Predator was being graded, it would get a C-. But it would be the type of C- you get when you kind of knew some of the answers, so you're not surprised with the result. Not the type of C- in which you went in certain of failure, freeing you to wing it with all sorts of answers—I once wrote about New York Yankees pitcher C.C. Sabathia in a question about the Revolutionary War—which somehow lands you a passing grade. That would be way more interesting and rewarding. But unfortunately The Predator is the type of bland and boring C- that only results in the disappointment of your parents.
Co-written and directed by the normally pithy and singular Shane Black, this is the fifth sequel to 1987's action classic Predator starring Arnold Schwarzenegger. By some wizardry unparalleled by Harry Potter and Gandalf combined, this limited concept franchise has managed to limp along for 30 years, with each underwhelming follow-up earning just enough to justify a continuation. But though Fox was clearly hoping to revive the franchise and add another attractive R-rated property to their bottom line before being swallowed up by Disney, The Predator buries any hope of survival six feet under.
Long-story short: every movie revolves around the titular predators (which, as this film points out, isn't technically the right classification), who are space aliens that love to hunt for sport and have a particular proclivity for killing humans. This time around, they're genetically upgrading themselves with DNA from other species, because that's apparently a thing you do in science fiction.
On paper, this could have worked. Black (The Nice Guys, Iron Man 3), who actually co-starred in the '87 original, has a way with words, bolstering his screenplays with dancing dialogue and clever quips. The cast is positively stacked with (deep breath) Boyd Holbrook (Logan), Olivia Munn (X-Men: Apocalypse), Trevante Rhodes (Moonlight), Jacob Tremblay (Room), Keegan-Michael Key (Key & Peele), Thomas Jane (The Expanse), Sterling K. Brown (This Is Us), Alfie Allen (Game of Thrones) and more. While Brown and Rhodes occasionally manage to elevate themselves beyond the blandness, and a small handful of jokes definitely land, The Predator is still just a nonsensical mess of multiple re-shoots.
Seriously, nothing in this movie makes sense. Characters are introduced and then never appear again; the plot summation given near the end actually counters what we saw come before; the jarring editing doesn't so much give you whiplash as it leaves you feeling like Jack Nicholson at the end of One Flew Over the Cuckoos Nest. It's verging dangerously close to Suicide Squad-level failure. For some inexplicable reason, there are Predator Dogs—as if the only thing this movie was missing in post-production was man's worst enemy.
---

THE PREDATOR ★
(1/4 stars)
Directed by: Shane Black
Written by: Shane Black, Fred Dekker, Jim Thomas and John Thomas
Starring: Boyd Holbrook, Olivia Munn, Trevante Rhodes, Jacob Tremblay, Keegan-Michael Key, Thomas Jane, Sterling K. Brown and Alfie Allen
Running time: 108 mins.

---
Nearly every person in this movie is reduced to a one-note tic rather than embodying an actual character: Baxley (Jane) has Tourette syndrome, Coyle (Key) is the jokester, Traeger (Brown) pops Mentos, etc. Most egregiously lame of all, The Predator goes for the expected take every single time; it plays out like every other standard typical blockbuster you've ever seen save for the hardcore gore. A hero soldier estranged from his family, a rag-tag group of allies, a shady government organization, a lifeless CGI third-act climax, blah blah blah. It isn't original in any way, just a mound of ridiculous callbacks ("get to the chopper" is used in the most groan-inducing way imaginable), shoddy plotting, uneven humor and boring action.
That's to say nothing of the controversy that came to light when Munn exposed the fact that Black had knowingly cast a registered sex offender for a role in the film, while keeping that detail hidden from the cast and studio. It's an immense, immoral mess to unpack in a different, far stronger-worded piece.
The Predator is a thorough grab bag of averageness, made worse by its distinct lack of distinction. Worse movies have certainly been released, but at least many of them had the confidence to embrace their crappiness. Even bad movies within this franchise, like 2004's Alien vs. Predator and 2010's Predators, had the wherewithal to lean into their B-movie schlock and approximate something weirdly entertaining. But The Predator is content with being one part "yo momma" joke with all the remaining parts cut so the studio could afford the film's fake blood budget.
To paraphrase Schwarzenegger's iconic one-liner from the original after he impales an enemy with a ludicrously big knife, you won't want to "stick around" for this one.