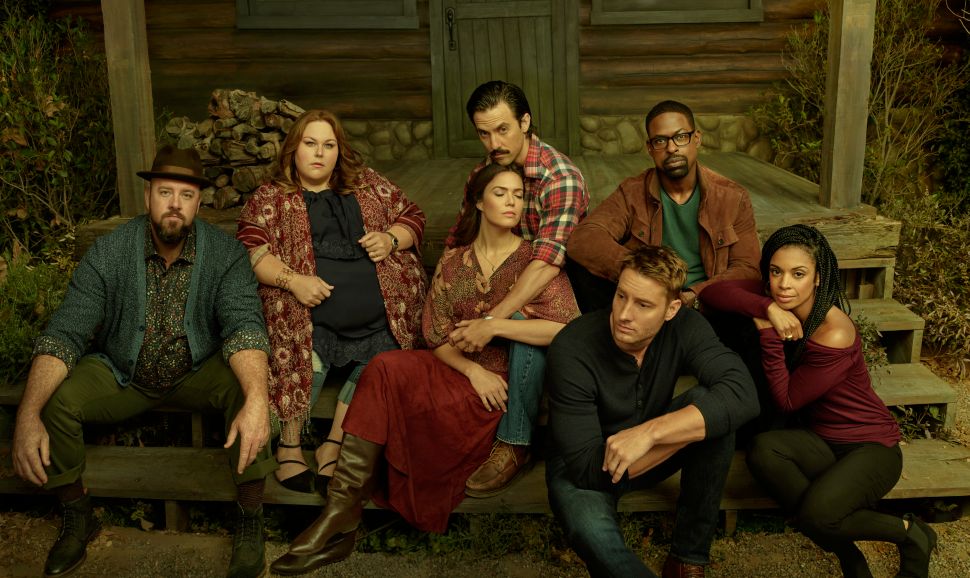 Netflix has several shows in development that could become the next Stranger Things. HBO is redoubling its efforts after the AT&T and Time Warner merger. Amazon is rolling out a massive slate of blockbusters hoping to find the next Game of Thrones. So how is broadcast TV keeping up these days?
Three words: This Is Us. The NBC series has emerged as one of prime time's biggest hits. Season 2 averaged a whopping 11.1 million live viewers and earned a second consecutive Outstanding Drama nomination at the Emmys. No wonder its cast members are getting paid hefty salaries. Seems there's life left in the old TV guard after all.
But now that the show has finally answered the mystery surrounding Jack's (Milo Ventimiglia) death, can This Is Us keep up the momentum?
Subscribe to Observer's Entertainment Newsletter
Mandy Moore, who stars as Jack's wife, Rebecca, certainly thinks so, and that's partly because of the crazy twist audiences can expect in the Season 3 premiere.
"There's something that doesn't involve my character that's a bit of a twist in the first episode that people are going to be like, 'Whaaa…?'" she told Entertainment Weekly.
This Is Us loves a good mystery, and fans will recall that right after revealing the cause of Jack's passing, the series introduced a surprise flash-forward that raised all sorts of questions. While Moore won't get into specifics, it sounds like this new wrinkle has to do with the unknown "her" Randall (Sterling K. Brown) mentioned in that time jump.
"It's a bad 'Whaaa…?' It's not heartwarming," Moore said. "I think [creator] Dan [Fogelman] has talked a lot about figuring out who [Randall] is talking about. I think that every episode is offering a more fully realized picture of who that is. It's not being dragged for the sake of being cheeky. I think it's just really brilliant storytelling, and Dan's old favorite way of describing the show is the mixed-up videotapes of home videos. This is exactly that, but we're leaning a little bit into the future aspect of it."
How to Live-Stream This Is Us
The Season 3 premiere of This Is Us, "Ave Maria," will air September 25 on NBC at 9 p.m. ET.
The easiest way to watch it is on NBC.com/live. If you pay for cable (or know someone who does), all you need is your log-in and password information, and you're off to the races.
If you don't have a cable subscription, you'll need to look elsewhere. We suggest DirecTV's free seven-day trial. You'll get a full seven days cost-free before your paid membership begins. NBC also has a handy app in case you can't watch the show on your TV or computer. You can download it for free in the App Store, the Google Play store or the Windows Store. But remember, you'll need a cable log-in and password to access it (we won't tell on you if you're using a friend's).
You could also check out the DirecTV Now app, available on App Store and Google Play, where the same deal applies: You get a free seven-day trial before paid membership begins.