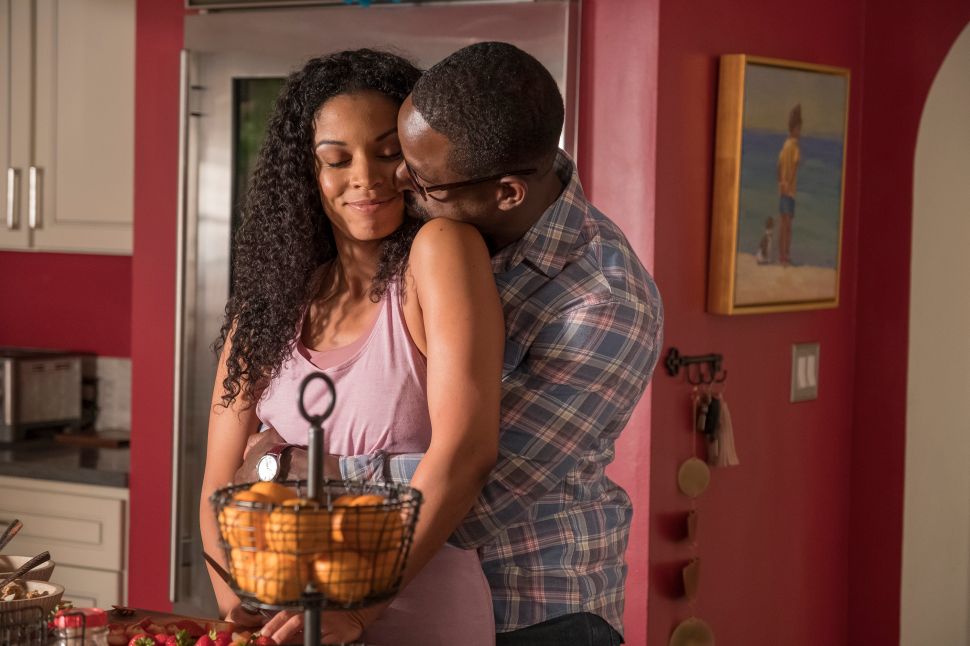 After two seasons, we knew full well that This Is Us loved to shake-weight our hearts, but that didn't make the impact of last night's Season 3 premiere any less intense. It had us dabbing our eyes like we were Will Hunting finally realizing it wasn't his fault.
Subscribe to Observer's Entertainment Newsletter
To sort through our messy and complex emotions, we created the This Is Us Heartstrings Index, a comprehensive breakdown of who delivered the most gut-punching scenes. Consider it a form of healing—or a way to relive the devastation all over again (you're welcome).
Let's dive into the latest episode.
Kate and Toby
In last season's flash-forward, we saw a depressed Toby (Chris Sullivan) struggling to just get out of bed. While we know he's suffered from mental health issues in the past, this was a total bummer because things seemed to be going so well for him and his boo, Kate (Chrissy Metz). They are the show's resident cute couple!
But now, Kate and Toby have been rejected by a fertility doctor who isn't willing to take them on as patients given Toby's history and Kate's weight. It's too much of a risk for the medical firm, she explains.
"It's like a black cloud is following me around. I'm tired of smiling and pretending that it's sunny out," Kate later reflects in a crushing moment—delivered at her birthday party, no less. This would have broken our hearts, but we're not sure if you can break something that's already been shattered into a million infinitesimal pieces (thanks for killing off Jack, NBC!). Let's call it the splitting of the emotional atom.
The doctor later comes around and agrees to take them on, at which point Toby decides to flush his anti-depressants so they won't conflict with his fertility and the couple's chance at conceiving. Toby is the main source of levity on This Is Us, making it all the harder to see his path to self-destruction so clearly.
As if that weren't enough of a sentimental turnstile, the flash-forward hints that Kate might be [gulps] dead. Last season, the show's first flash-forward saw Old Man Randall (officially his new full name) carefully tell a grown Tess that it was time to go see "her," which Tess said she wasn't ready for (same, girl). In last night's flash-forward, Randall (Sterling K. Brown) calls a weathered-looking Toby to do the same…and we see that Toby is alone in bed.
DID THEY KILL OFF KATE TOO??!!
This Is Us, you're leading viewers down a dark path that will only end with a drunken 3 a.m. break-in to our local Dunkin' Donuts. Oh, wait, we mean Dunkin'.
Heartbreak Quotient: 4.8 out of 5
Jack and Rebecca
We can all agree that the love story between Jack (Milo Ventimiglia) and Rebecca (Mandy Moore) is the defining romance of the 21st century. All other candidates are invalid, and any dissenting opinions will be disregarded. But their great romance is the greatest precisely because it starts out so rocky.
Jack's first date with Rebecca is not exactly a meet-cute—he barely has enough money to show her a good time and can't even afford to buy an umbrella when it starts raining. Throw in their philosophical differences—anyone who chooses cats over dogs might be a serial killer—and it's hard to see how these two became Jack and Rebecca™.
But it gets worse. Jack's hopeful second chance after a late-night Hail Mary (a running theme of the episode) is thwarted by another dude. We don't know who that mustachioed bastard thinks he is, but he's immediately the Most Hated TV Character of 2018. We're starting a Facebook page.
We know this story has a happy-ish ending, but that's what pulling on heartstrings is all about, isn't it? A bittersweet mix of pain and joy. It's basically the lesson of Inside Out.
Heartbreak Quotient: 3.5 out of 5
Randall and Deja
Randall's effort to connect with Deja (Lyric Ross) over their childhoods doesn't go as planned when she rejects his grand "we're the same" metaphor. Randall, buddy, we love you, but this was a horrible idea. Worse than that time you sang a song about weather patterns at your kids' career day event. Get your head in the game, bro.
"I miss talking to you," he pleads to her with metaphorically outstretched arms. Beth (Susan Kelechi Watson) and Randall want to officially adopt Deja, but she has her own shit to work through before she'll be ready to go down that path. This Is Us has never quite figured out how to consistently handle Deja's character with her hot-cold fits becoming increasingly frequent. But having her come to an emotional conclusion on her own is a great way of pushing her forward, so when she presents Randall with a birthday gift after confronting her biological father, it feels earned.
Oh, also, Deja lets Beth and Randall know that they can start working on the adoption papers.
I'm not crying, you're crying!
Heartbreak Quotient: 3 out of 5.