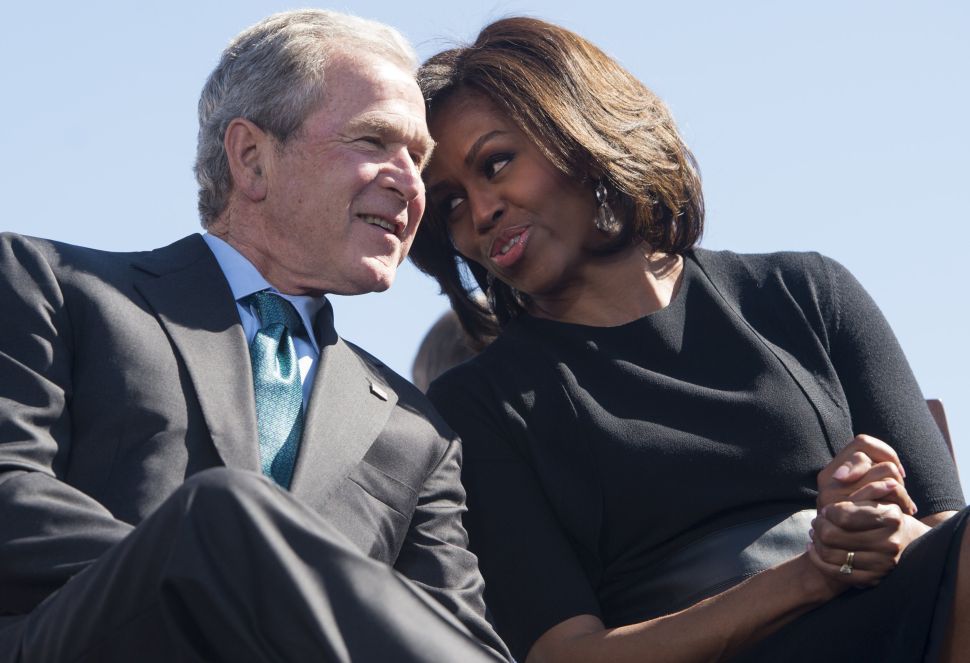 If you were on social media over Labor Day weekend, there was one tweet you seemingly couldn't avoid.
This sweet moment between George W. Bush and Michelle Obama at John McCain's funeral has been retweeted over 100,000 times.
Talent agent Roland Scahill captured the bipartisan candy hand-off. He told Observer he was "incredibly surprised" by the passionate reactions to the video.
Of course, as always with a viral tweet, there was also swift backlash. Many people pointed out that Scahill had misrepresented the moment—George W. Bush only passed the candy to Michelle Obama after Laura Bush asked him to. He didn't do it of his own free will.
"I posted it rather quickly and didn't realize that George got the candy from Laura first, or I would have mentioned that in my tweet," Scahill said. "I personally have a lot more admiration for Laura Bush than I do George Bush, so the omission was certainly not intentional."
Whether or not the flub was deliberate, it fits with Scahill's persona as a con artist who stretches the truth. In fact, he served jail time for that very reason.
Scahill's first moment of notoriety came in 2016, when he scammed at least 10 Broadway investors out of $205,000. The owner of RMS2 Productions (who formerly worked at William Morris and the Gersh Agency) claimed he had the rights to a nonexistent show called The KB Project.
The play allegedly centered on the life of opera singer Kathleen Battle. Scahill told investors he had signed Lupita Nyong'o to star in the one-woman show, which would play at the Booth Theatre and be filmed for Netflix.
Scahill sold shares in the show for $15,000 between 2014 and 2015. He sent fake emails from Nyong'o to investors (including a professor of African studies). He even claimed Nyong'o was starring in his show rather than the real play Eclipsed (for which she was nominated for a Tony).
But Battle, Nyong'o, Netflix and the Shubert Organization (which owns the Booth Theatre) all said Scahill "never approached them and that they never had any deal with him."
Scahill was found out after investors asked for their money back. The checks he wrote bounced when people tried to deposit them.
The stolen money was allegedly used to pay Scahill's own credit card debt, along with rent, food and alcohol expenses.
After pleading guilty to charges of fraud and grand larceny, Scahill served six months in jail last year. He was also sentenced to five years probation and five years of psychiatric treatment. And he was forced to repay the money.
Manhattan District Attorney Cyrus Vance said Scahill's scheme was a "phantom production" which had reached its "grand finale."
One of Scahill's investors, a former close friend, drew a direct line between the Broadway bilking and his social media deception.
"If only he put the same effort into a real show that he put into a fake show," she told Observer.