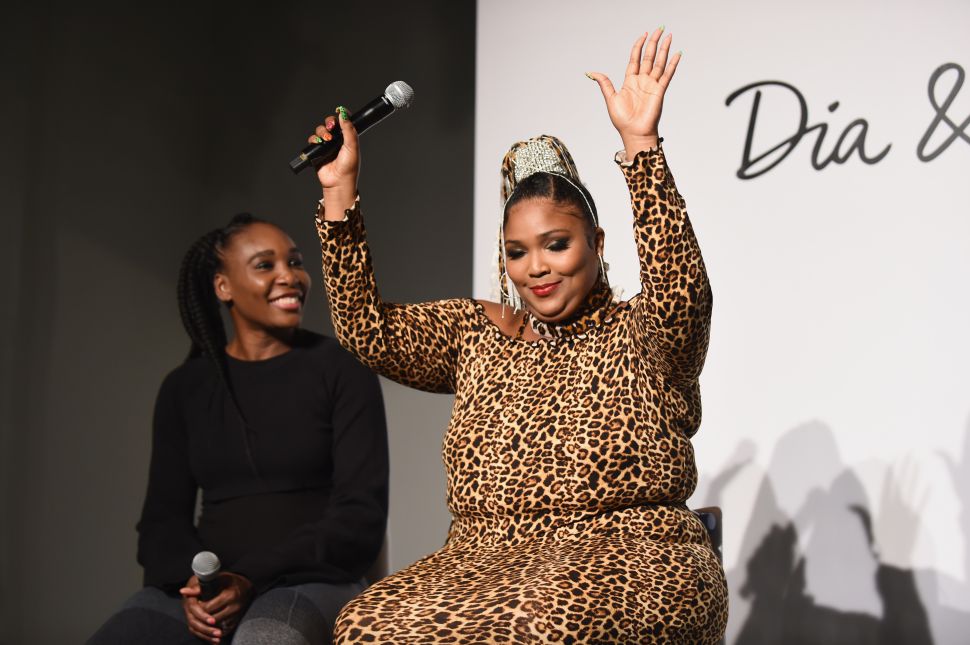 On Friday evening, hundreds of rapt listeners gathered to hear tennis star Venus Williams, designer Tracy Reese and up-and-coming hip-hop artist Lizzo discuss body positivity and size inclusivity in the fashion world.
The panel discussion, which was hosted by the brand Dia&Co and the Council of Fashion Designers of America at Center 415 in Manhattan, was one of the first events of this year's Curvy Con, a weekend-long summit offering workshops, cocktail hours and meet-and-greets in which plus-size women can share their experiences and get sex tips and career advice.
Williams, Lizzo, Reese and Dia&Co CEO Nadia Boujarwah traded anecdotes about the difficulty plus-size women have with finding stylish, comfortable clothing.
"There has always been pushback in the retail industry against making larger sizes," said Reese, whose clients include Michelle Obama. "Why do plus sizes have to be sequestered in a corner of the store? To put out every size from 0 to 24 is challenging, but it should be available on the floor."
Williams, whose athletic-wear line EleVen is now manufacturing plus-size options in collaboration with Dia&Co, said it's important to think about clothing for curvy women "not just as size, but as meeting a need." She added, "People are celebrating bodies of all sizes, and people are paying to get more everywhere. For us to make that launch into every single size and partner with Dia&Co is extremely rewarding."
The most passionate speaker by far was Lizzo (given name: Melissa Jefferson), a singer-rapper from Minneapolis whose major-label debut EP, Coconut Oil, made Rolling Stone's list of the 20 best pop albums of 2016, and whose latest single, "Boys," is a rollicking, playful tribute to every type of man. 
"Growing up, I did not see myself, except for Missy Elliott. I thought that to be a singer, I had to be small," Lizzo said. As she matured as an artist, she realized that music and fashion were inextricable. "I don't have to be this fabulous, but I choose to be," she said. "Big girls have stamina. I am athletic. That narrative needs to be told, and I need to tell it."
Lizzo grew visibly emotional as she told the audience that for her, confidence is about more than demanding respect—it's about building longevity in the industry. "Myself is trendy, and I don't want to fade away with the next trend," she said. "I want to be undeniable with the numbers."
Also in attendance: Some very well-dressed, very tall models. 
LeAnne Mangano, an actress and model based in Philadelphia, explained that this was because the panel followed an Ann Taylor Loft x Curvy Con fashion show that had just taken place in the same building. She had walked the Loft runway and said that it has been increasingly gratifying to speak to labels and retailers who attend The Curvy Con, which was launched in 2015 by CeCe Olisa and Chastity Garner Valentine. 
"I'll go up to designers from Ava & Viv [for Target] and tell them that the seam in their pants didn't fit right, and they'd pull out their phones and take notes," Mangano said. "They really give a shit about their customers."  
Alexis Newton, a advocate for body positivity from Newark, N.J., said that The Curvy Con is a great place to make connections with photographers and vendors and also seek out some kindred spirits.
"I think one of the biggest benefits is to know that there are other people like us who are into quality pieces," Newton said. "We're lumped into one specific subcategory like we all dress the same, when we have different body types. We need to broaden the spectrum of plus-size women who are into fashion."