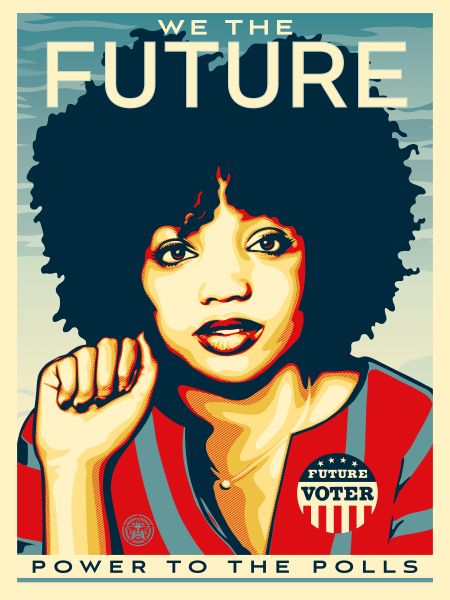 At some point this fall, social studies teachers in more than 20,000 middle school and high school classrooms around the country will ask students not to open their textbooks to this or that page but to look at a series of posters tacked up on the wall. And these 10 portraits won't be of founding fathers or victorious generals either. In fact, textbooks don't mention these figures at all; they're too young and too new to have been rolled into most lesson plans (yet). The oldest of them is only 29, and one is as young as 13. Each are youth activists currently working in some capacity on issues of social justice—campaigning for women's rights, the LBGTQ population, gun control, immigration, the environment, voting rights and ending mass incarceration.
The images themselves were created by four artists—Shepard Fairey, Rommy Torrico, Munk One and Kate Deciccio—who had been invited by the Seattle-based nonprofit Amplifier to create portraits that would be made into posters and sent to roughly 1,000 school districts throughout the 50 states, along with instructional material.
Instead of relying on the textbooks, all of these teachers will have lesson plans created in part by the 10 activists depicted, describing the problems that they have devoted themselves to solving. Cleo Barnett, Amplier's deputy director, says you can think of their organization like "an advertising agency for social change movements."
Barnett explained that these youth leaders produced the content for the information packets alongside the organizations with which they are involved and an education director at Amplifier. The message to students in these classrooms is clear: Young people are working on important issues of the day, and so can you.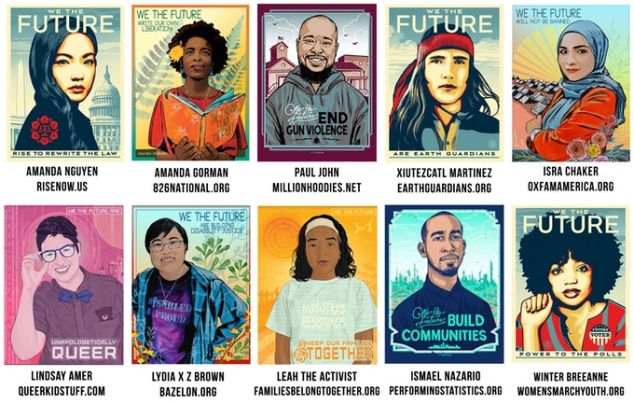 The expense of paying for the printing and distribution of the posters and information will be borne by crowdfunding through a Kickstarter campaign that opened today. The organization's goal was $40,000 backers, though that has already been surpassed.
Officially called "We the Future," this campaign follows up on Amplifier's 2016 project "We the People," which was comprised of images that were published as full-page advertisements in newspapers across the country, timed for the 2017 presidential inauguration and Women's March. "We the People" also generated money through Kickstarter, receiving over $1 million, which was the largest amount ever raised for an art project.
Amplifier works with artists around the country, searching out creatives whose work exemplifies "clear communication," Barnett said. Munk One, for example, is known for creating album artwork and merch for the likes of Pearl Jam, Primus and Soundgarden.
Rommy Torrico, a digital graphics artist, said that when the "We the Future" campaign reached out, they said they'd been watching Torrico's work for a while. "I was pleasantly shocked, and thought to myself 'you've been watching me?'" Torrico said. The portraits Torrico created were of 13-year-old Leah (being underage, her last name was not used), a Miami resident who has Nicaraguan background and is a youth leader of Families Belong Together, and Lindsay Amer, a 26 year-old queer activist.
Another selected artist, Oakland, California-based community artist Kate Deciccio created three portraits—of 19 year-old youth literary activist Amanda Gorman, 25 year-old disability justice advocate Lydia X.Z. Brown and 27 year-old immigration justice advocate Isra Chaker—through stenciled images that were reproduced digitally. "Amplifier matched me with these three activists," she said. "I met with them, and we talked about how they wanted to be represented."
She then took a series of photographs of each of the young women, working with them to select the ones they preferred as reference images, allowing each of the activists to have final approval of the portraits. Deciccio referred to her style of portraiture as "counter-narrative," representing people in the way they see themselves, rather than how others see them. For all the artists and activists who have taken part, the hope is this initiative might deepen the way that others understand the work they take part in, too.