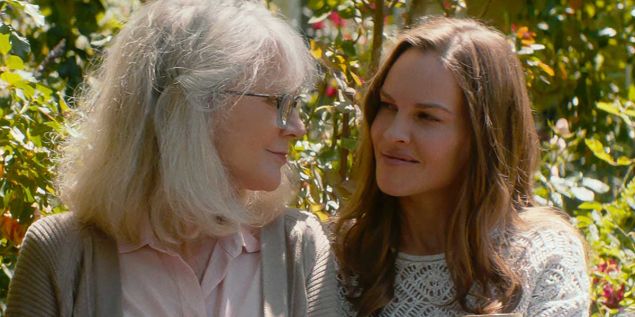 Dealing with a family member who is struggling with Alzheimer's dementia can feel like a high stakes improv session. Bottom line, never deny the premise.
Does mom answer the stapler instead of the phone? Go with it. Does she insist on calling her husband of 40 years her boyfriend? Well, technically he is. Does she make a pass at you on the way home from the hospital? OK, maybe that one you can deny.
Still, it should be of little surprise that Chicago, that fertile crescent of American improv, would be the perfect setting for one of cinema's most full-blooded, insightful and profoundly human examinations of Alzheimer's related dementia, a disease that afflicts over five and a half million Americans over the age of 65. Moreover, as conceived and executed by actor, playwright and first-time filmmaker Elizabeth Chomko, What They Had—which plays at the Toronto International Film Festival on September 12 before its U.S. theatrical release on October 19—is a moving examination of the meaning and purpose of the family unit in late bloom, existing well past its usefulness.
What the film surprisingly isn't, given the difficulty of the subject matter, is a chore to sit through. The intimacy and honesty of the family rapport, the razor sharp dialogue and—most unexpectedly—its deeply grounded humor keep the film and its slight and compassionate story utterly engaging. It results in a family drama that seems so real you leave the theater feeling like you just flew back from seeing your parents, even if they're nothing like the parents portrayed in the film.
---

WHAT THEY HAD ★★★1/2
(3.5/4 stars)
Directed by: Elizabeth Chomko
Written by: Elizabeth Chomko
Starring: Hilary Swank, Michael Shannon, Robert Forster, Blythe Danner and Taissa Farmiga
Running time: 101 mins.

---
The story kicks off with the kind of incident that causes sleepless nights for anyone who has ever dealt with family members with dementia. In the middle of a snowy Chicago evening, Ruth (played by Blythe Danner with a lyrical otherworldliness that feels inspired by Harpo Marx) slips out of the house in a nightgown and boards a train, headed towards some unknown location deep in her past. The event sets off a panicked phone tree: her husband, Burt (Robert Forster), calls their son, Nicky (Michael Shannon), who in turn calls his sister, Bridget (Hilary Swank), in California. She immediately flies in with her sulky daughter, Emma (Taissa Farmiga), who is just barely managing to finish her first year in college.
But to do what exactly? While Nicky, a bar owner with a prickly personality and contentious history with his father, is able to see the situation with some perspective, Bridget still lives for her father's approval (he calls her Bitty), and backs him up when he refuses to acknowledge the depth of his wife's disease and the fact that he can't help her anymore, infuriating her brother. Not only are the dynamics between these characters so deeply understood by these actors, the mercurial ways they keep constantly shifting make the story dynamic despite the fact that most of the action takes place in an overbearingly stately North Side condo.
The standout in the stellar ensemble is Forster. The longtime veteran actor—he famously starred in Haskell Wexler's Medium Cool, set in a very different Chicago 50 years ago this summer—vigorously demonstrates how absolute devotion to your spouse and family can sometimes have the same result as abuse and neglect. It is a diamond-hard rendering of a certain kind of American male that belongs to an earlier generation—a Catholic who wears his devotion to work and family like the world's most comfortable hairshirt.
It has been eleven years since Forster was nominated for Best Supporting Actor for Quentin Tarantino's Jackie Brown. If the newly expanded Academy does its job correctly, he will be nominated again this year.