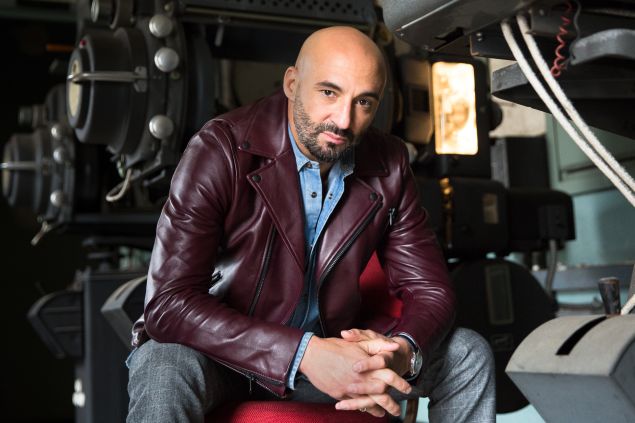 Yann Demange's name has been in the headlines lately. The only problem is, according to the man himself, his sudden ubiquity is happening for all the wrong reasons. The 41-year-old British director is reportedly one of the frontrunners to direct the next James Bond film, and though Demange was recently in Toronto for the premiere of his new crime drama, White Boy Rick, all anyone wanted to talk about was 007. "At least you didn't lead with it," he said to me when I asked him about Bond.
But after watching Demange's second feature—his first was the 2015 white-knuckle IRA thriller '71—it's easy to see why his name has been linked to one of the biggest movie franchises ever. White Boy Rick is the true story of Rick Wershe Jr., a hardscrabble Detroit teenager who, in 1984, after getting involved in the city's rampant drug trade, became the FBI's youngest-ever informant. Demange scoured Hollywood in search of his titular Rick before ultimately settling on Richie Merritt, a Baltimore high school student who was waiting outside his principal's office when he was "discovered" by talent scouts. Demange fell in love with Merritt's genuine sense of authenticity, and after two weeks of training with an acting coach, he was on a plane to L.A. for a screen test with his on-screen father, played by Matthew McConaughey.
Despite the enormous chasm in acting experience, Merritt and his Oscar-winning costar developed a potent on-screen chemistry. What emerges, thanks in large part to Demange's reluctance to glorify any seductive elements of the criminal underworld, is a tragic tale about a father and son. "Everyone's up to some sort of illegal activity in order to survive," McConaughey told Observer. "But Yann does a great job and the script does a great job and the actors do a great job of saying 'These are real people.'"
Here, Demange talks about why he originally passed on the movie, how Matthew McConaughey took to working with a non-actor, and graciously addressed the origin of those Bond rumors.
Warning: the following contains light spoilers for White Boy Rick.
How did you initially hear about Rick's story?
I was sent the article after '71, when I was looking for material. I actually passed at first. Though I found it a fascinating true story, I just didn't make a personal connection. And I'm not hot on informant stories.
Why not?
The nature of it, the betrayal. It gets really procedural. There are some wonderful procedurals—Scorsese nailed it—but it's a trope and it's overly familiar.
But a year-and-a-half-later, the producers ask me to read the spec script they acquired. I was interested to see what someone else had done with it. I read it, and in the first 20 pages there were these father-son scenes that were very moving. I was like "Oh my god."
That gave me an entry point; I was making a connection to it as an outsider. I never thought of the kid as an outsider before, but then, suddenly, I could see the opportunity to make a personal film. I've always been tribalist—I'm  mixed-race, French-Algerian, born in Paris, raised in London. I went to a predominantly West Indian school and was taken in by West Indian kids. I was always the outsider. And then the next thing I knew I was in Hollywood, bunched in with the privileged whites looking for material. And I also had a strange relationship with my dad who has dubious philosophies on how to live one's life. So just as I was coming to grips with living in America, I made a personal connection with this material and I saw a way in.
Did being an outsider give you a unique perspective on what is essentially a deeply American story?
I think the outsider's gaze that I brought is all over the film. While I was exploring it, everything that was going on around me had me asking "Is this really a period film or is this pertinent for right now?"
So is this is a political film?
I'm not a polemicist. If I was, I would've made a documentary. But I was making a film because I was interested in its themes. Emotionally I felt connected to it—with the debates happening in America, and Brexit happening back home, it was the perfect storm of how I was feeling at the time. Like, "Wow, everyone is so busy judging, no one's empathizing with the other." It was almost an exercise for me to say "I'm going to just empathize with everybody here—not judge—and spend time with everybody's life [in this movie], and try to understand.'
Did you feel a responsibility to do justice to the city of Detroit by accurately capturing what it felt like at that time?
One hundred percent. As an outsider, I didn't know this history. Once I engaged with it, and I went to see Rick in jail, I had to figure out ways to tell the family story, the drug dealer story, the brother-sister story, the informant story, and the mother of it all: Detroit. It's a character. I just didn't understand that Detroit, at that time, was the picture postcard of capitalism, of the American Dream. It blew my mind. I was discovering what Americans already know as part of their history. I was finding out for the first time.
Can we talk about Matthew's performance? What's it like getting to watch a performance of that quality unfold in front of you?
I knew we were onto something when I brought Richie to do a workshop with him for a day. I said "Look, Matthew, I'm thinking of going with this non-actor." Some great actors were reading for the part. The studio was scared and I was scared, but I liked this kid because he wasn't faking. I could smell that some of these kids really hadn't been around African-Americans. They were acting it, and appropriating it in a particular way. This kid came in, and he didn't give a fuck. He didn't even know who Matthew McConaughey was, and that blew my mind.
Something happened when they were working together. Matthew was having to tune into his frequency and his performance was getting better and better. The kid couldn't be in a McConuaghey film, Matthew had to be in a Richie film. And Matthew had a generosity of spirit, because you have to remember that 25 years prior, Matthew was the non-actor in Dazed and Confused. He was the guy that got cast in a bar. So he was particularly sensitive to it.
Is there any truth to your name being on the shortlist to direct the new Bond movie?
That rumor needs to be nipped in the bud. It's baseless. There's no truth in that.
How did it get started?
I think because we might have talked initially, and a director had just come off it. So my name was regurgitated back in the U.K. where they're obsessed with it. It's insane.
It's like their Avengers.
It's bigger. It's bigger dude. It's hard to explain. It's like the monarchy. Your name gets associated it once…It's annoying because I just want to talk about White Boy Rick and Bond is all anyone wants to ask me about.
Do you have an idea of what you want to do next, or are you just looking for scripts that you can connect with?
I'll do any genre. I'll do a Tibetan gay love story if I can make a human connection. That's what I need. I do love technique, but form without emotional connection is just a demonstration of form, and I'm not really interested in that.