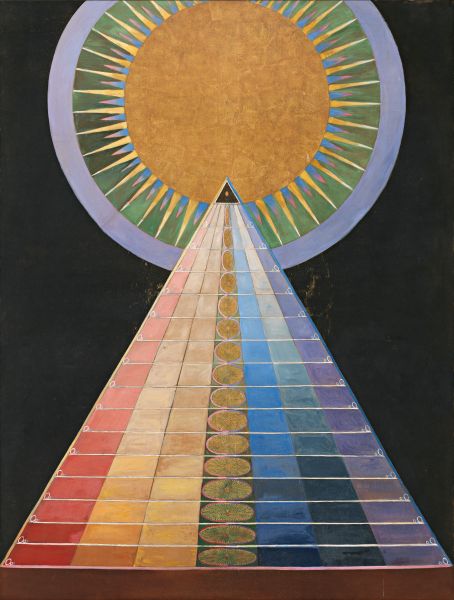 The title of Hilma af Klint: Paintings for the Future, an upcoming retrospective of the late Swedish artist and mystic's paintings at the Guggenheim, mirrors the artist's deathbed command: af Klint insisted her work remain hidden until at least twenty years after her passing in 1944.
Af Klint was not part of the larger abstract art movement so populated by men, but many of her paintings—vibrant, strange paintings inspired by her deep interest in Spiritism and Theosophy—predate those famous as pioneers of the style, like Piet Mondrian and Wassily Kandinsky. It's fortunate her influence is finally gaining recognition, though she was never wholly unknown. The Spiritual in Art – Abstract Paintings 1890 – 1985, a 1986 show at the Los Angeles County Museum of Art, was long believed to be the first exhibition featuring her work, but the Guggenheim show proves different. Julia Voss' essay in the show's catalog reveals the artist exhibited her work in London and parts of Italy, "a facet of her story that has been forgotten until now."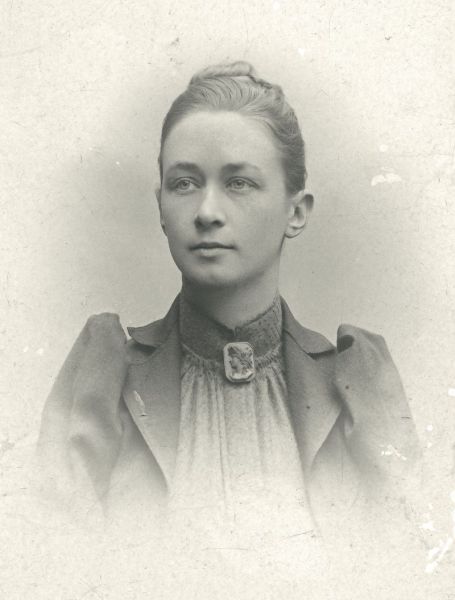 The growing popularity of mysticism in contemporary culture—sometimes culturally appropriative and tacky; other times intended as a radical force for healing—might be responsible for her resurgence. The overlap between af Klint's mediumship and her art practice was significant: her Paintings for the Temple series was guided by the "High Masters," a group of spirits she contacted with The Five, a circle of women with whom af Klint conducted séances. The works were, she said, "painted directly through me." But all her work used geometric shapes, florid movement and a system of symbols denoting divine love, sacred symmetry and duality. Many of them look like sunsets, their lines curving like bodies and their tones celestial; others look like constellations. The Austrian mystic Rudolf Steiner was reportedly a fan, but remained skeptical of af Klint's work as a channel.
Subscribe to Observer's Arts Newsletter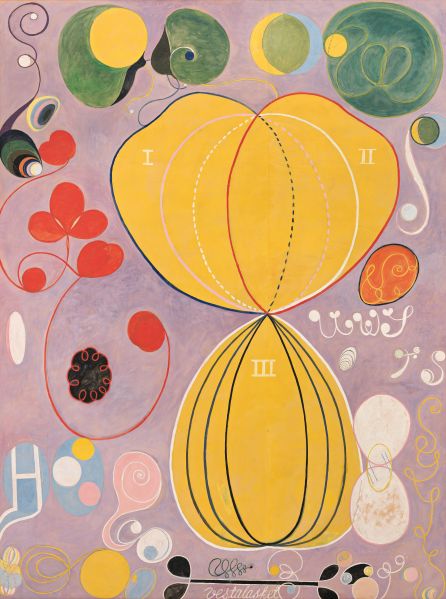 Af Klint isn't the only purveyor of a major art movement but overlooked in favor of more popular, typically male spokespeople. Here are four others like her: women artists overshadowed by the men around them—and who were, by all means, visionaries of their time.
Pamela Colman Smith, 1878 – 1951
The Rider-Waite tarot deck is poetic, rife with Biblical imagery, and a popular beginner's tool. But it was illustrated by neither Rider nor Waite, rather by Pamela Colman Smith, an artist, poet, suffragist and mystic. Born to a Jamaican mother and British father, she traveled extensively, studying at Brooklyn's Pratt Institute and working as a freelance illustrator and stage designer, drawing much of her inspiration from Jamaican folktales and mysticism.
In 1901, when Colman Smith joined the infamous occult collective Hermetic Order of the Golden Dawn, she met Arthur Edward Waite, who commissioned her to illustrate a tarot deck he'd imagined. She was, reportedly, the first person to decorate the minor arcana with figures and scenes, creating visual narratives propelled by her specific interpretations of the cards. But a short biography that came with my first Rider-Waite deck explained that Colman Smith died in obscurity, impoverished, and living with "a female companion." That she was mixed-race, possibly queer, and a "she" at all are never mentioned as significant facets of her life. Luckily, she's undiscovered no longer: Colman Smith, a woman The Brooklyn Daily Eagle once described as "an odd artist-mystic girl," is slowly being unearthed from the annals of history.
Suzanne Césaire, 1915 – 1966
Born Suzanne Roussi in Poterie, Martinique, Césaire was a Surrealist poet, scholar and mother who—in a series of seven essays—called for a Surrealism that intersected with black identity and fought the effects of colonialism. Inspired by Andre Breton, Césaire befriended the leader of the movement in 1941, but her Surrealism was different: a precursor to Afro-Surrrealism, it was, she said, the thing that would motivate "this most deprived of all people" to rise up. "Colonial idiocies will be purified," she wrote in her 1943 essay, Surrealism and Us. "Our unique communions—all will be recovered."
Her essays were published in Tropiques, a literary journal co-founded with her husband, Aimé Césaire. The couple met while attending École normale supérieure in Paris, where Aimé ran another publication, the L'etudiant noir, touting the ideologies of the Négritude movement. Her husband is the more internationally recognized of the two, though it was Césaire who, in response to the Vichy regime and the French government's presence on Martinique, encouraged her countrymen and women to avoid assimilating. She helped conceal Tropiques' mission to ward against a potential shutdown, disguising its calls to action as folklore, imbuing them with poetry: "And as for the hummingbird-women, tropical flower-women, the women of four races and dozens of bloodlines, they are there no longer. Neither the heliconia…nor the sunsets unlike any other in the world…Yet they are there."
Fede Galizia, 1578 – 1630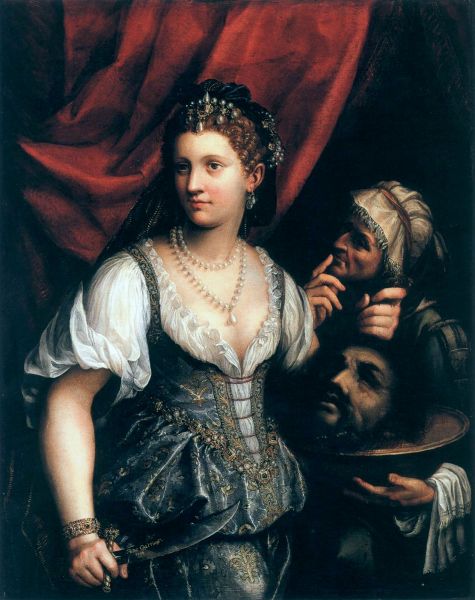 In a 1998 article by Sam Segal on Italian Renaissance painter Fede Galizia, he states that her influence on European still-life paintings "has not been sufficiently recognized." That still feels true today. Galizia, says Segal, executed her details "subtly"—her rich, dense still lifes depict fruit that's full of life, mottled with age, seed pits nearly bleeding.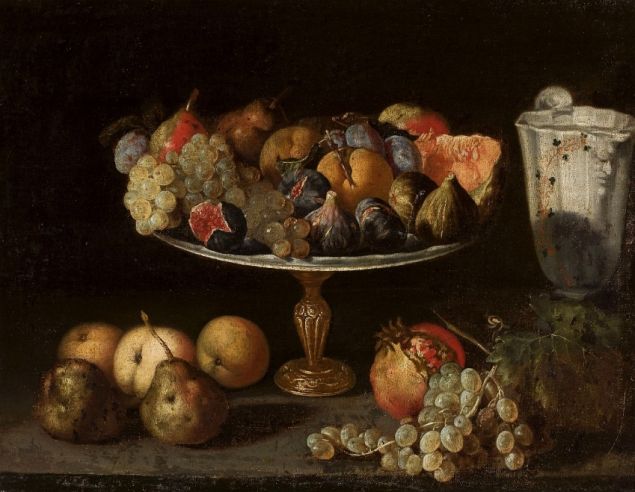 Born Fede Gallizi in either Milan or Trento, Galizia was the daughter of Nunzio Galizia, a painter himself, and was just twelve when the painter Gian Paolo Lomazzo said she'd "dedicated herself to imitate our most extraordinary art." She painted Biblical scenes, including Judith with the Head of Holofernes (1596), but was primarily fond of still lifes. Her work didn't appear in much literature on the genre until around 1938—even now it can be a challenge to identify her work, a difficulty not uncommon in the instance of oft-unsigned Italian still-life paintings. Much of her oeuvre was once attributed to her male contemporary Panfilo Nuvolone. Segal notes that unlike Nuvolone, Galizia had "an extreme concern for balanced composition," using glazing and highlights to indicate, by turns, freshness and rot. Today, you'll find Judith with the Head of Holofernes at the John and Mable Ringling Museum of Art.
Frances MacDonald, 1873 – 1921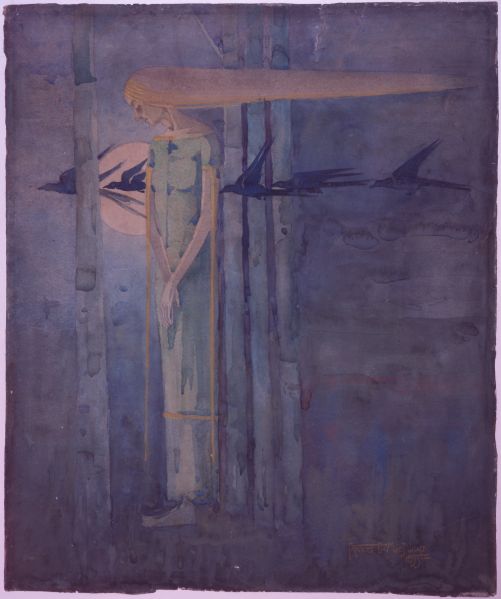 Though her name might be unfamiliar, Frances MacDonald, younger sister of the better-known Margaret MacDonald, had an extensive painting practice at the turn of the 20th century; the two sisters were frontrunners of Art Nouveau, having influenced artists like Hans Hoffmann and Gustav Klimt. When the sisters enrolled at the Glasgow School of Art, they met architects Charles Rennie Mackintosh and Herbert MacNair, their future husbands; the four collaborated as the "Glasgow Four." Meanwhile, the MacDonald sisters opened their own studio at 128 Hope Street, exhibiting across Europe and working professionally with textiles, illustration, metalwork and interior design.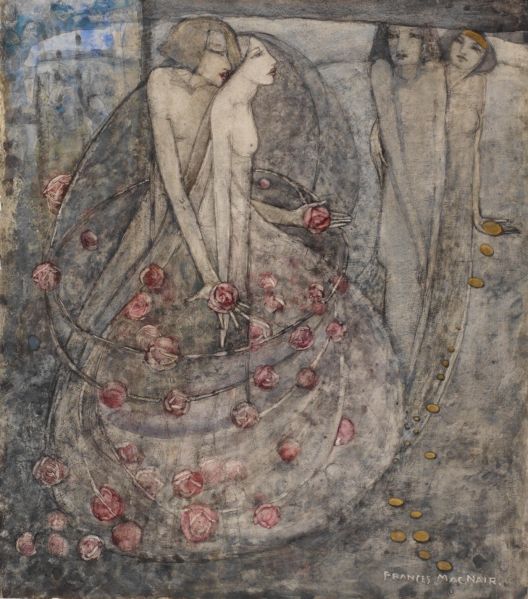 When MacDonald married MacNair in 1899, they had a son and moved to Liverpool, where MacNair taught at the School of Architecture and Applied Art. The couple exhibited at the International Exhibition of Modern Art in Turin, and MacDonald designed their home. When the school closed, however, they became financially destitute, and MacDonald took on part-time jobs to support them. Her paintings' colors paled; her women figures cast their eyes astray. She began to reference the complex contours of motherhood and matrimony; one piece was titled Man makes the beads of life, but woman must thread them, 1912-1915. After she died of a cerebral hemorrhage at age 48, MacNair, devastatingly, destroyed most of her work and no longer made his own. Luckily, some was preserved: the Walker Art Gallery and the University of Glasgow's Hunterian Museum and Art Gallery both have extensive collections of the sisters' work.