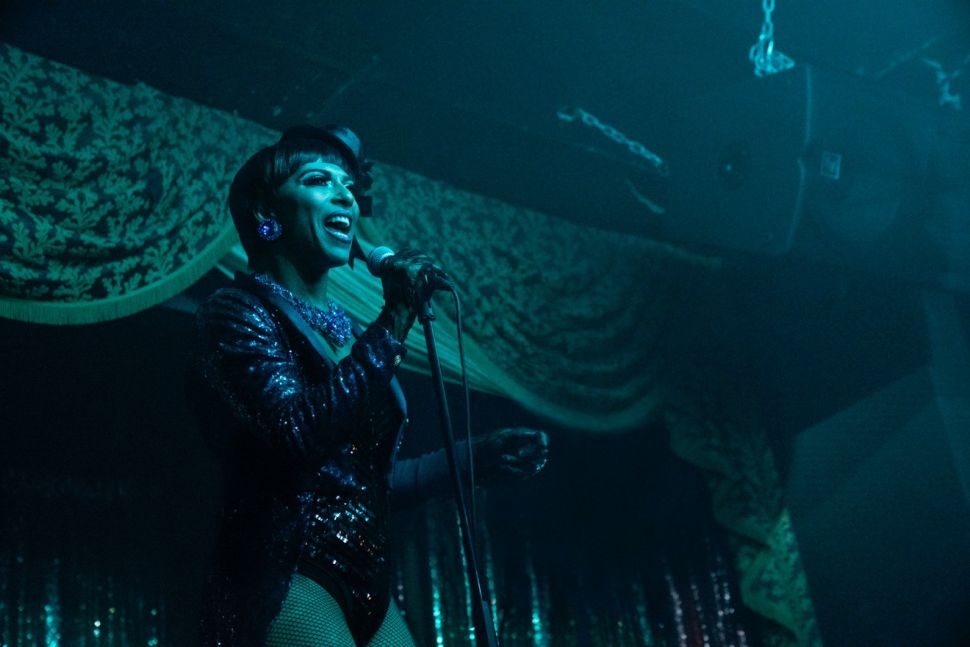 The hype surrounding A Star Is Born has primarily focused on its two central stars, Lady Gaga and Bradley Cooper, but as magnetic as they are, the supporting cast of the film that's delighted critics and spawned instant die-hard fans is just as strong.
Our favorite scene-stealer of all? Shangela Laquifa Wadley, who plays the somewhat mythic emcee of the drag bar where Ally (Gaga) is discovered by rock star Jackson Maine (Cooper) after he stumbles in off the street in search of a stiff drink. Shangela's character is sly, quick-witted and totally no-nonsense, an authoritative manager who whips her riotous performers into shape but also invites their saucy barbs. "Don't talk to me like that with that bus driver wig on," drag queen Emerald (Willam Belli) jokes after Shangela attempts to boss her around. (That line got the biggest laugh both times I saw the movie.)
Shangela (given name: D.J. Pierce) is also a RuPaul's Drag Race fan favorite, the first performer to be welcomed back to the show after being eliminated (she appeared in Seasons 2 and 3). She also just narrowly lost out to Trixie Mattel and Kennedy Davenport in Season 3 of Drag Race All Stars.
Subscribe to Observer's Entertainment Newsletter
We recently caught up with the actor—who previously appeared in episodes of The X-Files and Bones—while she was in the midst of a cross-country drag tour that has her performing 181 nights this year.
Appearing in a film that's getting this much buzz must open a lot of doors for you.
I've been working as an actor in L.A. for the past six years, but this is the largest role I've ever had. I'll be thrilled to come back to Los Angeles in 2019 and focus on TV and film projects. We're actually about to make an announcement about a new animated series I'm in, and I just wrapped an episode on the fifth and final season of Broad City.
What were you able to learn about the filmmaking process on the set of A Star Is Born? 
It was a privilege and an honor to work alongside Lady Gaga and Bradley Cooper. Working with people at the top of their game was like a master class. In terms of Bradley's directing, it was very inspiring to see someone who was so focused and so passionate. He obviously did a lot of research, and on set it was amazing to watch him working with the director of photography, describing the shots he wants, and watching the screens and talking to the actors. You have to know where you want to go. He also was very supportive of us bringing our own authenticity. He said to me, "Shangela, I know what I want here, but I also want you to bring what you know, and if I need to pull you back I'll pull you back." And it was also a gift to be able to work with Willam [Belli], because we had such a great chemistry.
Were you at all nervous playing the part of the emcee? Is there a big difference between doing drag and acting in TV and film?
I felt confident in doing the role, but you put pressure on yourself. I don't ever want to not pull up. I play Lady Gaga's drag mother. She works at my bar, and I wanted to put a lot of authenticity into our relationship. That required me not having any nerves. To her credit, she helped me do that. She was so, so personable and so warm. And you know, drag performance is larger than life. It's huge. Working in a film, you bring it in a little for the camera because you don't want it to be huge.
A friend of mine pointed out that when you and Willam reappear later on in the movie, when Ally's freaking out in the bathtub and she watches a video message from you two, you're wearing the same outfits you wore in the opening bar scene. Was that on purpose?
Your friend is very perceptive! A lot of times in drag bars they do the same show each time, and the bar in the movie was modeled after that. It was actually inspired by Frank Marino's Divas. It's a cast cabaret show, and with productions like that you'll see different costumes recycled, like a uniform. So our characters would do the same show numbers each week, but Ally is like the special guest.
We also had a great script that we used as a base, and we just added a little salt and pepper. The cool thing about [Cooper] and the way the film dealt with LGBTQ people is that it felt authentic. Jackson comes in and it's not a punchline—he's authentically experiencing the moment. And Ally didn't necessarily feel included [anywhere other than the drag bar]. She felt like no one wanted her and that people judged her based on her looks. We wanted to promote a strong sense of acceptance, not just within our community but for everyone.
The pink lighting in the bar reinforces that idea of warmth and community. And I love that the light reappears later when Ally hangs a neon "La Vie en Rose" sign in her and Jackson's house.
Oh, Bradley and the crew shot it beautifully. I've seen the movie three times!
If you could collaborate with Bradley Cooper again, what would your dream project be? 
He's just so good with the drama, and creating a film that pulls emotion out of you, but he's also great with comedy in movies like The Hangover. I'd love to do a project that falls between drama and comedy—a dramedy with hilarious moments.
This interview has been edited and condensed.