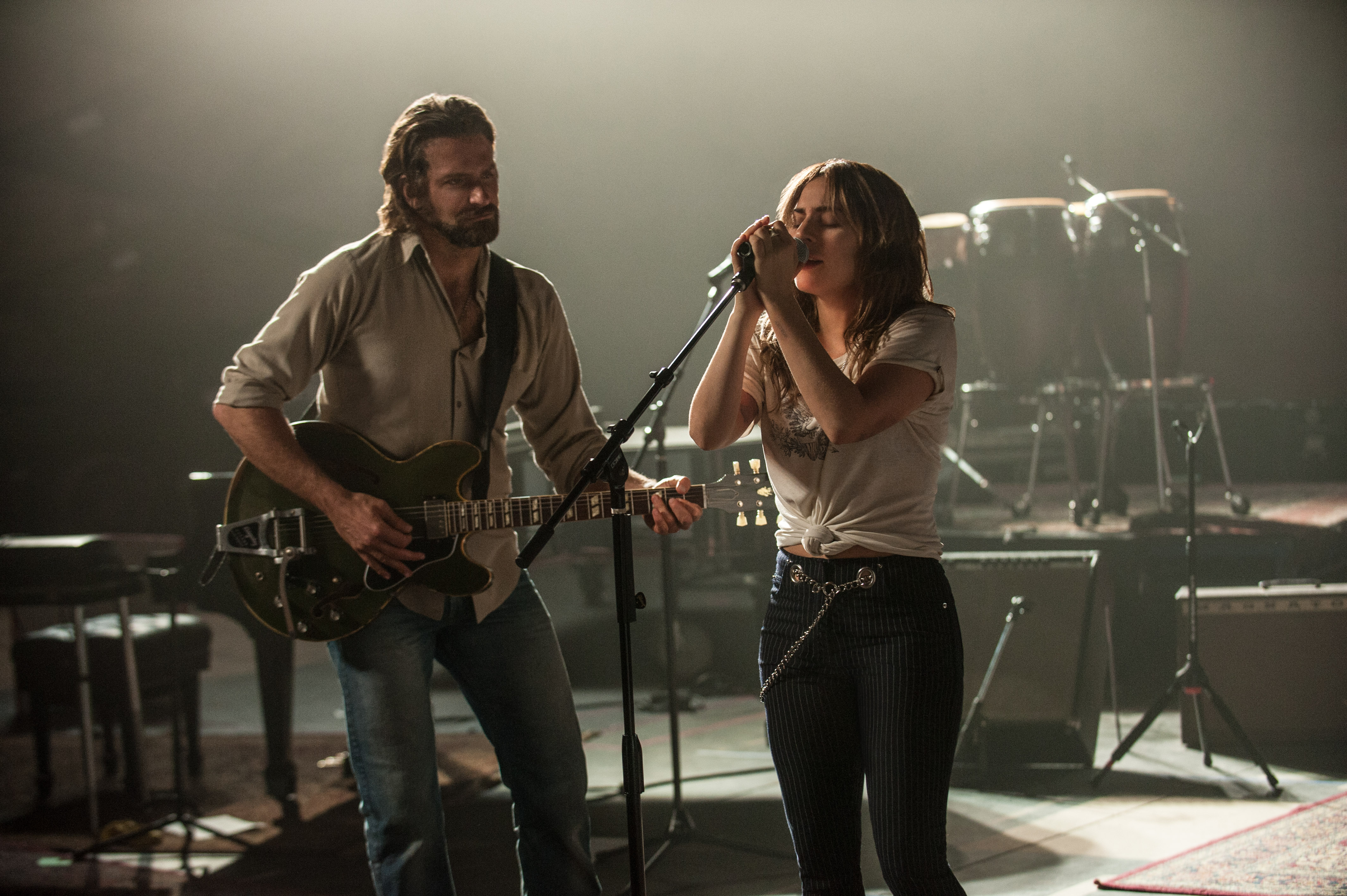 Now that pretty much everyone has seen Lady Gaga and Bradley Cooper's A Star Is Born, it's time to start asking the real questions: Can the movie sweep the Big 5 categories at 2019's Academy Awards? We're talking Best Picture, Best Director, Best Actress, Best Actor and Best Screenplay. Yeah, making a serious guess this far out is a bit crazy, but, hey, it's also fun. So let's break down the odds for each category.
[Note: We're tackling the movie's Oscars odds like we're your own personal bookie: (+) odds indicate an underdog, while (-) odds suggest a favorite. So if something is +500, it means we don't have a whole lot of confidence in it. If something is -500, we're talking clear front-runner status.]
Subscribe to Observer's Entertainment Newsletter
Best Adapted Screenplay
Eric Roth, Bradley Cooper, Will Fetters
Of the past five Best Adapted Screenplay winners, just two have also nabbed Best Picture (Moonlight and 12 Years a Slave), while two Best Original screenplays (Spotlight and Birdman) have also claimed the top prize. In other words, a writing win helps in the conquest for Oscars glory. However, the screenplay categories are also often used to highlight deserving films that probably should receive more consideration, but don't. Last year, the two prizes went to Call Me by Your Name and Get Out. While A Star Is Born is a lock to be nominated, it feels like an uphill battle for the win this far out.
Odds: +250
Other Likely Contenders: If Beale Street Could Talk, First Man, BlacKkKlansman, Can You Ever Forgive Me?, Black Panther
Best Actor
Cooper convincingly portrays a leathery alcoholic rock star who sounds like car tires backing over a gravel road. What else do you want, people? But seriously, his greatest acting accomplishment in A Star Is Born is eliciting sympathy for the selfish and self-destructive Jackson Maine. You're a damn liar if you say that while watching it you weren't rooting for him. But was Cooper good enough to win in a race that will surely be more competitive than last year's, which was pretty much a victory lap for Gary Oldman?
Odds: -125
Other Likely Contenders: Willem Dafoe (At Eternity's Gate), Timothée Chalamet (Beautiful Boy), Christian Bale (Vice), Rami Malek (Bohemian Rhapsody), Viggo Mortensen (Green Book)
Best Actress
Lady Gaga is completely in her element as a pop star with otherworldly pipes, but it's the quieter moments of Ally's life that reveal a new side of the entertainer. Yes, she's electrifying when she's on stage, but her acting also feels effortless when she's off it. She gives a phenomenal debut lead performance—one that actually gets better as the movie unfolds. Unfortunately for Gaga, the Best Actress race will be positively stacked this year. On the plus side, the Academy has often shown a fondness for younger first-timers in this category.
Odds: -100
Other Likely Contenders: Glenn Close (The Wife), Olivia Colman (The Favourite), Viola Davis (Widows), Saoirse Ronan (Mary Queen of Scots), Yalitza Aparicio (Roma), Melissa McCarthy (Can You Ever Forgive Me?)
Best Director
A Star Is Born is made all the more impressive because it is Cooper's feature directorial debut. Actors jumping behind the camera and starting their careers off with a bang makes for a juicy narrative—just ask Jordan Peele (Get Out) and Greta Gerwig (Lady Bird). Cooper is absolutely a front-runner, but whispers indicate that Alfonso Cuarón's Netflix feature Roma is an absolute masterpiece. Would the Academy ever give out a Best Director statue for a foreign language film? And can Cooper, the rookie, topple former Best Director winner Cuarón and the rest of the competition? It's a long shot, but it's possible.
Odds: +175
Other Likely Contenders: Damien Chazelle (First Man), Ryan Coogler (Black Panther), Alfonso Cuarón (Roma), Spike Lee (BlacKkKlansman), Peter Farrelly (Green Book), Barry Jenkins (If Beale Street Could Talk)
Best Picture
A Star Is Born just pulled in a massive $42 million debut and could ultimately earn at least $130 million domestic. For the past 10 years, we've seen a growing divide between films nominated for Best Picture and films that top the U.S. box office. As one of the best movies of the year so far and a big profit-generator, A Star Is Born is now the film to beat. If you don't think the Academy cares deeply about the financial side of things, then you haven't been paying attention.
Odds: -150
Other Likely Contenders: BlacKkKlansman, First Man, Green Book, The Favourite, If Beale Street Could Talk, Roma, Black Panther, Vice