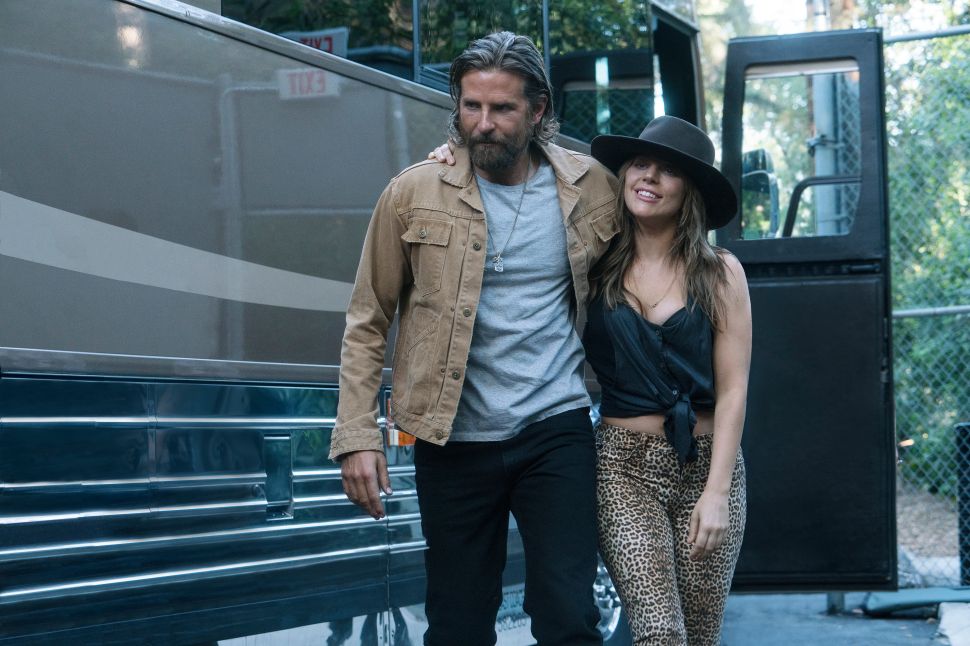 First things first. Lady Gaga can act. For his first time out of the chute as a director, Bradley Cooper knows where to position the camera. And in spite of the fact that the fifth slog around the track for A Star is Born is not in the same class with—and nowhere near the same monumental motion achievement as—George Cukor's 1954 masterpiece, written by Moss Hart with a spectacular score by Harold Arlen and Ira Gershwin and starring Judy Garland and James Mason at the zenith of their careers, this re-hash proves that a threadbare story can still thrill a new generation if treated with style and passion. So it is far from perfect, but the entertainment value is undeniable.
Subscribe to Observer's Entertainment Newsletter
That being said, I must also add that the fawning critical slobber being dumped on this film, while not exactly misguided, is still very much out of synch with reality. One moron in Chicago even calls it "the greatest Star is Born of all time," which is not only ridiculous but a bald-faced lie.
---

A STAR IS BORN ★★★
(3/4 stars)
Directed by: Bradley Cooper
Written by: Eric Roth, Will Fetters
Starring: Lady Gaga, Bradley Cooper, Sam Elliott
Running time: 135 mins.

---
Switching the love story between a girl on the rise and a star on the decline to the world of rock and roll has been done already, with disastrous results, in the unconvincing 1976 version with Barbra Streisand and Kris Kristofferson. As a writer trying a new approach, Bradley Cooper is no Moss Hart, but his screenplay, written with Eric Roth and Will Fetters, has its moments.
As an actor, Cooper is still too handsome and too young to play a hairy, coke-snorting has-been on the road to alcoholic ruin. Even when he's passed out cold on the side of the road, he looks ready for a closeup. But, as anyone lucky enough to have seen him on Broadway in The Elephant Man already knows, this boy can act. Playing a worn-out rock star named Jackson Maine, he also proves he can play the guitar and scream out a tsunami of acid rock with unexpected volume and hysterical abandon.
As the ingenue with potential he grooms and marries, Lady Gaga makes stars as a singing waitress and ambitious amateur named Ally whom he accidentally discovers singing "La Vie en Rose" in a gay bar that features drag queens. Noisy and somewhat creepy, she works diligently on her way up the ladder of success with Cooper as her mentor, the fading rock legend on his way down.
Cooper the director gives her all the best angles and favors her in almost every scene, while Cooper the actor stays out of the center spot. The music is indescribably horrible; anyone who knows anything about real music—or cares—is advised to return immediately to the lush soundtrack of the Judy Garland version and listen to historic vocal on "The Man That Got Away." Then you get the true understanding of how an unknown can become a star through sheer supersonic talent.
The high-voltage ghost of Judy Garland haunts every frame and illuminates every shadow in the film, and Lady Gaga seems to know it. In an early scene, she is walking down a dark alley to the street. Out of nowhere, she starts singing a set of lyrics her fan base ignores, considering the scene superfluous and baffling. What they don't realize is that she's singing the verse to Judy Garland's most durable theme song, a little ditty called "Over the Rainbow."
Updated with orange hair and an appearance on Saturday Night Live, Lady Gaga (is it OK to call her "Miss Gaga"?) achieves the epitome of fame in 2018, which includes three Grammy nominations and a guest appearance with "the ubiquitous Alec Baldwin," while Cooper plots his own suicide. Despite obvious parallels, the script never achieves the insight, scope, of richness of detail in the Moss Hart script from 1954. Oddly, the best scene in the film is the truthful, long-awaited explosion between the rock star at rock bottom and his long-suffering older brother and manager, played with electrifying appeal by Sam Elliott, and Lady Gaga isn't even it.
The biggest shock to me is not her voice, but the backbreaking toil that has gone into concealing every trace of her voluminous tattoos by slathering her with tons of body makeup. There's nary a tattoo, even in her nude scenes. But even if, in my opinion, she's not a real movie star, it's nice to watch her performance develop from beginning to end and grow, highlighting a timeless movie with renewed elements of tragedy and love.
This review originally stated that 'A Star Is Born' was Lady Gaga's acting debut, which is not the case. Whether or not Rex liked her in 'Muppets Most Wanted' remains unclear.