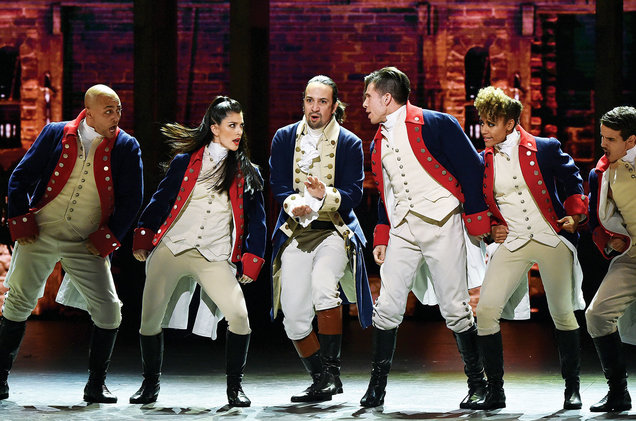 What does one of Broadway's biggest hits have to do with a media company's ad strategy? The answer was revealed on Wednesday during an Advertising Week panel on change in the media landscape.
Jim Bankoff of Vox Media led the charge, stating the best course of action for a company like his was using data to inform the creativity of journalists on staff. In Bankoff's case, those influencers include Ezra Klein and Kara Swisher.
"They're going to use their own insight, intuition and research, but by using trends at scale, we can inform these top tier creators," Bankoff told moderator Sara Fischer of Axios. "Not about what article to write, but about how people engage."
Subscribe to Observer's Business Newsletter
Of course, the rules and tools of engagement have changed since Bankoff entered the media industry in 1995. He joked that at his first job at AOL, he drove clickthrough on the homepage by constantly posting pictures of Britney Spears.
When Bankoff joined SB Nation (later Vox Media), web design became a big focus. "We're just going to make it look good, to hell with the analytics," he said.
In modern media, advertising is the name of the game. So in 2014, Vox launched Concert, a publisher-led marketplace for advertising. "It let us take back the night against other platforms and give advertisers data that leverages insights in the right way," Bankoff said.
These tools are sorely needed, according to Bankoff's colleagues on the ad side. John Dick, founder and CEO of research firm CivicScience, pointed out that only 42 percent of ads reach the people they're intended to reach, while 74 percent of people say the ads they see aren't relevant to them.
"There's still a lot of garbage at the top," Dick said. "Big data is better than small data, but big data collected the wrong way sends the wrong signals."
Some of the blame for this rests with the online retailers and social media sites themselves. For example, after Dick bought a grill of Amazon, he saw a lot more grill ads. "Who needs two grills?" he asked.
Nicolle Pangis, CEO of advertising firm NCC Media, added that a pair of shoes she looked at on Zappos had "followed [her] around for three weeks."
But the way users post on these sites is also a factor—and Dick used one of Broadway's biggest hits as an example. "Raise your hand if you've seen Hamilton," he said. Almost every hand went up.
"Now keep it up if you didn't post on Facebook about going to Hamilton," Dick said next. Nearly every hand went down, and the mystery of why there were so many Hamilton ads on Facebook feeds was solved. Already shelled out big bucks for Broadway's hottest ticket? Great! Facebook thinks you should go again… and the ads are non-stop.
The onus is on the industry to help consumers understand these issues, according to John Osborn, CEO of integrated communications firm OMD. He urged the marketers and media honchos in the room to "de-complexify" their ad strategies.
"If you think it's just going to happen, it's not," Osborn said. "We're a perfectly imperfect industry, we live in the messy middle. We know what we know, but we don't always know what we should know."