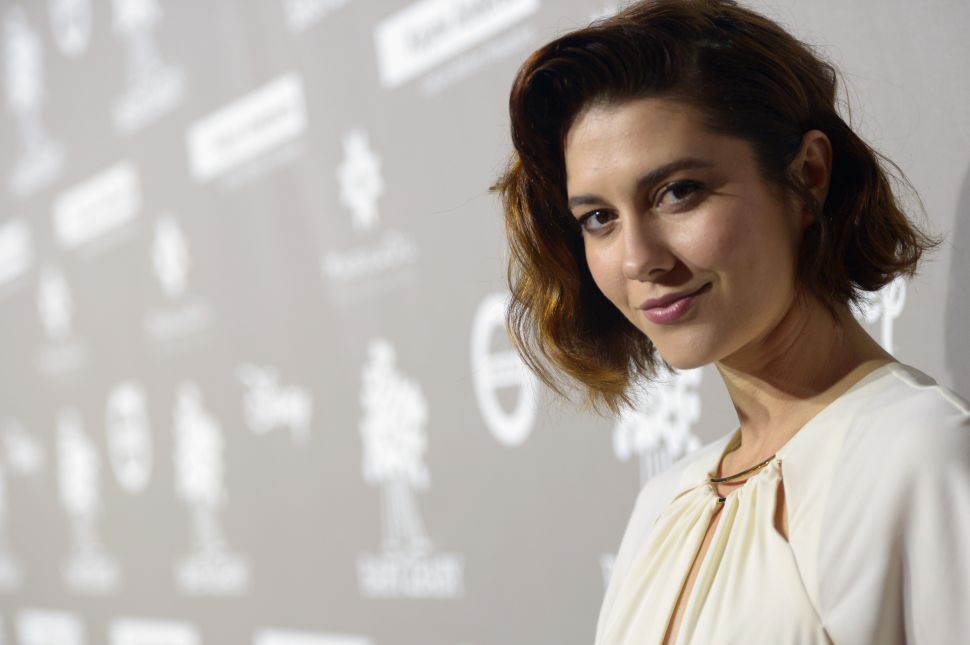 After seeing the brutally sincere All About Nina at this year's Tribeca Film Festival, we practically begged Hollywood to put Mary Elizabeth Winstead in bigger films. Now it seems the industry has finally listened: The actress—best known for her turns in movies like Scott Pilgrim vs. the World and 10 Cloverfield Lane and the third season of FX's Fargo—was just cast alongside Margot Robbie in DC's big superhero flick Birds of Prey as popular comics character Huntress (Observer landed her exclusive reaction to the news). The role comes on the heels of another coup for her: She'll star opposite Will Smith in director Ang Lee's upcoming sci-fi action drama Gemini Man, out in fall 2019.
Both parts are about as far away from Winstead's character in All About Nina as you can get. Written and directed by Eva Vives, who makes her feature-film directorial debut, the movie follows Nina Geld (Winstead), whose passion and talent have made her a rising star in the comedy scene. But she's an emotional mess offstage, and when a new professional opportunity coincides with a romantic one, she is forced to confront her deeply troubled past.
Subscribe to Observer's Entertainment Newsletter
In All About Nina, your character is a very funny stand-up comedian. Did you do any open mics or performances to prepare?
I thought maybe I would when I first signed on to it—I was optimistic about my bravery. But as time went on, I realized I was not that brave. Thankfully, Eva was very supportive of me. She told me the most important thing was that I realize who this person is and that I make her a really full character. I didn't have to become a stand-up comedian to play this role. I was relieved to hear her say that, because for me it was easier to focus on tackling this role like I do every other role, which is trying to figure out who the character is and letting everything else come from that.
I did stand-up in high school and college, and the most terrifying thing is bombing on stage. Have you ever bombed an audition or a performance?
The first time I did a stand-up set on this movie I didn't realize that the [assistant director] had told the extras not to make a sound—nobody told me that was gonna happen. I was so, so nervous to start it, and it was like 6:30 in the morning in a dingy comedy club, where people were drinking water instead of alcohol and pretending to be enjoying themselves. And I wasn't getting a peep out of any of them—just stone-cold faces—and I got a feeling of what that must be like because I was starting to improvise, go away from the script. I was talking to the audience, making fun of them for their lack of a reaction. It forces you to get a little desperate.
Nina drinks a lot. Your character Kate, from your 2012 film Smashed, also had her vices. What's it like to play characters with such addictive, self-destructive streaks?
I'm drawn to it because it's so much more active to play someone who's struggling with something. I think alcohol, drug use, sleeping around, or whatever it may be is typically masking something else, some kind of pain, something that you don't want to acknowledge within yourself that you're running away from. That's always interesting to me—to play somebody who's hiding from something, and slowly uncovering what that is.
What do you think about the recent trend of female comedians using their trauma and personal stories for their acts?
I think comedy has always been a tool for tragedy. I think that's something everybody's always been aware of. I love that now it's been broken up into a new, more honest space. Yes, you can make comedy out of it, but you don't have to cover up the real pain; you can talk about real pain in a robust way.
You've said in the past that you don't go for "sexy" roles because they can be uninteresting and lack substance. How do you feel now about your Scott Pilgrim character, Ramona Flowers, who heavily influenced the archetype of the manic-pixie dream girl?
I had a specific perspective on what Ramona was going through. She's a very deadpan, subtle character in terms of her emotions, so it's hard to see through that, but it was so ridiculous that all these men were fighting over her because they really didn't know anything about her, and it was crushing for her. It was like, "Dudes, what's the point of all of this? You're in love with me because I have blue hair." I always thought the movie expresses how ridiculous she found it all, whereas some people watch it and think, "Oh, it's about all these guys fighting over this woman because of her personality." I really liked playing her. I liked playing that sensible sadness she has in her. You know, nobody's really interested in getting to know her and loving her for who she actually is. I think that's what's hopeful about the ending of the film. Maybe Scott's matured enough to the point that that's what he's interested in.
How did you get involved with Gemini Man?
I sent in a tape to Ang Lee months and months ago. It was one of those moments where I read the script and thought it was very well written, with an interesting mix of action and drama. And I was really excited about the role because it was not sexualized at all. There is no relationship between my character and Will Smith's character other than they're thrown together to be partners. I thought that was very unusual, and had not seen that very often.
I sent the tape and thought, "I would love to do this movie, but I won't get it because it's a really good movie." I didn't really think much of it. Then a month later I got a call saying, "Ang Lee wants you to fly to New York today to meet him to talk about the role, and he wants to spend a few hours with you. So I got on a plane and went and met him, and he told me every which way I could possibly play the part and threw everything at me. But he had such a lovely energy about him.
All About Nina is in cinemas now.
This interview has been edited and condensed.