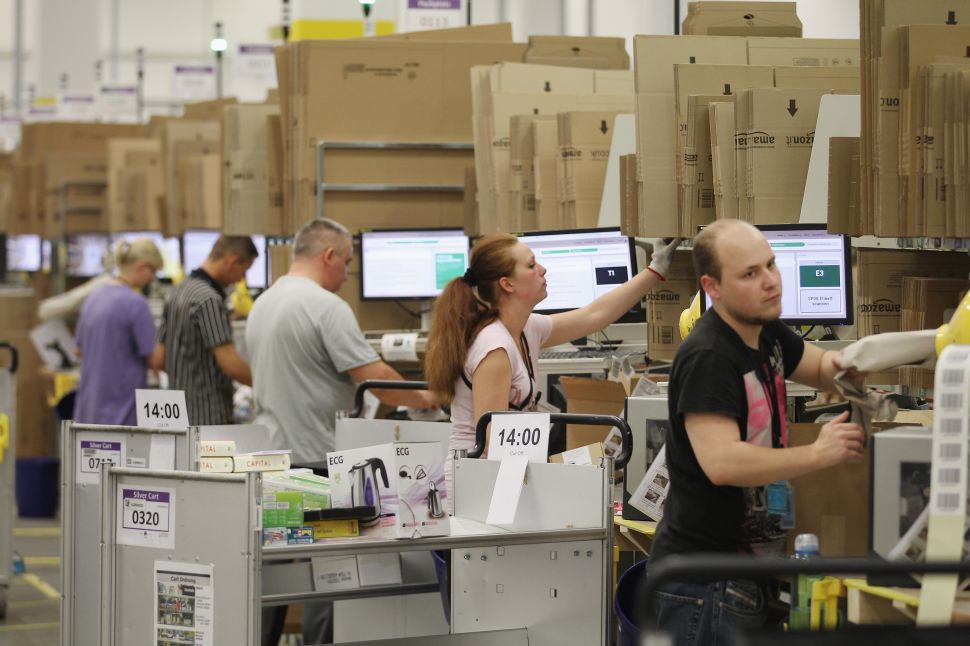 Starting next month, Amazon will raise the minimum wage for all of its U.S. workers to $15 per hour, the e-commerce giant announced on Tuesday. The wage bump won widespread praise from the internet, including a Twitter shout-out from Bernie Sanders, but it also puts competitors under pressure as the hiring race for seasonal workers nears. 
Amazon has a larger demand for seasonal workers than most of its retail rivals, but the average wage it currently offers isn't particularly attractive. According to employee-submitted data on Glassdoor, a typical seasonal worker at Amazon warehouses earns $12 per hour. Target pays similar positions $15 per hour; Macy's and Khol's both pay $11.
But after next month's wage hike, Amazon's hourly rate for seasonal workers will fall in the higher end of the industry average, making its openings an attractive target for job seekers.
This year, U.S. retailers are expected to hire over 700,000 seasonal workers to cover the November through December holiday shopping season, a record high since 2015, according to a recent analysis of federal jobs data by labor market consultant Challenger.
Amazon has yet to release its seasonal hiring quota for this year. A safe forecast would be in the mid-range of 100,000. In both 2017 and 2016, Amazon hired 120,000 temporary workers for the shopping season. Other large employers this year will include Target, Walmart, Macy's and retailers of similar scales. (Target has announced plans to hire 120,000, and Macy's will hire 80,000, according to the Challenger report.)
However, not all of those positions will likely be filled. Provided the historically low unemployment level, many retailers are bound to face a severe labor shortage. Last year, 23 percent of retailers failed to fill their seasonal hiring quotas, according to report by global consulting group Korn Ferry. An updated survey of retailers conducted by Korn Ferry this year found that 63 percent of respondents plan to give permanent employees additional hours to cover the possible shortage.
Amazon's rivals, notably Walmart and Target, are under pressure to match its new hourly rate. In a statement on Tuesday, Amazon founder and CEO Jeff Bezos said he hopes the minimum wage hike can lead to an industry-wide change.
"We listened to our critics, thought hard about what we wanted to do, and decided we want to lead," Bezos said. "We're excited about this change and encourage our competitors and other large employers to join us."
In any case, the biggest beneficiary will be job seekers. With ample openings and heated competition among employers, seasonal workers will likely see more opportunities with better pay this holiday season.