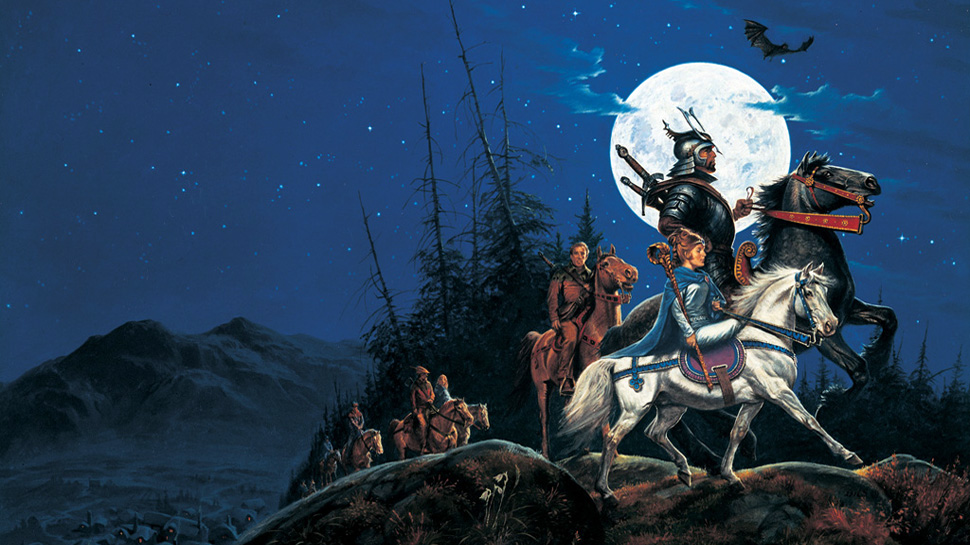 Under a new mandate from none other than Amazon (AMZN) head Jeff Bezos, Amazon Prime Video is on the hunt for blockbuster content that can compete with the Netflixes and HBOs of the world. So, in an effort to find the next Game of Thrones or Stranger Things—in other words, a full-blown, mainstream hit—it has lined up a roster of splashy and ambitious new series. The platform's jaw-droppingly expensive adaptation of Lord of the Rings has rightfully been stealing headlines, but audiences shouldn't sleep on their forthcoming The Wheel of Time series, either.
Deadline reports that Amazon has handed out a series order to the sprawling fantasy epic, which spans 14 books and counting. TV writer Rafe Judkins (Agents of S.H.I.E.L.D., Chuck) is adapting the material for a string of hour-long episodes that will debut in more than 200 countries and territories when completed. Back in June, newly installed Amazon Studios head Jennifer Salke assured everyone that despite having been stuck in development for more than a year, the series was "very much alive." Let's see if all that potential morphs into production.
With more than 90 million books sold around the world, The Wheel of Time is exactly the sort of high-profile genre epic with a massive, built-in fan base that Amazon could use. Conceived by writer James Oliver Rigney Jr. (publishing under his pen name, Robert Jordan) the epic spans 15 books in total, the first of which was published in 1990. Set in a world where women hold the power to wield magic, the story centers on protagonist Moiraine as she embarks on a journey with five young men and women, the outcome of which might be the salvation of humanity—or its undoing. The series takes inspiration from aspects of European and Asian culture and philosophy, drawing considerably from the cyclical nature of time found in Buddhism and Hinduism.
Subscribe to Observer's Entertainment Newsletter
"The Wheel of Time is endlessly fascinating and resonates hugely with fans as one of the best-selling global properties, and we were drawn to its timely narrative featuring powerful women at the core," Salke told Deadline. "We're thrilled to extend our relationship with devotees who've found the book series transformative and welcome new ones by bringing it to life on Prime Video for viewers worldwide."
The move is not without its risks, however. The Wheel of Time series includes more content than any showrunner would know what to do with. Rigney passed away in 2007, leaving fellow fantasy author Brandon Sanderson to complete the final novels. Multiple attempts to lift the long and dense world off the page have been unsuccessful. As we saw with last year's The Dark Tower, which Amazon may also be developing into a TV series, shepherding a beloved but scattered fantasy tale to the screen does not always yield the desired results.
Still, this seems like the right decision for Amazon, as it looks to swing for the fences. Amazon Prime has an estimated 90 million-plus subscribers, with roughly 30 million U.S. customers taking advantage of its streaming options. By comparison, Hulu, available only in the U.S. and Japan, surpassed 20 million subscribers earlier this year. Netflix (NFLX) still paces the field with nearly 58 million domestic viewers.