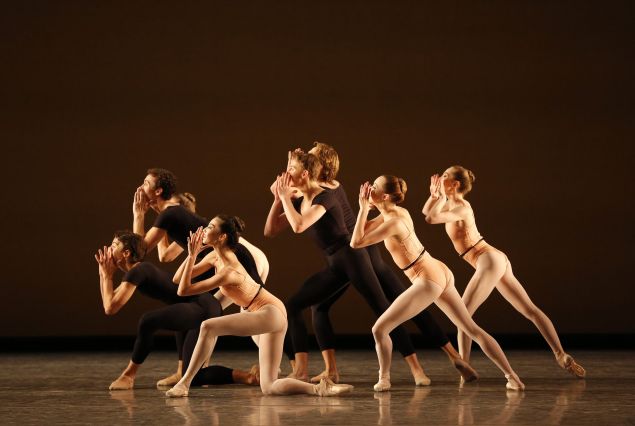 It is the Year of the Woman at ABT, and at the Gala opening night of the two-week season that's drawing to a close at the Koch, a lot of women made speeches, congratulating each other (and themselves) at great length. It was not an auspicious beginning, but people on boards never seem to learn.
Then came the dancing.
The first of three new ballets by women choreographers was a short, snappy piece by Lauren Lovette, a City Ballet principal who's made several pleasing if not notable ballets for her own company. This one, called Le Jeune, was created for ten dancers: five company apprentices and five members of the ABT Studio Company, and it did the job, with generic music by Eric Whitacre and "costume concept" by Lovette herself. (Does this mean she thought them up but didn't sew them?) The "job" was to give these promising dancers something to gnaw on plus experience on the big stage, and to give us a look at who's heading our way. What we saw was highly attractive—kids well-trained (the School is doing its job) and confident, with Lovette's stagecraft confident as well, if not revelatory. She's learning as she goes, just as her dancers are.
Subscribe to Observer's Arts Newsletter
I wish I could say the same for Dream within a Dream (deferred), the big event of the season—a large-scale ballet by the wondrous tap-dancer and tap-choreographer Michelle Dorrance. I've liked every tap event of hers I've seen, so the disappointment was particularly acute. This was one of the great fizzles of our day. To be blunt: Dorrance doesn't have the faintest idea of what ballet is all about. She's picked up a few rudimentary ballet steps, she's put her women on pointe, and she's tried to integrate some tap routines into the whole—that was almost the worst of it. Luckily for her (and us), ABT has one capable if not great tapper, James Whiteside, and he tried his best…to no avail.
Scene from Michelle Dorrance's Dream within a Dream (deferred).

Marty Sohl
There was no discernible structure to this mongrel work, no joy, no nothin'. Not even the Duke Ellington score helped. The whole thing, featuring a first-rate cast including Gillian Murphy, Christine Shevchenko, Sarah Lane, Cassandra Trenary, and Calvin Royal III just went on and on, but it would have been no more or less effective with the kids from Le Jeune. ABT saw a bandwagon—Dorrance is as trendy as you can get—and jumped on it. When Twyla Tharp moved into classical ballet with works like Bach Partita, it was after years of preparation. Here there was nothing but the assumption that a talent for one thing is all you need to succeed at another thing. Sorry to disappoint, but you can't just drop in on ballet.
Making it look even worse, the Dorrance was followed on opening night by Tharp's tremendous In the Upper Room. What a thrilling piece it is! And how daunting for the dancers, with its non-stop waves of energy, mounting and mounting in excitement in response to Philip Glass's pounding score and with Norma Kamali's black, white, and red costumes that are like nothing else in the repertory. This is hard stuff to do right—there can't be a dead spot or a weak dancer—and I can't say the ABT cast was perfect. A company needs to perform Upper Room again and again to conquer the difficulties and build the necessary stamina, and it's been out of the repertory for a while, so that almost everyone on stage was new to it. (By the second performance it was beginning to pull together.)
Blaine Hoven, Herman Cornejo and Aran Bell in Twyla Tharp's In the Upper Room.

Marty Sohl
But there was Herman Cornejo, bare-chested, as one of the three galvanizing "stompers." I'm wary of using the word "great," but let's face it, Cornejo is a great dancer. Not because of his dazzling technique—lots of dancers have that—but because of his deep artistry. And his beautiful modesty. He's a supremely moral performer, always at the service of the work he's dancing and of dance itself. Also noteworthy were the gorgeous Devon Teuscher and a new nineteen-year old boy, Aran Bell—tall, powerful, gracious: the real thing.
The season's third premiere was Garden Blue, by the very experienced Jessica Lang (more than a hundred works to her name). Set to Dvořák chamber music and deploying Hee Seo as a kind of master of ceremonies presiding over three couples, it's capable and pleasing enough, like everything I've seen of Lang's, but it doesn't add up to a great deal. Dominating the ballet—and made much of in the press—is the stage design by Sarah Crowner. There's the blue and green backdrop, but far more important are three constructions—two of them on the stage, one hanging high above. To me they looked like huge open clamshells made of plywood, but others saw them differently: my colleague Robert Greskovic, in the Wall Street Journal, sees them as "shaped like insect wings, but in scale and weight…more like abandoned propeller blades, perhaps from an ocean liner." The two on the stage are an integral part of the dance—too integral. The dancers move them around, open and close them, hide inside them, pop out of them, cluster around them—they start to distract from the actual dancing. And the first time you see Garden Blue you can't help worrying about the one overhead—how is it going to be deployed? Don't worry—nothing happens; it's just a tease.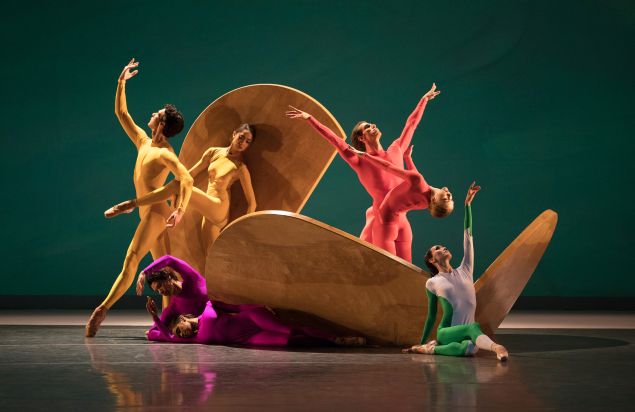 Of the three couples Seo floats among in her striking white-and-green body-stocking, the most effective was Cornejo, wonderful as always, and Misty Copeland at her very best—lyrical, sensuous, happy. The ballet changed (for the better) with the second cast, led by Shevchenko. Seo, always beautiful, always strong, was her invariably bland self—she's today's Julie Kent. But Shevchenko is a vibrant presence who seemed to be presenting the three couples to some purpose, not just threading her way through them. In the second cast as well was another talented young man, Joo Won Ahn—slender, stylish, classical. (He also showed to great advantage in Ratmansky's Songs of Bukovina—which, by the way, and especially with Shevchenko, was looking more settled and comfortable than it did in its first season.) And talking of young male dancers, it's obvious that the big news is Calvin Royal III. He's not yet as technically polished as he will be, but now that he's bulked up, he's a major event, not just a stunning presence. And ABT badly needs another male star—Cornejo and Whiteside can't do everything.
Back for the millionth time was Fancy Free, looking a little passé but still a dazzlingly original piece of work. How can it have been Jerry Robbins's first ballet? Calvin Royal was the outstanding sailor, and Isabella Boylston was exactly right as the second (usually blond) girl. I liked her more here than in either In the Upper Room, for which she lacks the essential authority, or Bukovina, in which she doesn't convey a specific character or temperament.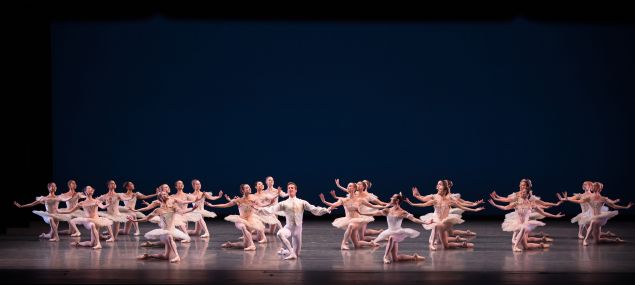 The final important event of the season was Balanchine's Symphonie Concertante, to Mozart, which he made in 1945 for his students at SAB. I say "important" because all Balanchine is important, but this is a training piece that's both too long and too academic. I remember seeing it with Tallchief and LeClerq (as the violin and viola), and even with them it was underwhelming. Over the years it's disappeared for a long time, turned up, and disappeared again—audiences have never really warmed to it. And it's barely ever talked about or written about. Seeing it now, I realize what the real stumbling block is: the inevitable comparison with Balanchine's incomparably great Mozart ballet, Divertimento No.15. It isn't that Balanchine wasn't trying hard here, it's that his motive for Symphonie Concertante was purely practical. His motive for Divertimento was Mozart.