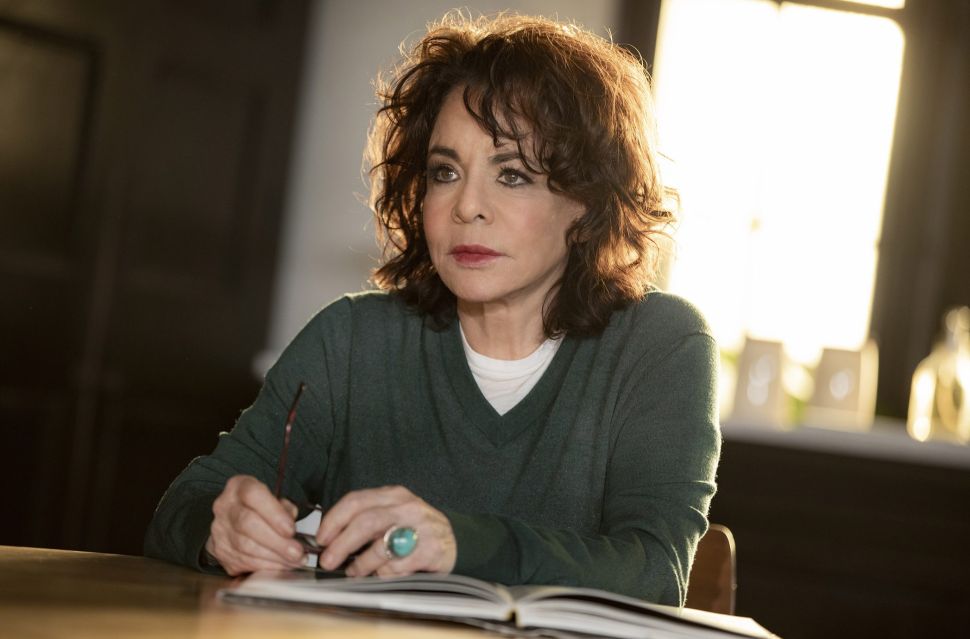 The London import Apologia, a Roundabout production at New York's Laura Pels Theatre, stars the fearless and formidable Stockard Channing as Kristin Miller, a celebrated American art historian and left-wing political activist who settled in England in the 1960s and is still fiery and active in the play's 2009 setting—despite the fact that the world has changed dramatically since women burned their bras and marched in anti-war protests in Trafalgar Square. (A daunting picture of Karl Marx hangs over the toilet.)
Rigid, forceful, blisteringly opinionated and a strict enforcer of the appropriate choice of words and their pronunciation, Kristin has an annoying habit of over-analyzing everything and everyone around her, especially her two grown sons who have grown estranged for obvious reasons. For reasons not entirely clear, she was forced by her now-deceased British husband to abandon them when they were small boys. They have never forgiven her. Now the chance for a reconciliation is presented in a one-night reunion that gives the play its conflict and Channing her power to dominate the stage with riveting élan.
The occasion is Kristin's birthday, staged in a country cottage where the rustic setting seems perfect for genial good will.  But as the frustrations of everyone present build into what will surely be dramatic outbursts of hostility and rage that have been festering for years, everything goes wrong. The kitchen stove breaks down with an uncooked chicken inside and the guests have to settle for fish-and-chips takeout. Hugh, Kristin's gay best friend for 40 years and an old comrade in arms from anti-Vietnam demonstrations in the good old days of yesteryear (played by accomplished director John Tillinger in a rare acting excursion) turns ill after finding a fingernail in the mushed-up English peas.
Subscribe to Observer's Arts Newsletter
One of Kristin's sons, a handsome, straight-laced banker named Peter, brings along his fiancé Trudi (Talene Monahon), a chirpy and clueless American girl who presents her hostess with a hideous primitive African statue that turns Kristin into a bundle of merciless criticism and further seals her own fate when she admits, to Kristin's horror, that she has turned Peter into a born-again Christian. Adding more fuel to an edgy ambience already toxic with unpleasantness, there is Claire (Megalyn Echikunwoke), a fashion plate, soap-opera actress and roommate of Kristin's other son, a dysfunctional writer named Simon, whose absence from the evening's festivities is rudely noted.
In the disastrous evening that follows, Claire confesses she devotes more time to playing the role of Simon's babysitter than his girlfriend. Trudi spills a bottle of red wine on Claire's evening gown that cost her 2,000 pounds, and Peter explodes with pent-up fury and resentment because Kristin's recently published memoir failed to devote even a single sentence to any mention of him and his brother. The electric shock to Kristin's most vulnerable nerve renders her speechless and everyone goes to bed reduced to psychological rubble.
In the second act, the wayward Simon shows up in the middle of the night, bleeding and depressed, with his own litany of criticism, verbally lashing out at his mother where his brother Peter left off, and the play reveals new layers of meaning, delivered with force and wit. Audience loyalty might shift uneasily from children to parent, but Simon's most withering line when he drags out his unhappy childhood is, "The thing I remember most about you is your absence."
The look on Stockard Channing's face is like a violent blow. Both sons are played, with diversity, by the dynamic, appealing and accomplished actor Hugh Dancy. Visibly wounded, Kristin is forced to defend her role as a self-centered, second-rate mother, hence the title Apologia. She is defiantly defensive in the company of others, but in the end, when she is left alone in an empty kitchen full of dirty dishes, her final anguished cry of regret is one I will not soon forget.
Dominated by Stockard Channing's tremendous energy and well-acted by a gifted supporting cast, but directed with a somewhat uneasy focus by Daniel Aukin, the play is ultimately about a woman with ideas, opinions and insights who established her independence before it was fashionable—and the high personal price she paid for doing so. The toll celebrity has taken on Kristin, who chose success in a male-dominated society over the needs of her own children, has a relevance today that stings.