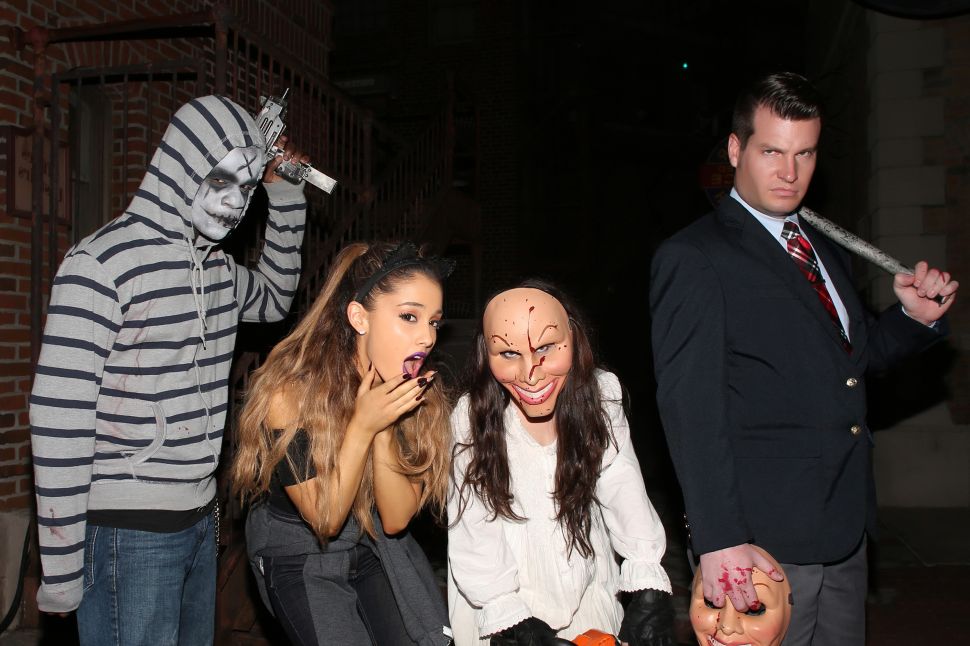 Ariana Grande, one of the world's most famous and beloved pop stars, is an absolute die-hard fan of Halloween. Many of us may consider ourselves ghoul-obsessed, but Ariana's devotion to the month of October and to the rituals of All Hallows' Eve go beyond run-of-the-mill, as is well documented and celebrated by her legions of Arianators. This year, she's paid tribute to her favorite spine-chilling holiday in a couple of different ways.
On Monday, she appeared on NBC's A Very Wicked Halloween, a special to commemorate the 15th anniversary of the iconic Broadway musical Wicked. Ariana, dressed in a green satin peplum dress complimented by green lipstick in reference to the character Elphaba, the Wicked Witch of the West, belted out "The Wizard and I" to a roomful of Oz-obsessed admirers. It was her first public performance since the tragic death of her ex-boyfriend Mac Miller.
https://www.youtube.com/watch?v=0-GroXUDPQY
Then, on Tuesday evening, a remote segment from The Late Late Show With James Corden showed Grande and Corden making their way through a terrifying escape room. "I love Halloween. I love being scared, I think it's so much fun," Grande said.
Subscribe to Observer's Entertainment Newsletter
"I go to, like, haunted houses and stuff. Usually escape rooms aren't that scary." But Grande, who injured her hand during the visit, was proven wrong: Corden's escape room turned out to be much more harrowing than she had anticipated. "That was traumatic," she told him, looking rattled.
Ariana definitely won't be wearing a couple's costume this year, due to her recent split with ex-fiance Pete Davidson, but she'll be fine on her own given that she's an expert when it comes to dressing up for Halloween. In 2016 she and Miller dressed up as the Pokémon Eevee and Pikachu, and in 2017 she went as Katinka from Zoolander, also with Miller.
The pop singer hasn't yet revealed what her costume is this year, but her Instagram stories have showed that she's been watching Netflix's The Haunting of Hill House, so the "Sweetener" singer is definitely in a spooky state of mind. "The most stunning and scary yet beautifully profound series," Grande wrote in her post.
In the past, dark-sided Ariana has done goth-rock covers of Kendrick Lamar songs, and in a 2018 interview with Elle, Ariana's mother described herself as "goth before goth was goth." (A bit dubious, but sure.)
When Ariana and her brother Frankie were children, Joan Grande decorated their home for Halloween with gory things like "heart, organs or lungs" and smeared blood on the walls. She clearly passed her love for horror onto Ariana.
In 2013, Grande told Complex she believes in aliens and ghosts and retold a story about an interaction she had with a demon at Stull Cemetery in Kansas City.
"I felt this sick, overwhelming feeling of negativity over the whole car, and we smelled sulfur, which is the sign of a demon, and there was a fly in the car randomly, which is another sign of a demon," she said. "I was like, 'This is scary, let's leave.' I rolled down the window before we left and said, 'We apologize. We didn't mean to disrupt your peace.' Then I took a picture, and there are three super distinct faces in the picture—they're faces of textbook demons."
Spooky!