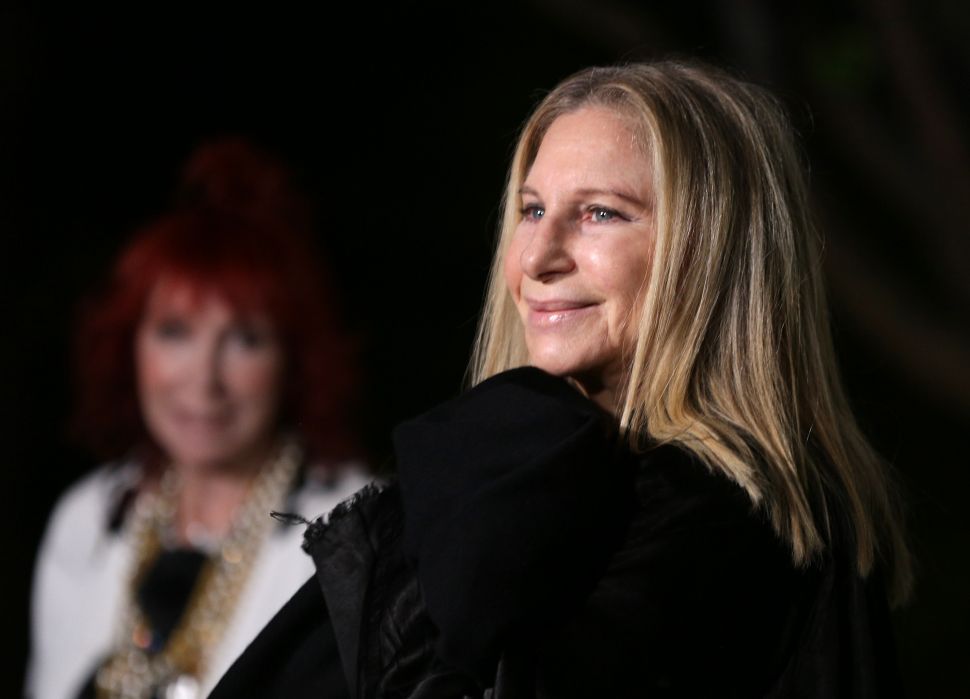 In an interview published Tuesday with political reporter Maggie Haberman of The New York Times, legendary Broadway diva and actress Barbra Streisand discussed her latest pop album, Walls, which functions as an angry letter directed to President Donald trump, whom Streisand, a passionate Democrat, vocally abhors. The track "Don't Lie to Me" has already been released, and the entire record is out November 2.
Throughout her conversation with Haberman, the Funny Girl star addressed the #MeToo movement, former U.S. senator Al Franken's alleged misconduct and Hillary Clinton losing the 2016 presidential election, among many other topics. Streisand, who is Jewish, also commented on the Tree of Life synagogue massacre that took place on Monday. "My heart aches for these innocent people and the centuries-old attitude of somehow blaming Jews for all the ills of the world," she said.
Since the president's election, we've seen many debates over the value of art and artistic reactions to America under Trump. How exactly should artists respond to the current administration? Is there a right or wrong way to make politically infused work, and how much responsibility should artists assume for effecting change? Babs offered her opinion: "Art or music transcends politics, I think. I hope it does," she said. "I actually said that to George Bush."
Subscribe to Observer's Entertainment Newsletter
Streisand also shared her opinions on John McCain, Bob Dole ("he said to me that he was recuperating from a yearlong illness and he wanted to tell me how powerfully my music helped him recuperate") and Bradley Cooper's remake of A Star Is Born, the 1976 version of which she starred in ("I was surprised by how similar it was to my version. I loved how he used the drag bar. I thought that was new and interesting. What I've seen of the film I really liked.)."
When discussing Walls, the 76-year-old singer said, "Truth has always worked for me, so to see the truth defiled every day is very, very painful for me. I only can do what I can do. I probably will turn a lot of people off… I don't know what people are going to think when they hear what's on my mind. It may bring up things that are on their mind.
She descried "Don't Lie to Me" as "upbeat" and "contemporary," but added that "it expressed my anger, it expressed my frustration."
Streisand isn't the only musician to express her frustrations with Trump this week. Pharrell Williams' lawyer Howard E. King has sent the president a cease-and-desist letter in an attempt to prevent him from playing the singer and producer's smash hit "Happy" at his MAGA rallies. Trump played the song this past weekend just hours after the Pittsburgh synagogue massacre.