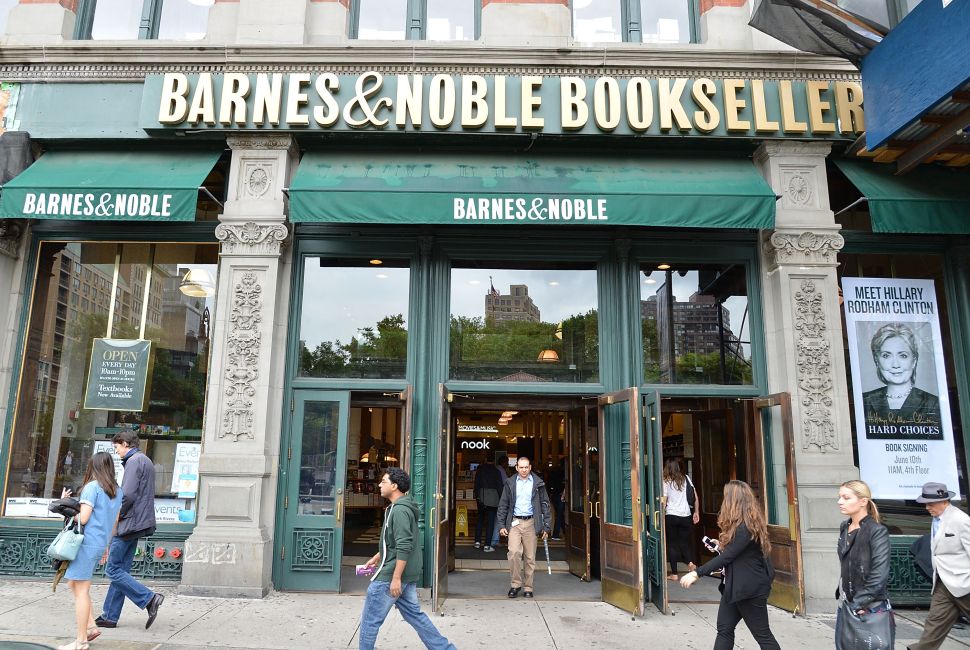 Barnes & Noble announced late Wednesday that it's considering selling the company after "multiple parties," including the company's chairman and large shareholder, Leonard Riggio, expressed interest in acquiring the 132-year-old bookstore chain. The news sent Barnes & Noble shares to jump 22 percent Thursday morning in pre-trading, marking another spike in the company's years of unpredictable stock movement.
The company has appointed a special committee comprised of board members, including Mark Carleton, Paul Guenther, Patricia Higgins and Kimberley Van Der Zon to review options.
In Wednesday's announcement, Barnes & Noble said it had noticed lately that someone had been purchasing an unusually large volume of company shares, although the company didn't identify the buyer.
Subscribe to Observer's Business Newsletter
One investor whose recent activities match this description is Richard Schottenfeld, founder of Schottenfeld Management Corp. Last month, Schottenfeld disclosed in a regulatory filing that he had increased his stake in Barnes & Noble from 5.7 percent to 6.9 percent over the summer. In the filing, he also expressed interest in participating in discussions about "changes in company leadership at the executive and board level, implementation of operational improvements and the desirability of selling the company."
After the increased stake, Schottenfeld's investment firm became Barnes & Noble's fourth-largest shareholder, according to Thomson Reuters data. The bookstore's other top shareholders include BlackRock (owns 8.87 percent), Dimensional Fund (8.33 percent) and Vanguard Group (6.16 percent).
To ensure the review of sale options stays within the board's control, Barnes & Noble introduced a one-year Shareholder Rights Plan in Wednesday's announcement. Under the plan, if a person or group purchases over 20 percent of Barnes & Noble's common stock without the board's approval or announces an offer to do so, all rights holders will have the option to buy preferred shares equivalent to Barnes & Noble's common stock for half the price.
Barnes & Noble shares have seen dramatic swings over the past few years amid declining sales, frequent executive changes and intermittent discussions about selling the company.
In July, the bookstore abruptly fired Demos Parneros, its fifth CEO in six years, over sexual harassment allegations. Parneros later brought a defamation lawsuit against the company, claiming that chairman Riggio had orchestrated the ousting and that the real reason for his firing was the failure to complete an acquisition deal.
The company is still in the process of finding Parneros' replacement.