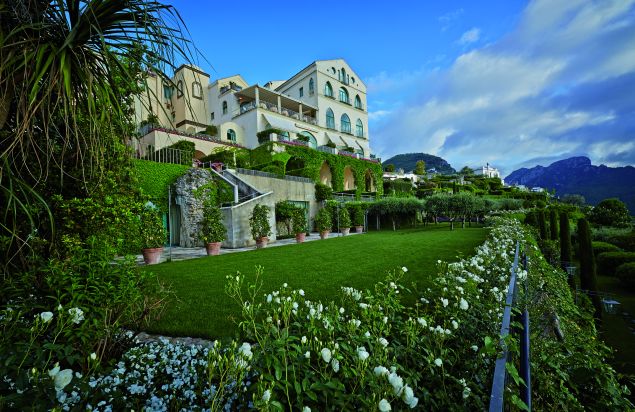 Justin Bieber and Hailey Baldwin's current marital status is finally (maybe?) confirmed, but the pop star and his model fiancée were honeymooning long before they announced their engagement.
The Biebs recently took a break from hitting the L.A. streets in hotel slippers and headed with Baldwin to the Belmond Hotel Caruso in Ravello, Italy, where the couple reportedly stayed in its $13,000-per-night Villa Margherita. The secluded Amalfi Coast spot is composed of two suites, and they rented out both, which means they had full access to the grounds as well as a private butler and a personal chef.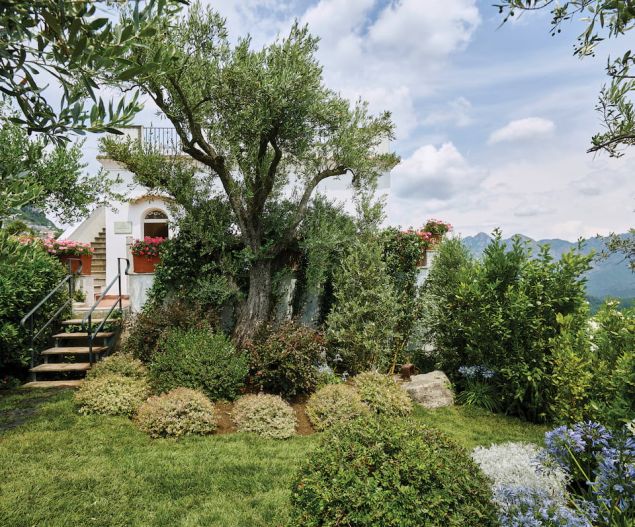 The five-star hotel has long been an attraction for well-heeled travelers looking for a breezy Mediterranean getaway. Its 50 rooms and suites typically start at approximately $1,059 a night but can cost up to $6,000.
The original building dates way back to the 11th century, when a noble Roman family was shipwrecked near Ravello and subsequently constructed a palace on the cliffs to celebrate their survival. Palazzo D'Afflitto sat on a limestone bluff more than 1,000 feet above the sea.
The palace was entirely rebuilt by the end of the 1500s, and in the late 17th and early 18th centuries local artists painted frescoes inside it, a chapel was erected nearby and marble columns were installed at its entrance. But it wasn't converted into a luxury stay until 1893, when hotelier Pantaleone Caruso began renting out five rooms in one wing of the property.
Subscribe to Observer's Travel Newsletter
He dubbed it Pensione Belvedere, and eventually transformed the entire palazzo into what became known as Hotel Caruso Belvedere. After a New York Times journalist checked in and wrote a gushing review for the paper (this was long before #sponcon), it became a favorite among celebrities and socialites in search of a private sanctuary in the increasingly crowded European coastal towns.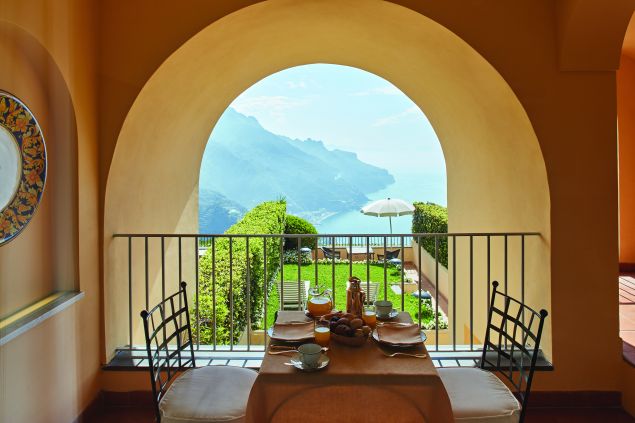 Notoriously reclusive actress Greta Garbo stole away to the hotel in the late 1930s with lauded conductor Leopold Stokowski. The two regularly ate a vegetarian lunch there, until a catty waiter reportedly commented to the press that Stokowski "must love her to eat that stuff. Before she came he used to eat plenty of meat and spaghetti." (Garbo had a rather unique diet, which may or may not have included raw yeast and celery loaf.) Fortunately, the hotel's current Belvedere Restaurant, helmed by chef Mimmo di Raffaele, offers more legit Mediterranean cuisine, like sea bass and seafood salads, plus views of the Bay of Salerno from its terrace. There's also a pool and alfresco bar-restaurant surrounded by rose bushes, as well as a cocktail and piano bar.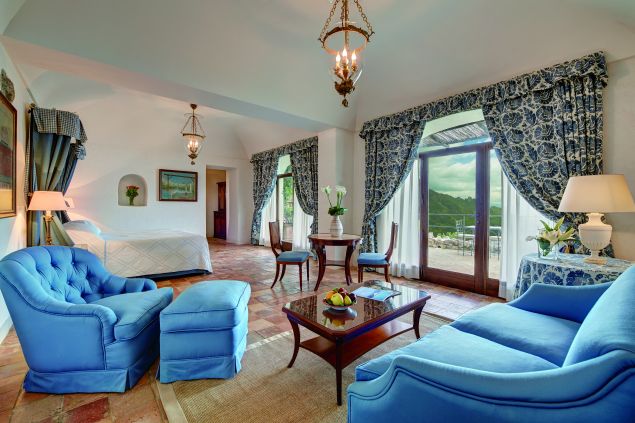 Former first lady Jackie Kennedy was also a fan of the hotel. She spent her summer holiday in Ravello in 1962 based on a recommendation from her distant cousin, the writer Gore Vidal, who eventually moved to a villa there. During her trip she met the Italian industrialist Gianni Agnelli, and the Fiat heir accompanied her throughout the Amalfi Coast during the three weeks she ended up staying in the area, before she returned to the White House. Vidal, on the other hand, became an honorary citizen. He said of the town, "When I'm away, I think about Ravello all the time. Knowing I can come back here makes the road bearable."
Belmond took over the hotel in 2000 and embarked on a four-year restoration and overhaul that included calling in archeologists after foundations for a medieval palace were discovered near the main building—they can be seen today. The hotel company brought in architect Gennaro Passerotti as well as designer Frederico Forquet, who sourced ancient terra-cotta, hand-painted tiles, oil paintings and custom textiles. Frescoes were restored in three of the salons, the drawing room, the chapel, the bar and the reception area.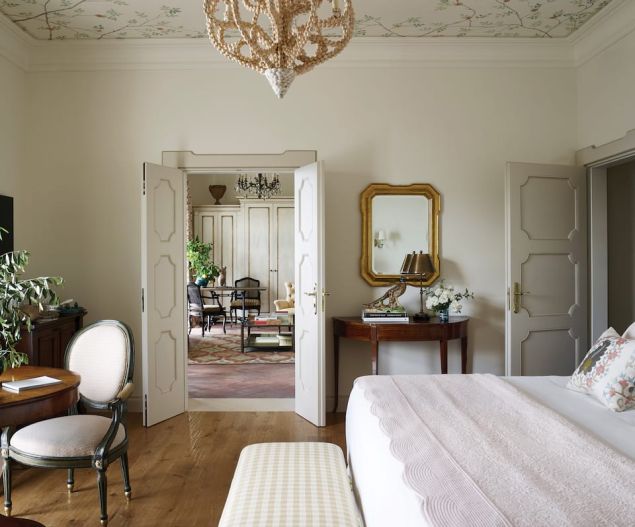 In 2005 the hotel reopened, its two signature stone lions greeting guests at the entrance just like they did past visitors like Virginia Woolf and Humphrey Bogart. Most of the rooms now have balconies, and all of them are outfitted with carefully curated decor (urn-shaped lamps, mosaic-framed mirrors) as well as four-poster beds. Each offers its own unique details, such as original stone arches.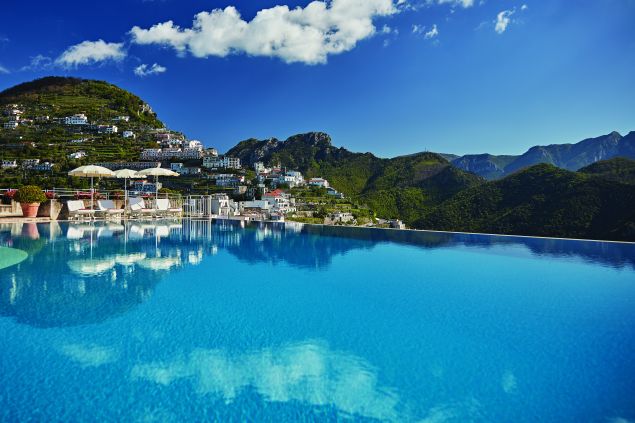 But Belmond's most noteworthy addition was the much-fawned-over and oft-Instagrammed infinity pool, which is frequently included in "best pool" lists and is also where model Emily Ratajkowski posed for a plethora of photos during her sojourn at the hotel in 2015.
Aside from the picture-perfect piscine, the grounds are filled with olive vines and gardens boasting mint, thyme, rosemary, bay and rose blooms. And while leaving the hotel may not seem entirely necessary, you can rent out its private wooden boat, the Ercole, for a sunset cruise or book a private helicopter tour or a guided private night tour to see the town's lesser-known enclaves. Then there's our personal favorite: the lemon tour, in which a private car transports guests to a local farm where its owners explain how the Amalfi Coast's famous lemons are grown and used in cooking—and, of course, how limoncello is made.