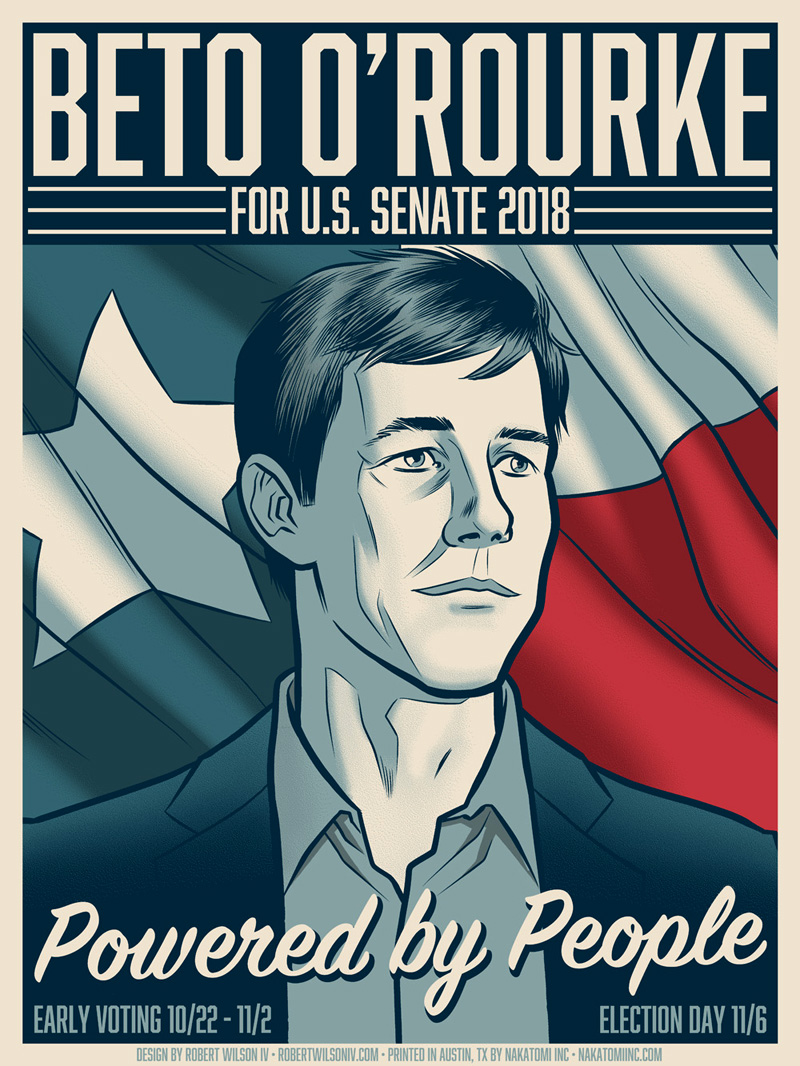 At the end of September, a super-weird poster showed up in downtown Austin, Texas. In its lettering, its art and its overall aesthetic, the poster looked like an ad for any punk show or lefty cause. But its message was very different. Against a lime-green background, it depicted local and global hero Willie Nelson, made up like Tupac Shakur complete with a do-rag.
"Willie The Tax Dodger Sings For Beto The Tax Raiser," the poster read. Willie bore a tattoo of Bernie Sanders, one of the Golden Gate Bridge and one of a unicycle. Separate tattoos, in cursive lettering, read "fuck the patriarchy" and "Champagne Socialist."
Online, my Austin social circle, largely comprised of bougie liberals with some sort of rock background or at least an interest in music, went ballistic. How dare anyone attack Willie? And how dare anyone attack Beto O'Rourke using a punk-rock aesthetic? Beto was a punk rocker! Beto is a punk rocker! We are punk rockers.
Only in Austin could a debate emerge over which senatorial candidate is more punk than the other. It doesn't take long to find an answer: Not Ted Cruz. He's the squarest man on Earth. He couldn't even look cool talking about basketball in Indiana, for god's sake. As Jordan Klepper's show so effectively mocked a few months ago, conservatism is not the new punk rock. Conservatives are elite dweebs, and always have been.
Subscribe to Observer's Politics Newsletter
O'Rourke, on the other hand, plays guitar, toured in a van, skateboards and air-drums in the Whataburger drive-through. Rolling Stone's profile referred to him as "Ted Cruz's Punk-Rock Problem." But even though he's run an effective Minutemen-style campaign, he's not punk-rock either. And his supporters certainly aren't.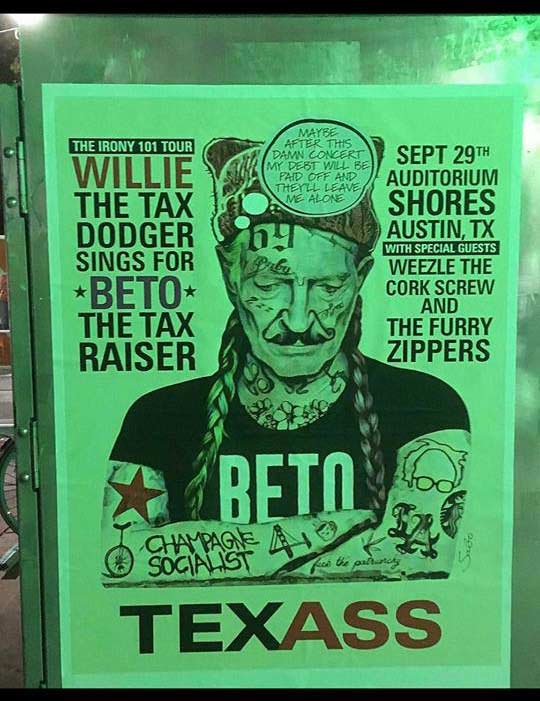 Although my wife's the one who ordered it, I have a Beto O'Rourke sign on my front lawn. I'm going to vote for him because I agree with most of his policy positions. In theory and practice, I'm a semi-happy bourgeois suburban liberal. In other words, a Democrat. As much as I love a good snark and sneer, that makes me about as punk rock as Phil Dunphy from Modern Family. You can say the same about O'Rourke, and most of his supporters.
And though that poster takes some cheap shots at Willie Nelson's tax problems, it's not altogether wrong. Willie is kind of a champagne socialist. O'Rourke does favor big government. He launched his campaign with a call for mandatory national service, but that quickly went away. Texans can only handle so much liberalism.
So why was everyone so pissed off? Not because of the actual content: Austin liberals have heard it all before. It was the aesthetic of the thing. That kind of poster design belongs to us.
When it comes down to it, though, conservatives and liberals, despite their many political differences, occupy the same basic position on the cultural spectrum. They vote opposite, but they tend to be well-off property-owning professionals who take their kids to soccer practice and watch Stranger Things. Ted Cruz, a lawyer who went to Harvard, and Beto O'Rourke, a congressman who went to Columbia, are mirror-image avatars. The difference is that O'Rourke played in a punk band and has a DUI, and Cruz might be the Zodiac Killer and/or the son of the man who killed JFK.
A real punk-rocker would spit on your Nissan Leaf, and probably has. Liberalism is for the likes of U2. Punk tends to lean far left, like The Clash, or far right, like Fear. Conservatism, or at least libertarianism, never sits far from the surface in punk. Johnny Ramone praised George W. Bush when he got inducted into the rock-n-roll hall of fame. Johnny Rotten, at least in his punk days, hated the Queen. American liberals love her, and worship Meghan Markle, who is one of us.
Punks, on the other hand, are poor. They are underdogs. They are dirtbags.
Morality, in the hands of a punk, becomes a fungible thing. But not in politics. We've become a nation of gaspers. I know the term "pearl-clutcher" is sexist, but it's the best cliché to describe what liberals are doing now. Brett Kavanaugh got in a bar fight after a UB40 concert? OH MY! O'Rourke himself has had to apologize because he dared point out, in a 1991 college newspaper review, that a bad Broadway show had a little T&A in the chorus.
Meanwhile, we have a president who paid hush money to a porn star during his campaign and a Supreme Court justice accused of binge drinking at best, and sexual assault at worst. Clearly, no one cares anymore about your bourgeois morality. It doesn't play.
So instead of throwing a hissy when a poster, depicting a locust, appears downtown with the words, "I Migrated To A Thriving Texas From A Leftist Shithole And Now I'm Voting For BETO," how about fighting back instead?
Don't let a Breitbart-loving street art troll win the day! If Austin still thinks it's rock-n-roll, then it should put down its Shepard Fairey-style hagiographic posters and fight back with some good old-fashioned anti-Cruz punk-rock street art. That'll learn 'em. O'Rourke is still probably going to lose by seven or eight points. This remains Texas, and I'm trying to be realistic. But at least his supporters will go down swinging. Like actual punks.