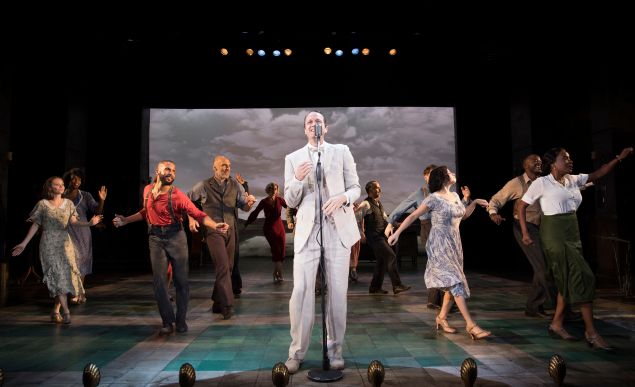 Cultural illiteracy disclaimer: I grew up with Bob Dylan in the background, a nasal, jangly phantom on the radio or under movie scenes, but never became a fan, bought an album or parsed the avant-beatnik poetry of, say, Highway 61 Revisited. As a teenager in the '80s, I found his single "Jokerman," (from Infidels) briefly fascinating, but that's it. Talking Heads, The Who and R.E.M. soaked up my youthful pop adoration. So it hurts me little to conclude that Girl from the North Country, an attempt to twine Dylan's five-decade catalogue through a theatrical trellis, doesn't work. For me, the heartbreak is that Conor McPherson, an artist dear to my heart, has written and staged such a disappointing play.
Neither a jukebox musical nor a biographical portrait of Dylan, Girl is a semi-abstract exploration of a great songwriter's mythos—a bit like how Enda Walsh framed songs by David Bowie in Lazarus, but grounded in naturalism. The piece debuted in London last year, after playwright-director McPherson had been granted permission to use any Dylan song in any way he wished.
The context he dreamed up was Duluth, Minnesota in the grip of winter and the Great Depression, in a shabby boardinghouse run by harried, haunted Nick Laine (Stephen Bogardus). Nick's wife, Elizabeth (Mare Winningham) suffers from dementia—the special theatrical kind that allows moments of lucidity and truth-telling that (maybe) only the audience can hear. Years ago, Nick and Elizabeth adopted the African-American orphan Marianne (Kimber Sprawl), who is now a young woman in the early months of pregnancy. Among the lodgers are a blowhard businessman (Marc Kudisch), his acerbic wife (Luba Mason) and their developmentally disabled son (Todd Almond); a widow (Jeannette Bayardelle) dallying with Nick as she waits for her late husband's will to be probated; and a boxer (Sydney James Harcourt) and a shifty preacher (David Pittu) with something to hide.
Subscribe to Observer's Daily Newsletter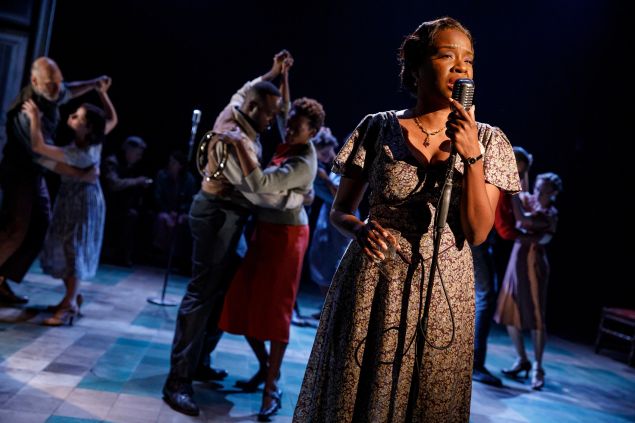 Throw in the morphine-addled local doctor (Robert Joy) as our narrator, an elderly shoemaker (Tom Nelis) who offers to take in Marianne, and Nick's aspiring-writer son (Colton Ryan), and you've got a boxcar of plot lines to chase after. McPherson (The Seafarer, The Weir) is one of the finest, most sensitive playwrights alive; had he put his mind to braiding together a Great American epic of loneliness, rue, disenfranchisement and escape, he might have succeeded. But then all those blasted Dylan tunes got in the way.
More than 20 of them sprinkle the action, from iconic tracks such as "Like a Rolling Stone" to mere familiar hits like "Make You Feel My Love" and "Sweetheart Like You." Most I've never heard before, but I'd gladly give "Idiot Wind" a second spin. How the songs are used between and within scenes is not determined by narrative so much as intuitive feel for mood. Sometimes the connection is obvious, as when a painful and hushed rendition of "I Want You" punctuates a scene between Gene (Ryan) and the woman who's leaving him. But generally, the songs exist as emotional sauce over noodle-thin characters—as if in 1934 Minnesota there happened to be a glum, ahistorical village of Dylan superfans, consoling themselves through private and group covers of his work.
More problematic than the loose, decorative deployment of the songs is the play itself. McPherson seems to have ransacked every cliché he could find about American society and culture between the wars, and shoehorned them into a narrative that meanders without momentum. Shards of Steinbeck, Williams, Dos Passos and Wilder are glued together at ungainly angles, then bathed in the anachronistic flicker of disco balls. In an early scene, Nick's writer son picks a fight with the black boxer, taunting him with "boy." This racist incident comes and go with no sequel or reckoning.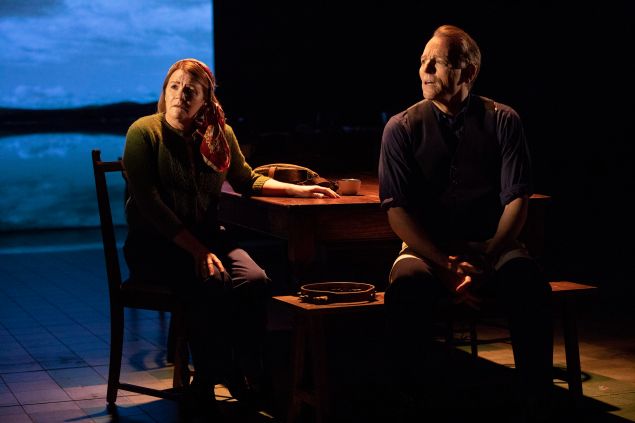 The doctor seems like a decent fellow, but he has at least one patient hooked on drugs. The Lennie Small–like Elias, a hulking man-child with freakish strength, comes to an end that is barely explained or lamented. The racial politics of this world are especially touristy and warped, with a passing reference to the resurgence of the Ku Klux Klan, but little effort to depict the complexities of prejudice and tolerance, even among these relatively open-minded folks. Addiction, proto-fascism and sexual harassment all get checked off the invisible list of relatable social issues.
Clearly, McPherson is mapping a deliberately patchy and sketchy territory, elliptical and unresolved, evocative rather than cohesively narrative. But such vaporous dramaturgy, to engage one's attention for two and a half hours, requires distinctive characters, intense lyricism or nail-biting tension. The playwright has achieved such effects in magnificent previous plays set in Ireland, with supernatural touches or gentle portraits of grace and redemption. But at the Public Theater's U.S. premiere, we have only likable (homegrown) performers with beautiful voices, oodles of atmosphere and pensive posing. By the repetitive and attenuated second half, the contraption starts to buckle and derail into bathos.
I'd happily listen to the cast album when it drops (Simon Hale's orchestrations and arrangements are gorgeous). But it's hard to ignore what a missed opportunity this is, a portentous load of Depression-era literary clichés and Hollywood stereotypes set to a Dylan snob mixtape. Last year, with a top-notch U.K. cast (Ciarán Hinds! Shirley Henderson! Jim Norton!), it probably played better to English audiences in London than it does here, where the false notes are as jarring as Dylan's mystic-jester chords are soothing. How does it feel? Like that stone barely moves.