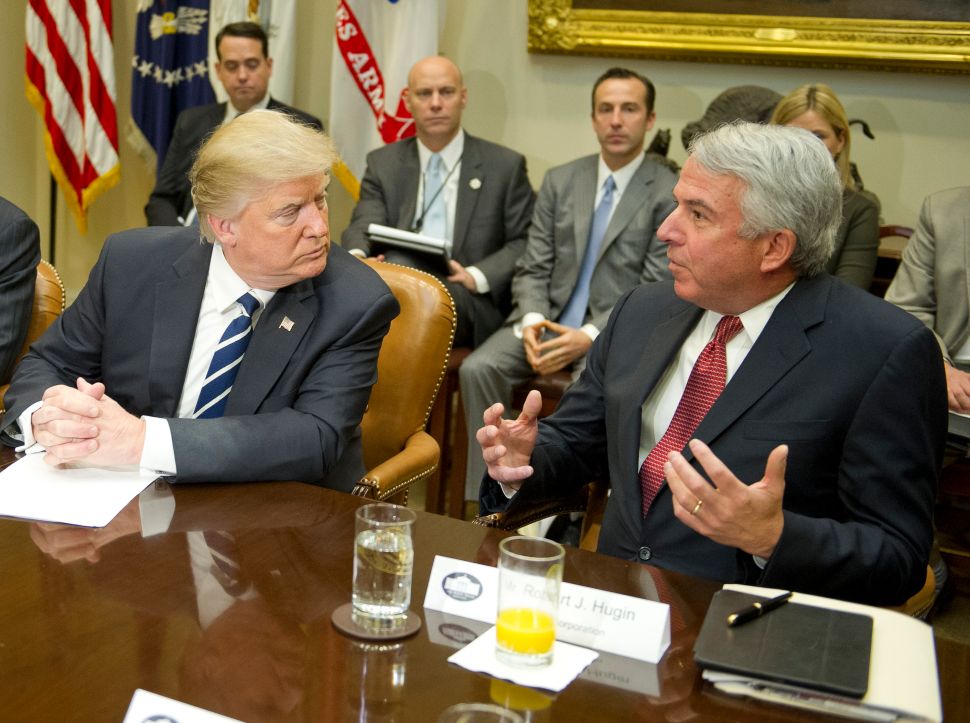 For President Donald Trump, "truth" is flexible and readily molded to fit any political goal. Even when he is presented with direct evidence that his statements are inaccurate, Trump rarely backtracks, but instead doubles down and attacks his critics. When all else fails, he attempts to use his wealth and influence to simply make the issue go away.
The most concerning aspect of this questionable conduct? It's quickly becoming the preferred political tactic of many members of the Republican party. With voters heading to the polls, so-called "Trump Republicans"—including Bob Hugin—are using Trump's playbook to launch attack ads on their opponents.
So what is a Trump Republican? Here's a starting point for answering that question, using the New Jersey Senate race as a good example.
Trump Republicans Never Let the Facts Get in the Way of a Good Spin
Trump's loose relationship with the facts has been well-documented over the years. On the local level, Republican candidate Bob Hugin's latest attack ad deceptively presents unsubstantiated allegations against Robert Menendez as facts corroborated by the FBI. The Washington Post gave the attack ad "four Pinocchio's." Meanwhile, The New York Times also concluded the Hugin ad was misleading.
Subscribe to Observer's Politics Newsletter
Menendez criticized the attack as a last-ditch effort by a desperate opponent. "When you lie like this, you show the people of New Jersey you're a Trump kind of Republican," Menendez said.
They Believe the Best Defense Is a Good Offense
Trump has consistently downplayed the Mueller investigation by creating his own counter-narrative of alleged attempts by Democrats and the "deep state" to derail his presidential campaign. During his confirmation hearings, Supreme Court Justice Brett Kavanaugh mimicked the technique by expressing outrage over the sexual assault allegations against him and blaming the Democrats on the Judiciary Senate Committee.
In a similar fashion, Hugin—instead of explaining how he made his wealth charging cancer patients $18,691 for a drug that costs $1 to make—runs ads about how he has helped cancer patients.
They Think Money Buys Success
Trump Republicans flaunt their wealth and think everything can be bought, including elected offices. Trump has proven that he is willing to pay large amounts to cover up his misdeeds and to buy the silence of his enemies. In New Jersey, Hugin is trying to buy a U.S. Senate seat by "loaning" his campaign more than $24 million of his own money—so far.
Trump Republicans Prey on Fear
When they can't win on the issues, Trump Republicans employ the politics of fear, particularly with respect to issues such as immigration and national security. According to Trump, "illegal aliens" are linked to violent crime, including the growth of MS-13. In California, a GOP attack ad characterized Democratic candidate Ammar Campa-Najjar as a "security risk" seeking to "infiltrate Congress." The truth is that Campa-Najjar, a San Diego-born Christian of Palestinian and Mexican-American descent, held a security clearance while working in the Obama White House.
While Trump is popular with Republicans, Democrats are likely to reject any candidate associated with him. Meanwhile, many independents aren't fans of how the Republicans or Democrats are handling the divisiveness in politics. The fate of the midterms next week may hinge on who independents believe can keep Trump in check and bring the American people back together.
Donald Scarinci is a managing partner at Scarinci Hollenbeck—read his full bio here.