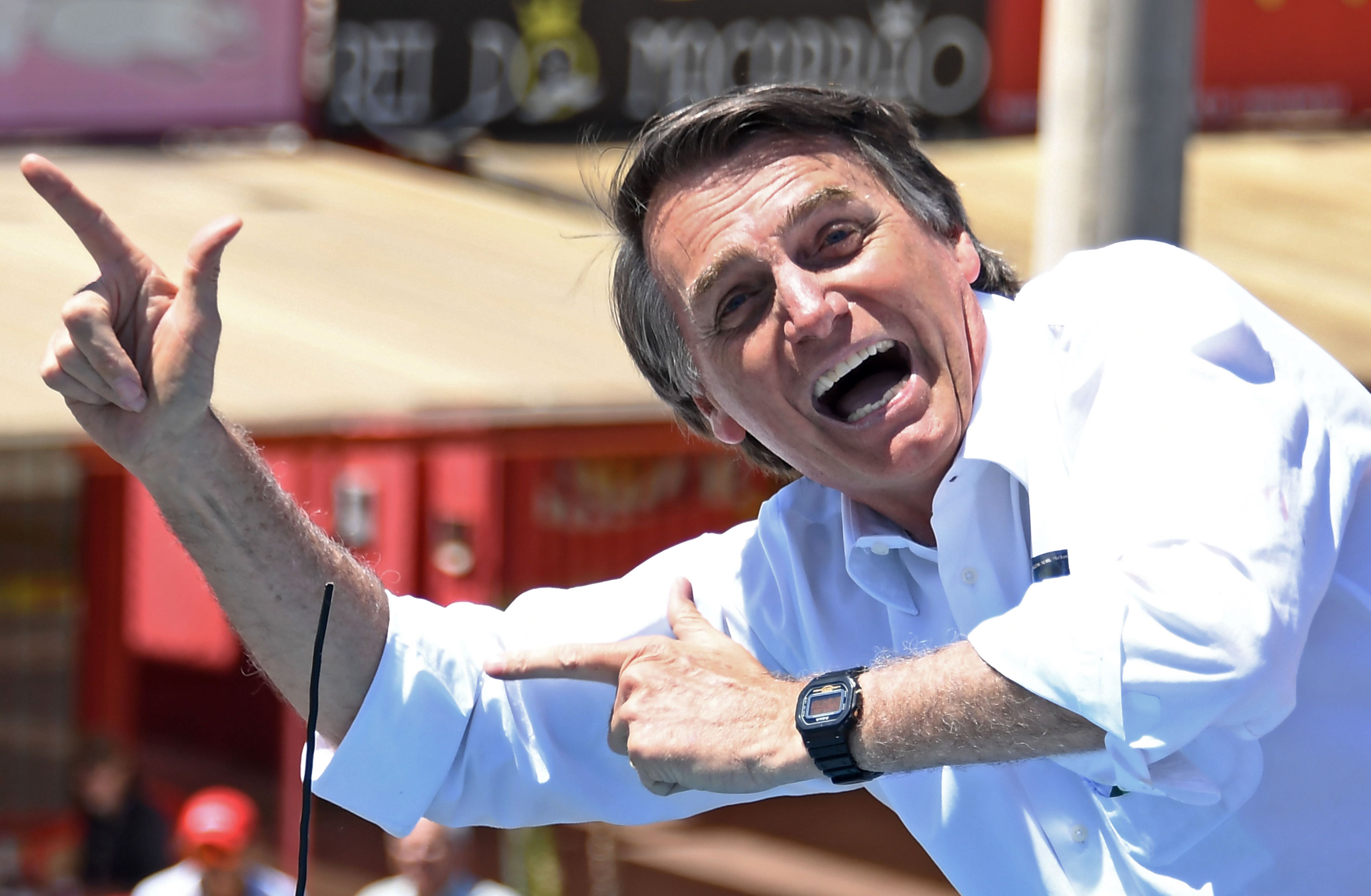 One hundred and forty-seven million Brazilians are heading to the polls on Sunday, October 7, to elect a new president and fill a host of open congressional and gubernatorial posts. With the world's fifth largest population and eighth largest economy, the stakes are high both in Brazil and across the international sphere.
Leading all major polls is Federal Deputy Jair Bolsonaro, a man who has often been compared to U.S. President Donald Trump, which, depending on one's politics, could either be very worrisome or extremely promising.
Yet, despite many attempts by the media to label Trump and Bolsonaro as twins separated at birth, the two men are as different as they are similar. Now, with Bolsonaro on the precipice of assuming command of the hemisphere's second largest economy and second largest military power, the question on the minds of the business and diplomatic community is what to expect from a Trump–Bolsonaro relationship. Will the two leaders become BFFs and create a new Brazilian-American alliance on the world stage?
While 'The Donald' had a privileged, yet arguably stern, upbringing, the Bolsonaro family was a working family of modest means. Unlike Trump, whose father dispatched the troublemaker to the New York Military Academy, Bolsonaro sought out a career in the Armed Forces, serving 17 years and rising to the rank of captain—a formative pair of decades that weigh heavy on the Brazilian politician's worldview.
Trump and Bolsonaro came into politics through markedly different paths. For Trump, whose political career came to life after decades of boom and bust business deals that led to a career as a TV reality star, Bolsonaro's political career was born while he was still serving in the military. In 1986, while still on active duty, Bolsonaro took the dramatic step of penning an op-ed in the country's Veja news magazine, complaining of low salaries paid to military personnel—an act of disobedience which landed him 15 days in jail, but made him a favorite among the country's military hardliners who were disenchanted with Brazil's recent attempts at democratizing after years of military rule.
In his near three-decades since, serving in Brazil's Congress, Bolsonaro has been quietly cultivating a political base that, not unlike Trump's, is all about 'Brazil first.' With the country's large scale corruption scandals and deteriorating sense of security—there were over 60,000 homicides in Brazil in 2017—there is a swell of enthusiasm for a pro-military hardliner who is promising to take on graft and corruption in Brasil head on and rid the country of its widespread gang violence.
Luiz Philippe de Orleans e Bragança, who is affectionately known in Brazil as "O Príncipe" ("the Prince"), given that he is descended from the French and Portuguese Imperial Royal family that ruled over Brazil until 1921, is a member of Bolsonaro's PSL party and considered a front-runner in his own race for Congress, representing the State of São Paulo. More importantly, Orleans e Bragança is considered to be a leading contender for Minister of Foreign Relations, Brazil's top diplomatic post, in a Bolsonaro-led government.
"The administration of Jair Bolsonaro will be first and foremost about protecting the strategic interests of Brazil and the Brazilian people at home and abroad," saidLuiz Philippe de Orleans e Bragança. "Nonetheless, we feel that the United States is a natural strategic partner in many ways—something that has eroded over the past decade under Brazil's Workers' Party. Like President Trump, we believe in fair and balanced bilateral trade, investing in defense, and keeping strong borders. We think there is ample room for expanding cooperation between our two economies. Together, Brazil and the United States can tackle some of the Western Hemisphere's most pressing concerns—like Venezuela."
Felipe Martins, the Secretary of International Affairs for Bolsonaro's PSL Party, is confident that the U.S.-Brazilian relationship under a President Bolsonaro will improve dramatically.
"We have had a string of successive administrations that have been somewhat hostile to American interests in recent years, and with Jair Bolsonaro, we see the relationship with the U.S. improving markedly," said Martins. "Although we will certainly continue to compete with one another globally in areas such as agriculture exports, I think there are many new areas of cooperation that we can un-tap—such as thwarting China's not so subtle attempts to gain a foothold economically and militarily in the hemisphere. We look forward to working closely with President Trump, as well as leading Democrats in Congress, to talk frankly about a new multi-faceted regional strategic alliance."
According to Martins, there have already been some informal contacts between the Trump and Bolsonaro families. Eduardo Bolsonaro, the candidate's eldest son, has met with Donald Trump Jr. in Las Vegas.
"They went to a shooting range together—not a major meeting but they got to know each other a bit," remarked Martins. There have also been widespread media reports that Trump's former political strategist, Steve Bannon, has agreed help the Bolsonaro's political effort.
Although Bolsonaro could win the presidency outright in Sunday's election by taking at least 50 percent of the vote, more than likely, there will be a run-off second-round election where he will face off with the Workers Party's Fernando Haddad, the former Mayor of São Paulo in three weeks' time.
"Whether he wins in the first round or has to go to a run-off, there is no question in my mind that Jair Bolsonaro will be the next president of Brazil," said Marcos Villanova, a political consultant from TZU Política, a Brazilian political marketing and lobbying firm with offices in Brazil and the United States. "And I think that Jair Bolsonaro might be the most American-friendly president to take power in the past several decades. I think we are headed towards a new 'golden age' of U.S – Brazilian relations, which I believe will not only help Brazil's economy get back on track, but strengthen our mutual security concerns. I am extremely confident that Trump and Bolsonaro will become fast friends."
For most Americans who are weary of Trump's fondness for Vladimir Putin and his love affair with Kim Jong-un, a new presidential best friend from Brazil would probably be welcome news.
(Full Disclosure: Arick Wierson is a minority shareholder in a Brazilian political consultancy, TZU, quoted in this article.)