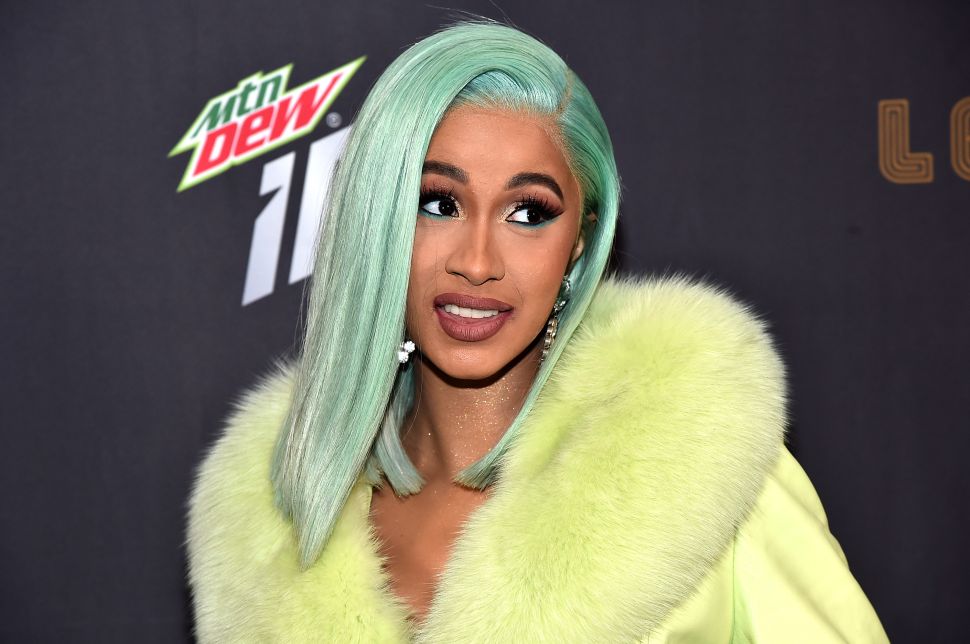 Perhaps more than any other millennial star, Cardi B has built her career on her willingness to be candid about everything from the state of her teeth to her pregnancy to her expensive taste in shoes. During an interview on Jimmy Kimmel Live! Wednesday night, however, the rapper cannily demurred from answering a question about her political affiliations. Maybe her media training is proving successful after all?
Kimmel, serviceably affable as always, tested Cardi to see if there's any topic she won't address, given her notoriously loose-lipped willingness to leave no conversational stone unturned. After all, she had just told him that the birth of her daughter, Kulture, had broken her vagina (par for the course).
Subscribe to Observer's Entertainment Newsletter
"Alexandria Ocasio-Cortez is from the Bronx as well. Are you interested in politics?" Kimmel asked.
"I've always been interested in politics," Cardi replied. "But the thing is that it's like now I gotta, like, be careful what I say, you know?"
"Why do you have to be careful? You've already said that your vagina is broken." Kimmel pressed.
"Yeah, but you know, if I make certain points, I be feelin' like the government's gonna say something like, 'You know, this girl's up to something. We might have to get rid of her.'"
Cardi deadpans this comeback with such serious gravity that it's impossible not to laugh. Obviously, she's not at risk of being the target of a calculated hit. However, it's actually quite an astute remark—one that, intentionally or not, alludes to the kind of firestorm that can be ignited when celebrities speak honestly about their personal and political beliefs.
It's no secret that every famous person who takes a hard political stance on either side of the aisle today runs the risk of alienating a huge swath of their fan base, perhaps resulting in a loss of profits—which is maybe why Cardi B's madcap, fun-loving neutrality has worked so well for her thus far.
Whether or not she's secretly a fan of Democratic Socialism (the world may never know), Cardi B doesn't have to endorse Ocasio-Cortez to retain her pop cultural relevance. As countless surprising instances have made clear, she's deeply entertaining all on her own.