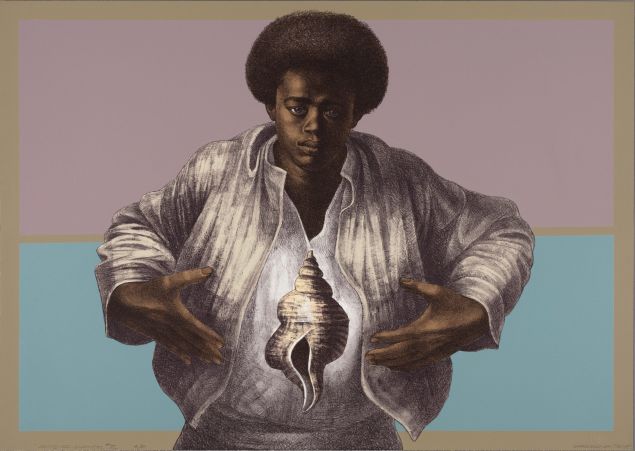 The prints and images of Charles White, currently the subject of an expansive retrospective at MoMA, share a powerful theme: resistance. Using his images to address societal issues during and after the Civil Rights era, White became known for his social realism, creating political images depicting African-American life.
But his impact extended beyond what White as an individual made himself. White was an instructor at the Otis Art Institute, where he taught a number of artists who have not only made names for themselves—in some instances, by continuing to work with the themes that White pioneered—but who now regularly break records at auction. Among them are megastars David Hammons and Kerry James Marshall, performance and video artist Ulysses Jenkins, and L.A.-based muralists Richard Wyatt Jr. and Judithe Hernández. All credit White with an undeniable influence on their work and life.
"No other artist has inspired my own devotion to a career in image making more than he did," Marshall wrote this May in a piece published in the Paris Review. "I have always believed that his work should be seen wherever great pictures are collected and made available to art-loving audiences. He is a true master of pictorial art, and nobody else has drawn the black body with more elegance and authority."
Subscribe to Observer's Arts Newsletter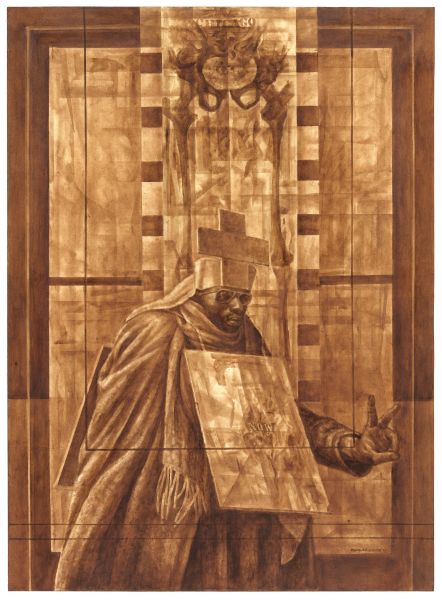 Hammons made it clear how much he feels we are indebted to White's legacy by the comparison he made with a late 2017 MoMA exhibition he curated, which served as a precursor to this year's mammoth retrospective. Titled "Charles White—Leonardo Da Vinci," Hammons' show compared the similarities between White's affecting Black Pope (Sandwich Board Man), 1973 and a brush and ink study of drapery by da Vinci. In the catalogue of a 1971 exhibition at LACMA titled "Three Graphic Artists," Hammons, then an emerging painter being shown alongside his idol, White, and the assemblage artist Timothy Washington, is quoted as saying, "I never knew there were 'black' painters, or artists or anything before I found out about [White]." And they'd met only three years prior. Hammons continued, "Just being in the same room with someone like that you'd have to be directly influenced."
Jenkins too has worked on a project dedicated to solidifying his teacher's legacy. His documentary, In the Spirit of Charles White, from 1982, is comprised of footage he took while studying at Otis in 1970.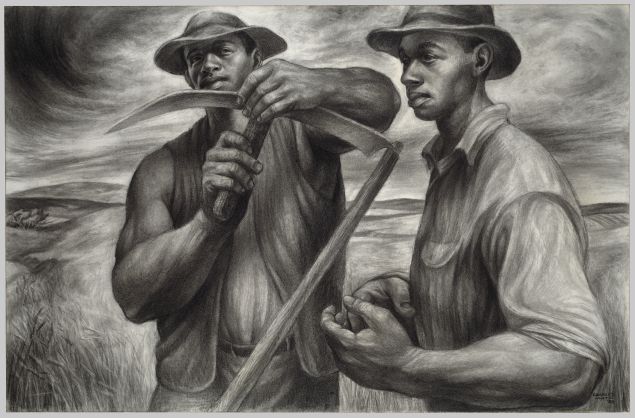 For Wyatt, White had an influence in his work even before studying under him. He told Observer that meeting White for the first time felt like the equivalent of meeting Muhammad Ali. Learning from him changed not only his work, but his life. "As a teacher, he was inspirational and knowledgeable. Yet, with all his mastery and the notoriety his work received, Charles White was one of the most down-to-earth people I've ever met. And that left a lasting impression upon me not only as a young artist, but also as a person."
Hernandez said that when she was admitted to Otis in 1969, she was noticeably in the minority—one of only five Mexican American students, and within that demographic, the only woman. But she found that White was immediately interested in connecting to her experience. "He told me that during his time in Mexico he had developed a deep affection for its people. In Mexico he had been treated with respect and admiration, something which he had not always experienced in the United States," she told Observer. "As an African-American man born before the Black civil rights movement, he was already committed to the art of social-realism, and totally understood my need to be part of the Chicano civil rights movement and to create art in the service of a social change."

This year will mark the 100th anniversary of White's birth, and "Charles White: A Retrospective" is the first large-scale showing of White's work since his death in 1979. The exhibition celebrates the work of an artist who had an empowering approach to image making that continues to live on through those he taught. So much so, that topic will be the focus of another upcoming show in February, 2019 at the Los Angeles County Museum of Art: "Life Model: Charles White and His Students."