A vacation at Versailles might be out of the question, but living like true royalty—at least for a weekend—no longer is. Enter the 25-bedroom Chateau de Courtomer, here to make your wildest Marie Antoinette fantasies a reality.
Elizabeth Bonner has been renovating the 18th-century chateau, located in Orne, Normandy, since she and her husband purchased it in 2005. Over the past several years, the Baltimore-based Bonner family, who previously lived full-time in France, have used the 350-acre property for personal getaways, corporate retreats and family affairs, occasionally offering it up for weddings. But now, for €2,500 (or about $2,845) a night, well-heeled travelers can check in and enjoy access to all 17,500 square feet of the place.
Here, everything you need to know about Courtomer's rich history—and the even richer experience you'll get if you stay there.
Subscribe to Observer's Lifestyle Newsletter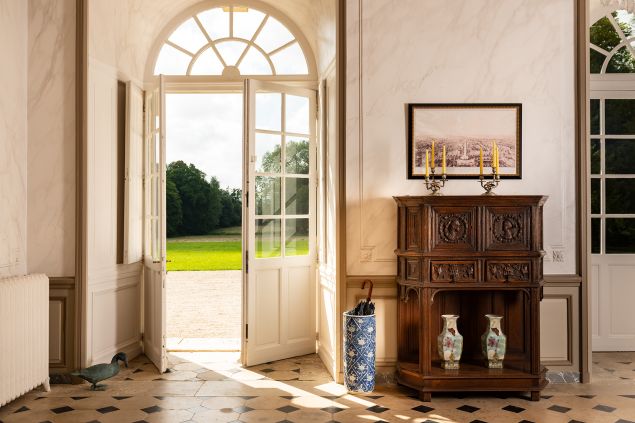 The 18th-century chateau actually dates back to the 11th century. 
The foundations of the chateau go all the way back to the 11th century, when it was used as a defensive fortress—there's even a moat. The original castle was torn down in the 18th century, and a new one was completed in 1789, on the eve of the French Revolution.
"The home was rebuilt on its medieval foundations," Bonner told Observer, sitting in a sun-soaked living room at the chateau, "so already it was symbolically breaking away from the dark, medieval past and building a house that was filled with light. They were using classical symbols to remind themselves, their friends and their families that they were harking back to the pure ideals of the classic world."
The celebration didn't last long. Shortly after finishing the chateau, the Marquis and Marquise de Courtomer were sent to prison, because French aristocrats were a big no-no at the time. But they survived, and according to Bonner, the estate remained within the family from 1047 until 1905.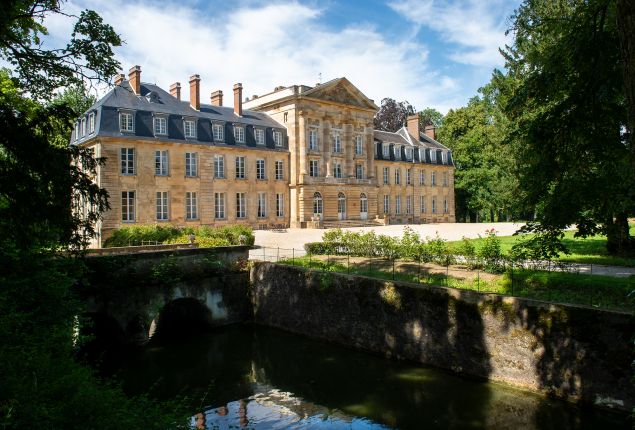 The Ruinarts are involved, so pop the cork. 
That's right, the champagne family. The chateau finally transferred ownership in 1905, when the Vicomtesse de Brimont and her husband, Thierry Ruinart, purchased the property. They later passed it down to their daughter, Henriette, who married Albert de Pelet (the Comte de Pelet, because #titles), and there's still an "R" on the exterior crest of the chateau to symbolize its link to the champagne dynasty.
A restoration was necessary, but a Francophile took the reins.
The Bonners bought Chateau de Courtomer from the Ruinart-Pelet descendants in 2005. "My husband saw it and went crazy for it," Bonner said, though she had some reservations. "Buying a place like this is making a commitment on an emotional level. I didn't realize I wanted to do that, but I did." The property needed serious work when the Bonners acquired it, and Elizabeth ended up overseeing its restoration in 2008. Her daughter, Mariah, has become more involved in the past year.
A staircase—for making the perfect princess entrance.

Courtesy Brian Harrison
Calling Elizabeth Bonner a Francophile is like saying Leonardo DiCaprio likes models. Her knowledge of the chateau and its place in French history is encyclopedic, right down to the gambling debts, mistresses and mariage blanc (a chic French way to say "unconsummated marriage") associated with it. Spend an hour with Bonner, and she's likely to share stories about why the original castle wasn't built on high ground (because it was a defensive hostile fortress against the Vikings) and how a descendant of the past owners claimed her father was a Russian prince. Spoiler alert: He was not.
Much of the decor comes from other French chateaus.

Courtesy Brian Harrison
It's modern, but still contains plenty of antiques and dog paintings. 
"I didn't want the chateau to feel like a period piece,'" Bonner said. "I wanted a bit of the fresh and modern." Still, most of the furniture comes from antique stores like Drouot in Paris, which Bonner describes as "the Christie's of France." Each bedroom is uniquely furnished. Mine was more classic, with a surplus of dark wood and fabrics and a painting of what looked like a young Queen Elizabeth with her corgi—that is, if the monarch were born 200 years ago.
Each of the 25 bedrooms is uniquely furnished.

Courtesy Brian Harrison
Guests are greeted by a large central hall when they enter the chateau, as well as a dining room that Bonner said can seat "60 people easily."
The old drawing room now serves as more of a formal living area, but the library, furnished with brown leather couches and velvet upholstered chairs, has kept one foot in the past—most of its books are from the 19th century or earlier. It is Bonner's favorite room of the whole estate.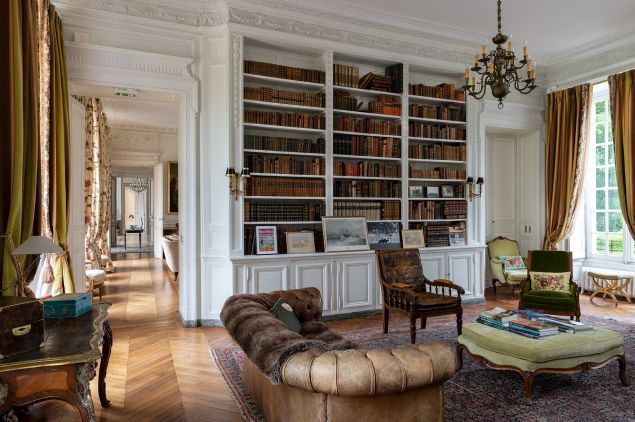 Splurge on the balloon rides and cider. 
The €2,500 you pay gets you the keys to the entire chateau, but that's about it. The hotel-like add-ons include an on-site house manager and concierge (about $80 a day), who will book and handle everything you could possibly imagine (if you don't speak French, we highly recommend enlisting her services). Meals cost between around $60 and $100 per person, depending on your tastes and your wallet, though that doesn't include the catering service (about $230) or the wine. A wine tasting is about $60 a person, but everyone in Normandy is extremely into the regional cider, so why not book a cider tasting (around $20 a person) and drink like a local?
There is definitely cider somewhere in this photo.

Courtesy Brian Harrison
If you really want to feel like you're ruling over the kingdom, you can book a hot air balloon ride that takes you all around Normandy. It costs approximately $230 a person, but it's totally worth it. Just know that there's really no such thing as a planned landing—it's really more of a controlled crash. But the grassy field we ended up in was more than adequate, as was the champagne that flowed afterwards. (Book the right itinerary, and Courtomer will ensure you always have a buzz.)
The dining room was made for parties

. 

Courtesy Brian Harrison
And be sure to bring your friends. 
Splitting $2,845 a night with a group is more economical, but the ridiculous size of the chateau also begs for a dinner party to end all dinner parties.
"A chateau like this was built for entertaining," Bonner said. "Chateau de Courtomer is now what it always was—a big house meant to be enjoyed. Big houses like to be lived in."