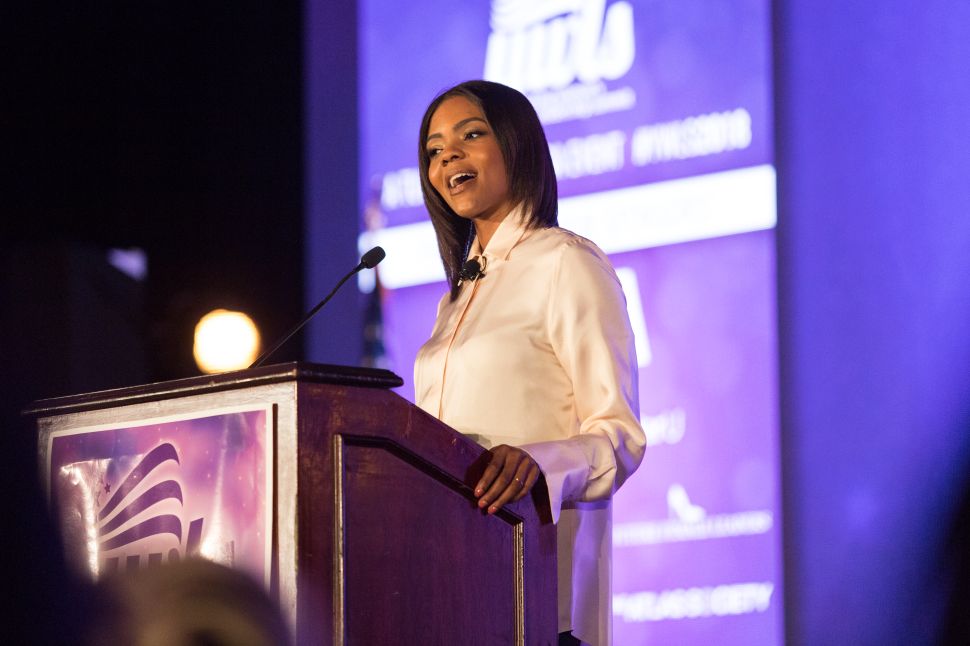 I'm not loving you, way I wanted to…
Candace Owens publicly apologized to Kanye West and President Trump on Wednesday over a public relations fiasco involving t-shirts for BLEXIT—a political movement she founded to encourage African Americans to leave the Democratic Party.
"I never once said that Kanye designed the t-shirts for BLEXIT," said Owens in a heartfelt letter titled 808s and Heartbreak posted to her website. "This is a lie that seems to have made its way around the world; a lie I would like to again correct for the record. Kanye was completely right to feel used in that regard and as I have done personally, I would like to publicly apologize to him for any undue stress or pain the effort to correct that rumor has caused him, his business relationships, or his family. He simply never designed them."
Subscribe to Observer's Politics Newsletter
This statement contradicted remarks Owens gave to Page Six over the weekend at Turning Point USA's Young Black Leadership Summit, in which she claimed the BLEXIT shirts were designed by the iconic rapper.
"Blexit is a renaissance and I am blessed to say that this logo, these colors, were created by my dear friend and fellow superhero Kanye West," Owens told the publication on Saturday.
Yeezy was not thrilled at having his name attached to the movement. During Tuesday afternoon's whirlwind news-cycle of conspiracy theorists and new FBI investigations, the rapper clarified he "never wanted any association with Blexit" and that he merely "introduced Candace to the person who made the logo."
"My eyes are now wide open and now realize I've been used to spread messages I don't believe in," continued West.
In her apology letter, Owens claimed West's remarks were not digs at the president.
"I would also like to publicly apologize to President Trump, as I know that Kanye's tweets were rapidly misinterpreted as a shot to this administration," said the Republican activist. "His tweets were aimed at me and me only, rightfully, for my personal failings. I bare full responsibility."
Shortly after West announced his break from politics on Tuesday evening, millennial conservative pundits aligned closer to Fox News, rather than Turning Point, took to Twitter to boast of their psychic powers.
"Called it," tweeted Fox News contributor Tomi Lahren.
"The ship was doomed to sink from the start but hunger for fame & money was placed over the movement," added the clairvoyant in a follow up tweet.
"When you're right, you're right," humble bragged Fox News host-in-training Ben Shapiro, including a screenshot of his tweet from April warning Republicans that if they "live by the Kanye" they will "die by the Kanye."