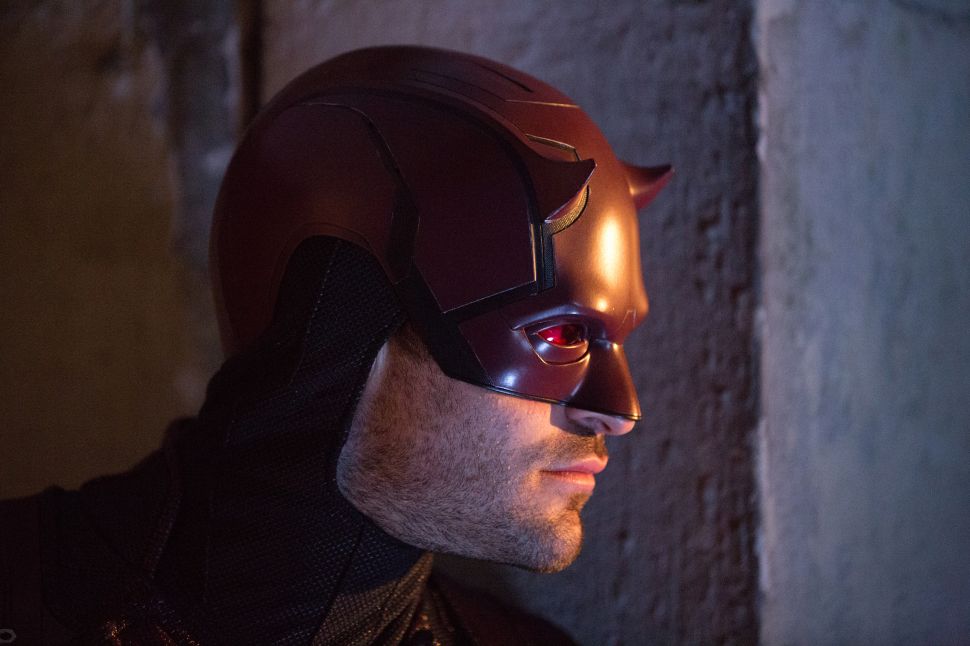 Matthew Murdock (Charlie Cox), the titular hero of Netflix's Daredevil, is consumed by rage. And why wouldn't he be? His vigilante ways have eaten away at his friendships and romantic entanglements, destroyed his noble dreams of a law career and nearly gotten him killed more times than Cox's stunt double would care to remember. The character really should be dead after a building fell on him in The Defenders. But since Marvel never turns down an opportunity to cash a check, a post-credits scene revealed that he is in fact alive—though far from well when we catch up with him. Early on in the new third season, we discover that the worst thing that has happened to us may actually be the only thing that keeps us going.
We've reached a stage in Marvel's Netflix invasion at which we can safely say that most of the series are…problematic. Daredevil enjoyed a surprisingly good rookie run, and though fans have been given some truly great individual moments in Jessica Jones, Luke Cage and The Punisher (I'll leave out Iron Fist), none of the subsequent efforts have managed to fully coalesce. At best, Marvel's Netflix offerings have been grand in scope, yet flat in stature.
But Daredevil's third go-around eschews the half-hearted attempts to connect to the larger Marvel Cinematic Universe (MCU), or provide a backdoor pilot for a new spinoff (hello, Frank Castle) or develop a ridiculous mystical enemy. Instead, it focuses on kicking ass and taking names. With Daredevil sharpened to the point that it can rival Elektra's sai, things are going pretty well.
Subscribe to Observer's Entertainment Newsletter
The first six episodes of Season 3 find Matt a broken man, both physically and emotionally. Due to his extensive Defenders-related injuries, his special abilities are on the fritz. Without his Daredevil alter-ego, he is very much a lost soul. But that old familiar fury is a powerful motivator. What almost killed him also brings him back to the land of the living. There's something nuanced and empowering about the idea that our most self-destructive behavior also serves as our salvation.
Matt has wrestled with the fallout of his Daredeviling throughout the show's run and, at times, it's been tiresome. But seeing him do so in such a profound state of reflection, questioning his life and God while coming to grips with his violent nature, just rings more genuine. A guy who dresses up in a costume at night to punch criminals should have a couple of screws loose, and this season doesn't shy away from painting our hero as the somewhat crazed, self-centered jerk that he is. He's vulnerable in mind as in body, which also helps up the ante of the action, of which there is plenty. Season 3's go-for-broke tracking-shot action sequence mostly lives up to its predecessors.
Matt's counterweight this season is once again Wilson Fisk (Vincent D'Onofrio), arguably the top villain ever produced by the MCU. D'Onofrio elevates every scene he's in—there's something dangerously alluring about his character. His gruff bark of a voice is powerful without ever becoming grating, his stature is imposing and befits a comics character who goes by the name of Kingpin. His Machiavellian plotting and jockeying is a delight to watch unfold; everyone loves a mastermind who is always the smartest person in the room. Just as Matt is driven by both his most glaring flaw and greatest strength, so too is Fisk. His sense of superiority outclasses even the most smug of college professors. He's not alone this year, either—many of the first six episodes are dedicated to his gentle recruitment of a character comics fans will recognize (someone who is a worthy physical foil for Daredevil). Together, these adversaries represent a clear and present danger—no extraneous world-building and no over-the-top ridiculousness. We see what they want to do, and witness our hero trying to stop them. The action flies at you like one of Daredevil's more super-powered comrades.
This latest installment of the series isn't perfect. Karen (Deborah Ann Woll) remains a black hole of exposition, grinding each and every scene to a halt in order to function as an audience surrogate. Through no fault of Woll's, her character is once again only there to scream in fear or explain something viewers need to know—Siri has a higher function than her. Meanwhile, Foggy (Elden Henson) has a subplot that doesn't feel like it's going anywhere. Maybe it just needs more time to play out, but the best B and C plots orbit the endgame, whereas these ones too often feel stationary. On its third showrunner in as many seasons, Daredevil also often seems like it's reinventing itself on the fly. With that comes occasional growing pains and a tendency to fall back on formula.
Still, unlike in Season 2, which toggled back and forth between Frank Castle and Elektra so often you thought you were watching different shows, everything is mostly heading in the right direction. There's a linear flow to it all that is focused and efficient. That doesn't mean the show couldn't lose steam like so many other promising yet still flawed Marvel series on Netflix. But so far, so good.
Grade: B+